AKP member denies cocaine charges by claiming he snorted powdered sugar
A ruling Justice and Development Party (AKP) member who was seen to be snorting cocaine in a video denied drug charges by saying that the substance in the video was powdered sugar, prompting social media users to ridicule him.
Duvar English
A member of the ruling Justice and Development Party (AKP) has defended himself against drug charges by saying that the substance he used was powdered sugar and not cocaine.
Kürşat Ayvatoğlu, who was seen to be snorting cocaine in a luxurious car in a video shared on social media, was detained on March 26. He was also fired from the AKP.
In his defense, Ayvatoğlu confirmed that the person in the video was him, but denied that the footage is new and the white substance seen on a plate is cocaine.
"What I'm seen to be snorting in the video is absolutely not a drug. It's powdered sugar. We were having fun as a group of friends by listening to foreign music and pretending to be using drugs," Ayvatoğlu said in his testimony, ankaragazetecisi.com reported on March 27.
"We were pretending to be snorting cocaine or smoking weed to have fun. However, we never recorded these and I wasn't aware that I was being recorded. I'm the victim here. I was blackmailed. I'll file a complaint against this," he said, claiming that the individual who shared the video was seeking financial benefit in exchange for deleting the footage of cocaine use.
While AKP deputy leader Hamza Dağ said that Ayvatoğlu was fired, the latter, whose pictures on social media showed a lifestyle that directly contradicted the one promoted by the Islamist AKP, said that he resigned immediately after the video surfaced.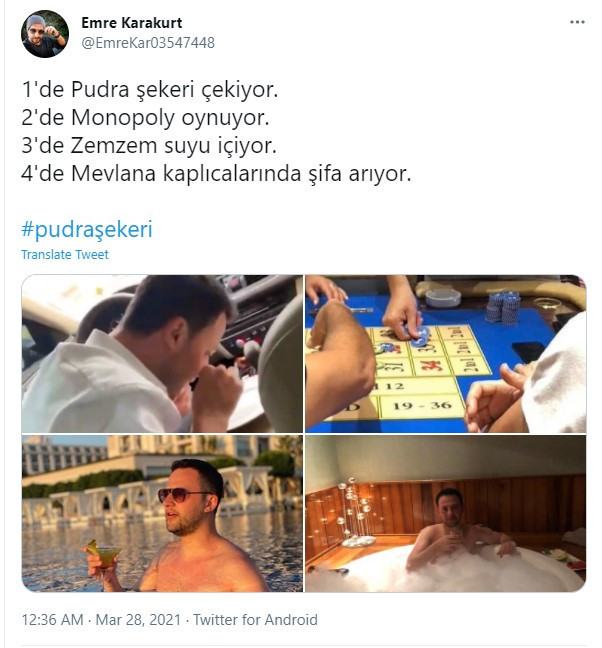 As ridiculous as it may seem, Ayvatoğlu's defense worked and he was released on condition of judicial control on March 27, which prompted criticism on social media.
Police, meanwhile, apprehended the other individuals seen in the video as part of the probe. They confirmed that the substance was cocaine and that it was supplied by Ayvatoğlu, who was once again detained on March 28 upon the other suspects' testimonies.
Twitter users mocked Ayvatoğlu's remarks and the hashtag "powdered sugar" became trending alongside "Pablo Escobar."