'Marina Abramović' Is Not Present' in Istanbul
Marina Abramović made a working camp outside Istanbul for five days with those artists she selected among 300 people from Turkey. Artists attending this camp will not only "taste" this method as viewer would; they would maybe digest it to a certain extent. Because, how can a practice that has been done since the 1970s be conveyed in five days?
When I asked Marina Abramović, who is in Istanbul for her Akış/Flux exhibition at Sakıp Sabancı Museum (SSM), during her press conference, the question "Did you retire from the performance art and form the MAI, the Marina Abramović Institute?" she answered, "Never, [I will retire] only when I die. I am very active these days. I am making opera. I am also working a lot." She said so but in the SSM exhibition Flux, "She Is Not Present," with reference to her famous 2010 performance at New York MoMA named "The Artist Is Present." She does not make a special performance for the exhibition.
In the Flux exhibition, it is possible to watch big screen archive videos of Marina Abramović's individual and iconic performances she did with her former partner Ulay. Before watching these videos on giant screens, it is also possible to see three oil paintings of Abramović who started her career as an artist.
Another surprise of the exhibition is orchestrated through the relationship of the hosting venue and the art of painting. Right next to Abramović "Shoes For Departure" quartz shoes dated 1991-2017, stands the İzzet Ziya painting of "Deniz Kıyısındaki Kız" of 1917, from the permanent collection of SSM. Upon Abramović's request of a painting from the museum's collection to be in the exhibition, director of the museum Nazan Ölçer placed this painting near the shoes, cracking the door open to an authentic hosting.
Abramović's - who said she has not retired - comprehensive archive of the videos she has done up to now has a selection which excludes those with sexual content, for example her "Balkan Erotic Epic" work.
A significant part of the exhibition is made up of the Abramović method room where you can "taste" the artists' method she uses in her performances by sifting through lentils and reach out to hold the hand of a total stranger, only with the condition that you leave your cell phone outside.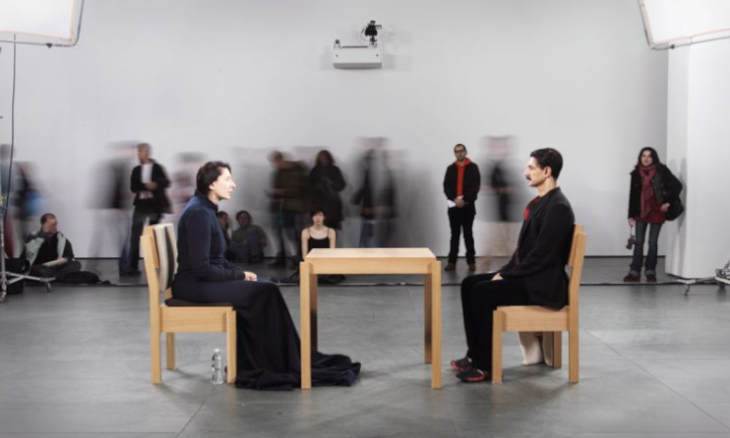 Another section has performances of 16 artists, 12 of whom are from Turkey, all of whom were selected from 300 applications answering a call, before the exhibition, from the Marina Abramović Institute (MAI). These 12 artists selected from 300 people who applied are performing eight hours a day about 30 days at SSM.
A video performance selection has also been opened at Akbank Sanat composed of video performances of artists who have worked with Abramović before, particularly Nezaket Ekici.
Two separate press conferences were held for the opening of the exhibition, one was in SSM at Emirgan and the other at Akbank Sanat at Beyoğlu. The artists who has been describe with adjectives such as the queen, the diva, did not see any harm in pronouncing Turks too serious and with lack of humor in the first press meet and in the second "shy." In the press conference held at Akbank Sanat, she also saw no harm in introducing the upper identities of her team as, "two Serbians, one Greek, two Americans, one Brazilian…"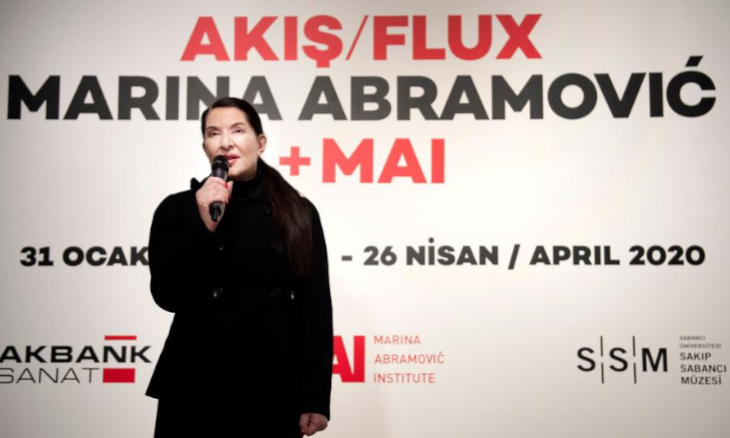 Frankly, the Marina Abramović in this introduction did not at all resemble the daughter who had difficulty telling her father who was once one of generals of Yugoslavian leader Josip Broz Tito that the country he fought for no longer existed.
This attitude of the artist created a small-scale shock for us intellectuals who demand to face the lower identities at a place dominated by "Turks" who are extremely carefree of not being able to face their lower identities. Again, we are the ones who have pondered over the sensitivity Nicolas Bourriad showed during the 16th Istanbul Biennale opening when the curator introduced us to the participating artists, telling us where they came from through the cities they are residing.
Abramović caught cold in Istanbul since she came directly from the mediation camp from India to the opening of the exhibition. She was close friends with Dalai Lama.
Even though she reminded us that Buddhist monks always started their speeches with a joke wishing to start her own speech with a joke, there was nobody present with much sense of humor in the press conference.
Since the mid-1990s, German curators such as Rene Block and Harald Szeemann, with emphasis on the identity crisis in Balkan countries including artists from Turkey, curated exhibitions no doubt contributing very much to the recognition level of Abramović, enabling her to reach far West. Especially her Balkan Baroque work exhibited today at SSM Flux.
During the Balkan Baroque performance Abramović washed 1,500 cow bones, singing folk songs. She exposed how the "wolf rat" is killed in the Balkans.
The first performance a viewer from Turkey would see, after following the Marina Abramović Akış/Flux MAI themed posters, is the one that belongs to Dilek Champs.
Under the red carpet, over the stone floor entrance of the museum, Champs would have been spending nine days, a total of 72 hours, if you start counting from the opening.
Academic and trumpet player Arda Cabaoğlu who lives in New York and who has never done performance art before will play his trumpet in a special room allocated for him. Another actor director artist İlyas Odman will perform "for the road" prayers.
Nezaket Ekici will duplicate and explain all of her production as notes over her body.
None of their names will be mentioned in the posters up on billboards with black and white Marina Abramović photographs on a red background advertizing the Marina Abramović exhibition in the city.
After this exhibition only two artists will be invited to take part in the future MAI exhibitions.
Marina Abramović made a working camp outside Istanbul for five days with those artists she selected among 300 people from Turkey. Artists attending this camp will not only "taste" this method as viewer would; they would maybe digest it to a certain extent. Because, how can a practice that has been done since the 1970s be conveyed in five days? Can a "practice" whose lines have been designed and drawn extremely personally both in the physical and physic sense be taught? Even if it is taught, can it be practiced? Even if you have curators around you, one "Brazilian" and two "real Americans" who have been lessened to the position of safeguards and bodyguards, is that possible?
In an era when the Aboriginal people who are the only witnesses to the phenomenon that fire birds actually spread the fire in Australia, were invited to take part in the firefighting councils only after this was found out, what can a "method" mean to a young performer in five days? Moreover, for a candidate who has never performed before, can it be packed and delivered as a universal method? And, how should we read this mutual "attempt" of the artists and the MAI?
That performance art is not a sea of opportunities as it used to be but a pool of impossibilities? That another safe autonomous castle of modern art has collapsed? Or it is institutionalized?
Under the title MAI, that Marina Abramović has become institutionalized, in a way has become a brand? Or should we finally understand the ridiculousness of having dared to be a part of a universal regime that has long dissolved, that has evolved into failure?
Perhaps we can answer these questions by saying that for each performer in the SSM, reflecting the light of this city, its climate, its Bosporus, its major earthquake that has stuck and that will stuck again, its criminals of thought, elected politicians, journalists in its prisons, is expressing their own Baroque, which will definitely not be universal.
We can continue by adding to this that we think biopolitics is the production of subjectivity, being both a part of the political power and also a style of resistance.
In 2010, she was an artist who performed making eye contact with people for almost 800 hours. In the exhibition Flux of this artist, in an era where even the ordinary laborer does not work for eight hours - they work every moment through the internet - when labor is seen the least, (at a time when even if we do not do anything, we work as a data, as an input for Facebook or Instagram), what is the bid anyway for being made visible for eight hours for one exhibition?
Is it performance? Or performance artists? Or performance art? Or this and everything else have been once more commodified for one exhibition, that labor is once more made invisible in the FLUX/Marina Abramović and in the MAI exhibition poster, is it that we finally need to comprehend?
And, Yes, dear Marina Abramović, maybe all of these are our answers; it is all of these that make us think, make us extremely serious. And, yes, we may be a little ashamed. Could it be that our shame stems from the humiliation we feel in the name of contemporary art today?
*This article is concurrently published at SanatAtak, an Istanbul based independent website on arts, culture and everything about life. Duvar English welcomes the collaboration of SanatAtak for coverage of arts scene in Turkey. Turkish version of the article can be reached here.