Number of confirmed coronavirus cases rises to 5 in Turkey
Turkey confirmed three more coronavirus cases, bringing the total tally to five, Health Minister Fahrettin Koca said on March 13. "All five cases are directly related," Koca told reporters at a press conference.
Duvar English
The number of confirmed coronavirus cases in Turkey has risen from two to five, the country's Health Minister Fahrettin Koca said on March 13.
"After our first two cases, we confirmed three new cases who came in contact with them and were from the same family. All five cases are directly related," said Koca.
The minister said two of the five patients have "respiratory problems."
Koca made the comments during a press conference along with Justice Minister Abdulhamit Gül and Transportation Minister Cahit Turan.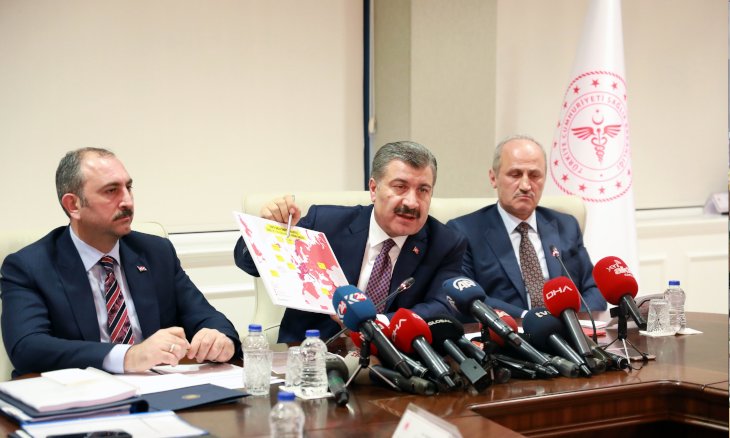 The ministers announced a series of new precautions against the virus.
As part of the new measures, visitors to hospitals will only be allowed after working hours and those visits too will be limited.
Certain civil servants will be entitled to time-off from work
Civil servants who have recently traveled abroad will be given administrative leave for a period of 14 days.
Also certain civil servants will be given administrative leave for 12 days and spend the time in isolation as of March 16. These civil servants will include pregnant women, women on breast-feeding leave, people with disabilities and people older than 60 (except managers).
Women civil servants who have children attending preschool or primary schools will be given priority to use their annual leave, and if they do not have any annual leave left, they will be entitled to "compassionate leave."
Prison visits suspended for two weeks
Justice Minister Gül said that prisoners will not be allowed to meet family members for two weeks as a precautionary measure. He also said prisoner transfers will be postponed except in the cases of "security-related issues" or "illnesses."
On March 12, Turkey moved to close schools for one week and universities for three weeks from March 16, while also ruling that sports events be held without spectators until the end of April to help contain the spread of the virus.