Turkish main opposition CHP holds congress despite worldwide cancellations due to coronavirus concerns
Main opposition Republican People's Party (CHP) held its 14th Istanbul Women's Branch Congress March 15 amid worldwide cancellations due to the coronavirus. CHP Istanbul Provincial Chair and physician, Canan Kaftancioglu, was the target of criticism for insisting on holding the event and for giving a former party member a hug at his mother's funeral March 15.
Duvar English
The main opposition Republican People's Party (CHP) held its Fourteenth Istanbul Women's Branch Congress March 15, amid a wave of cancellations in international political circles amidst worldwide coronavirus concerns.

The decision to hold the event was met with disapproval on social media, with prominent Turkish journalist Ismail Saymaz directing criticism at Canan Kaftancıoğlu, a physician and the CHP's Istanbul Provincial Chair.

Saymaz noted the risk of socializing in large groups, as in the case of the CHP congress, as well as of politicians from the ruling Justice and Development Party (AKP) visiting relatives returned from Umrah.

"AKP members visit those returning from Umrah, CHP members hold a women's congress. We get by on sheer luck," Saymaz said before criticizing Kaftancıoğlu directly.

"By the way, Canan Kaftancıoğlu is a physician. I don't see how people can be so careless."

Kaftancıoğlu responded to the criticism in a tweet, asking Saymaz some questions.

"How does a virus spread? What is foreign-sourced contamination and its risks? How do you compare apples and oranges? How do you organize a meeting with precautions?"

Kaftancıoğlu used an emoji pointing at Saymaz's tweet, which she deemed "the cheap mentality of 'I must criticize the CHP to be able to criticize the AKP'" and "the ignorance of having knowledge without having an opinion."

Saymaz responded to Kaftancıoğlu's retaliation by telling her she is the responsibility of Turkish physicians now, and suggesting a comprehensive quarantine plan.

"I would find it beneficial that you be quarantined spiritually, physically and politically following the women's congress."

The women's congress came as an anomaly within the CHP, as the main opposition party had earlier ruled to postpone all in-party meetings to a later time, including its 37th General Assembly.

Kaftancıoğlu was also criticized for hugging a former CHP member at his mother's funeral March 15.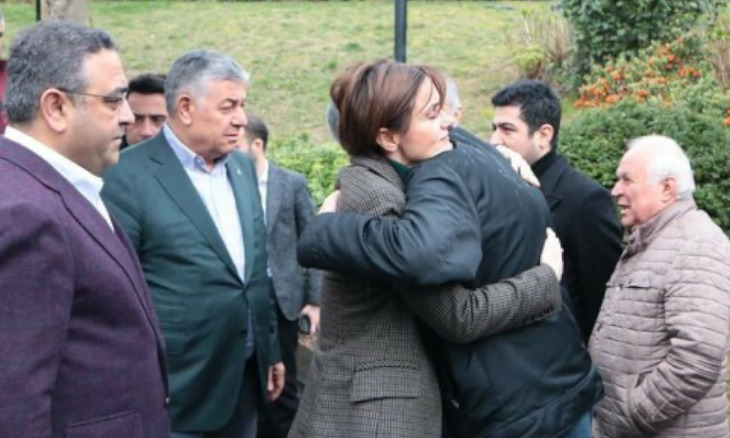 Kaftancıoğlu responded to the criticism by saying she could not have possibly avoided giving her friend a hug when she, "saw the pain in his eyes at his mother's funeral."
"But that doesn't change the fact that what I did was wrong. You're right in your sincere criticism and there's nothing to defend about what I did," Kaftancıoğlu said in a tweet.

She then shared an official visual from the CHP, the slogan of which reads, "Protecting ourselves is possible by protecting each other. We don't shake hands, we don't hug, we love each other."
"At least on this topic, I'll tell you to do what I say and not what I did. I want to give myself criticism on that," Kaftancıoğlu said before moving on to criticize some of her critics.

"First as a physician and then as a politician, my lifelong battle has been for the health and happiness of the public. It's great to be criticized, even better if the criticism is correct. That answer excludes those populists who feed into the lynching culture because of their own insecurities…"