Erdoğan couple joins collective applause supporting healthcare staff
President Recep Tayyip Erdoğan and his wife Emine Erdoğan joined the collective applause initiated on March 20 evening to thank medical staff for their efforts to protect the population from the coronavirus.
Duvar English
President Recep Tayyip Erdoğan and his wife Emine Erdoğan on March 20 evening joined the collective applause initiated to show support for Turkey's medical staff, who are working tireless in a bid to combat the coronavirus outbreak.
Alongwith thousands of Turks, the Erdoğan couple stepped out on theirbalcony at their house in Istanbul's Üsküdar district at 9 p.m. andapplauded the medical staff.
This was the second night in a row that Turks showed their respect for the country's healthcare staff.
Koronavirüs ile mücadelemizin özverili ve fedakar kahramanlarına, her türlü zorluğa ve sıkıntıya göğüs geren tüm sağlık çalışanlarımıza şahsım, ailem ve Milletim adına selamlar, sevgiler ve elbette alkışlar... pic.twitter.com/qiMof7rjbm

— Recep Tayyip Erdoğan (@RTErdogan) March 20, 2020
"The struggle given by our health officials is above all kinds of applause. We are from here greeting them with respect. Our greetings and love to all of our medical staff. On behalf of my family and my nation, I greet our medical staff, who are facing up to all kinds of difficulties and problems at this point," Erdoğan is heard saying on his balcony while addressing the citizens.
Erdoğan then once again urged people not to leave their houses until "this disaster passes away," referring to the spread of coronavirus.
In his Twitter message, Erdoğan referred to the medical staff as "devoted and self-sacrificing heroes" of Turkey's struggle against the coronavirus.
As of March 20, the number of coronavirus cases in Turkey rose to 670, with a death toll of nine.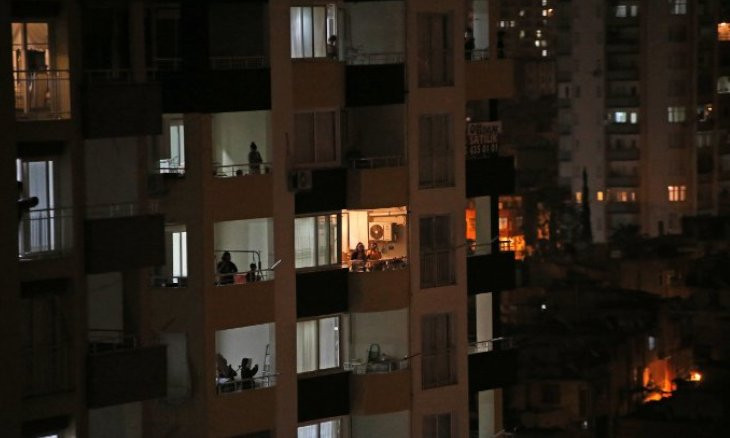 Turks take to their balconies to applaud medical staff