Istanbul starts health, permit inspections on passengers arriving, leaving
Istanbul Traffic Police have started health inspections, as well as travel permit checks on passengers coming into the city, as well as those leaving, Governor Ali Yerlikaya said March 29. While all passengers' body temperature is checked, those who require it will be placed under quarantine, Yerlikaya added.
Duvar English
Istanbul Traffic Police has started health inspections of passengers going in and out of the metropolis March 29, in an attempt to slow down the spread of the coronavirus in the city of almost 20 million residents.
"There are health checks at all entrances and exits of the city," said Istanbul Governor Ali Yerlikaya in a tweet.
Yarından itibaren İstanbul'da "Ticari Taksilerin" trafiğe çıkışlarında plakasının son hanesine göre sınırlamaya gidilecektir.

Bu gece 00.00'dan yarın akşam 23.59'a kadar plakasının son rakamı tek olanlar, belirtilen saatten sonra rakamı çift olanlar trafiğe çıkabilecektir.? pic.twitter.com/NmyMFGIMf3

— Ali Yerlikaya (@AliYerlikaya) March 29, 2020
Police officers checked for bus passengers' travel permission slips and refused entry to passengers who lacking a permit.
Meanwhile, the staff of the Istanbul Health Directorate checked car passengers' temperatures and reportedly sent any passengers with a fever to the hospital in ambulances.
"Any passengers who require it will be placed under quarantine for 14 days," said Yerlikaya in his tweet.
Turkey's Interior Ministry placed limitations on intercity bus travel, along with increased inspections March 27.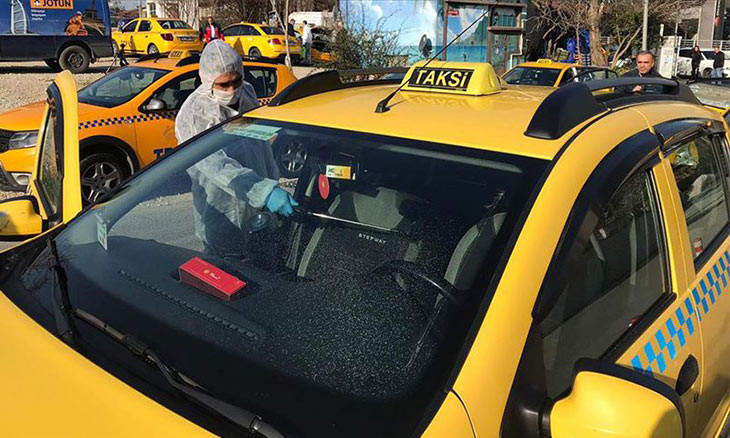 Turkey's Interior Ministry limits number of taxis in big cities by 50%