Istanbul mayor criticizes sudden curfew announcement, says municipality has not been notified
Turkish Interior Ministry has declared a 48-hour curfew for 31 major cities effective early on April 11 as part of measures to curb the spread of the novel coronavirus. Istanbul Mayor Ekrem İmamoğlu said the municipality was not notified of this decision and such unilateral sudden decisions result in panic, as shortly after the government's announcement, thousands of Turks made a desperate attempt to purchase food and essential items before the lockdown.
Duvar English
Istanbul Mayor Ekrem İmamoğlu has criticized the government for imposing a two-day curfew in 31 major cities suddenly, which led to panic among residents.
The mayor, from the main opposition Republican People's Party (CHP), also said that the government had not earlier notified the Istanbul municipality of this decision.
"The decision of curfew should not be taken all of a sudden. As the İBB [Istanbul Metropolitan Municipality], we have not been notified of this critical decision. We do not even know which of the services we will be providing tomorrow in Istanbul. Every decision which is not given with a common mind and cooperation only causes confusion and panic," İmamoğlu said.
Sokağa çıkma yasağı kararı ansızın alınmamalı. İBB olarak bu kritik karardan haberdar değiliz, bilgilendirilmedik. Yarın İstanbul'da hangi hizmetleri verip vermeyeceğimizi bile bilmiyoruz. Ortak akıl ve iş birliği olmayan her karar sadece kafa karışıklığı ve panik yaratır. pic.twitter.com/EkHAh2FcsH

— Ekrem İmamoğlu (@ekrem_imamoglu) April 10, 2020
The Interior Ministry announced late on April 10 that some 31 major cities, including Istanbul, Ankara, will be locked down for two days from midnight to combat the spread of COVID-19.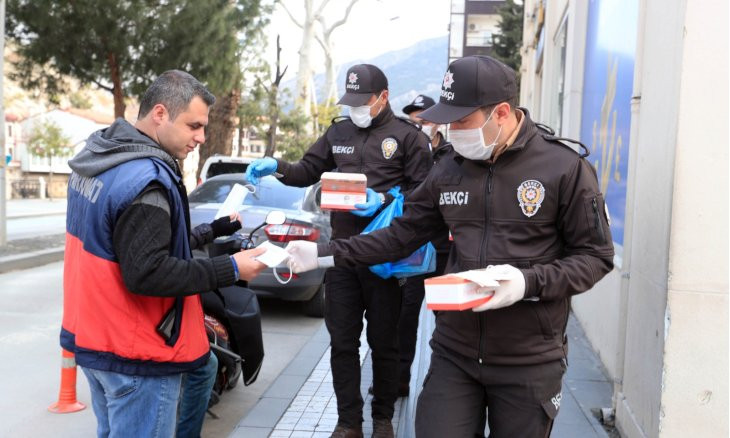 Turkey declares curfew for weekend in 31 major cities
Following the announcement, many citizens rushed to bakeries and markets to buy basic needs before the curfew went into effect.
Long queues have formed in front of these markets, with pictures posted on social media showing that residents neglected social distancing rules.
Several social media users have criticized the authorities for not notifying them earlier about the curfew decision, saying that an earlier announcement would have spared such a panic.
Bumudur abi yaa butun emekler cöp oldu rezillik bu yazik #fahreddinkoca hocamin emeklerine:( #koronaturkiye #sosyalmesafe #karantina #evdekal #suleymansoylu pic.twitter.com/Qz6WPMhZ5y

— enes rendeci (@EnesRendeci) April 10, 2020
2 saat sonra başlayacak sokağa çıkma yasağını son dk haberiyle duyurarak bugüne kadar alınan tüm tedbirler yok edilmiş oldu!Şu an sokak ve caddeler bir ay öncesinin normal hal ve hareketliliğine dönmüş durumda!Taksim'den gelen şu görüntülere bakınız!Ne diyelim bravo! pic.twitter.com/Njx7OOf1Nd

— Erdal Doğan (@Erdal_Dogan_) April 10, 2020
Bu nasıl iş, bu nasıl planlama arkadaş ya pic.twitter.com/hbPA1xU7FJ

— bAristAhmAz (@BarisTahmaz) April 10, 2020