'Online shopping during COVID-19 outbreak reveals the worst in Turkish people'
Pınar Öğünç writes: A recently laid-off delivery worker tells how online shopping reveals the underbelly of Turkish society during the COVID-19 outbreak when almost all stores are closed. "Someone bought a small pair of sewing scissors, and because they didn't like the color they wanted to return it and they wanted it delivered to their door," Istanbul resident Nazlı said.
Pınar Öğünç / DUVAR
Online delivery orders increase the risk of delivery workers contracting the coronavirus, while being forced to work under such conditions is soul-destroying, 31-year-old Nazlı said.
Nazlı worked at a delivery company. We got in touch a week ago and she was fired from her job on the day that we were going to speak. She says that this wasn't a coincidence, but a result of the "flexible working' policy that has been implemented in the private sector.
Nazlı explained the precautions that were lacking at her former workplace, but more importantly, she raised ethical questions about the safety of delivery workers that are particularly relevant during these times.
Why did they fire me? They say it was due to "customer dissatisfaction." I was working for a cargo company for a year and a half. People who work in this business and at the markets are all at risk, and we are aware of this. But there is nothing, no precautions. In fact, our agency's manager traveled to and from Germany, and in spite of our warnings she did not quarantine herself, and continued to come in to our branch.
"I'm good, I'm fantastic," she said, while putting all of us at risk.
"Let's take precautions, at least let's distance ourselves from one another like at the markets," I said as the cases increased.
"Well, you can't stop people," she said. On the other hand, the general manager made an announcement saying that all of our branches were being disinfected. We haven't seen anything of the sort. On March 19, they sent an email, and I'm sure it was someone from management, writing from home in their pajamas. They said we were like healthcare workers serving the public, doing a sacred job. It was like a series of pats on the back. They also wrote "sacred" with red letters, and I when I read that I became furious.
Right after, they gave everyone one mask and one pair of gloves. One each! We later learned that the central headquarters was selling these to the branches. In cargo companies they sell bags to the branches, this was the same thing. I mean you are in a situation that entirely depends on the initiative of the manager. During this process I heard about employees of other branches getting the virus, but look, that branch is still in operation.
If you could see the things we were delivering during such a time: outfits and shoes. I even witnessed this, someone bought a small pair of sewing scissors, and because they didn't like the color they wanted to return it and they wanted it delivered to their door. People are so cruel and selfish. This type of stuff is why I got fired. There was a customer who wanted to exchange their outfit. She grumbled while entering, and when she was told where to go, she said "All of you have the virus anyway, how can I go over there?" So apparently we all have the virus. Well, then you're not going to come into my store. I was speaking to my coworker next to me and I laughed at something. "How dare you laugh at me!" she started shouting. Naturally I began to defend myself, and the manager came. The woman said "Fire this one quickly!" about me in an angry fashion.
After the woman left, my manager said that such behavior is out of the question and that I'm very aggressive.
"We are at risk, and she comes in with an outfit or whatever, we are already serving people's luxuries as it is, we are all on edge," I said.
Every day we come to work like we are approaching death, we are transporting death in our hands. If the customers are stressed, we are even more stressed, we are more uneasy than everyone else. The next day, another customer came in because their shoes did not reach their home and I was unable to contact them because I did not have their phone number.
"As if we're idiots, like we didn't know this already!" they started shouting as I was responding calmly.
Afterward, sure enough, the manager called me in and fired me. The most torturous thing about it was the next two days I had to work in order to fill the month and not have my salary cut. Those two days were horrible.
My coworkers that work in delivery are continuously exposed to the same treatment. The customers act as if they have the virus and tell them to "leave it on the floor and go." Then they'll spray the packages with disinfectant, it's absurd. If you are this nervous, why do you want something delivered to your home? If we were bringing medical supplies to hospitals, then I would agree that we are doing something for humanity. Then our job would be sacred. But no, people are selling their children's old toys for example. There is an app called Dolap for second-hand sales that many people have downloaded. I cannot understand why someone would buy shoes while in quarantine. I'm done but thousands of people work cargo jobs. People really should not shop on a whim during this period, they need to understand this.
I have a 25-year-old sister, we live together in Istanbul. My family is in Adana. My sister was working at [the supermarket] Migros and I wanted her to quit. Dealing with 1,500 people a day where it's unclear what precautions were taken, we couldn't take the chance. Now both of us are unemployed. We can't expect anything from our family as they're retired. We were paying for our own living expenses here. At the most I can pay one month's rent and the bills with my last paycheck, after that it's darkness. I know very well that unemployment will increase fifteen times over. That is why I continued to work in spite of every risk. Even if we wanted to return to Adana, we can't because it's illegal [to travel from city to city]. We're stuck here without money.
They are playing with our mental health. How am I supposed to stay at home? I would take two buses to get to work. Take a look at the streets at 7:30 AM, people are rushing to get to work. The metrobus is completely full. On the totally empty streets there are people selling simit or flowers, there are people working for a daily wage. In terms of the people at home, 30 pct. are managers, they're the ones shopping online while under quarantine.
Class discrimination has become so obvious, this isn't simply a health issue, it's a class conflict, that's how I see it. The Minister [of Health] says "young people should stay home" but young people are trying to make a living! Young people are working in the factories, the banks, the markets, and the cargo companies. Young people are bringing home death. We are bait that has been tossed out, we're the ones that are supposed to get the virus and die. But until we die we will keep the economy alive! As you can see they don't want to stop online commerce. There are even discounts. It is like that everywhere.
I studied to be a construction technician but actually I wanted to become a theatre actor. That's why I came to Istanbul, not due to financial reasons. I had to start working not because I wanted to, but for economic reasons. Since I was 20 years old I've worked a ton of jobs, including building inspection, real estate, retail, and waitressing. I think that exhaustion is the price to pay for living in this country. I have nothing to expect from the future when I can't even envision tomorrow.
It's as if this virus has opened wounds. Economic problems, unemployment, whatever else there is. I've long lost my hope for this country and its people, I was never able to be on the same boat with them. I've long given up on my dreams. That's why I didn't want to stay silent against this injustice, I wanted my voice to be heard this way...
On the day we spoke, it was announced that there were 18,135 cases of coronavirus and 356 deaths.
Many people speak of this unpredictable state of emergency created by a virus that surrounded the planet in a matter of months, which will make the current inequalities of capitalism more visible while deepening them, and that after this nothing will be the same again.
Will it really not be the same? Why wouldn't it? How is it possible to 'heal' when we are surrounded by an order rooted in deep inequality, the sexist division of labor, and exploitation in every aspect? Women, men, workers, civil servants, the unemployed, white-collar workers, blue-collar workers, those saying that the "collar" era has changed, freelancers, those who work at home, people still working, those forced to work, those under quarantine, those who can't see the future, and those worn out from what they have seen are telling their stories.
The reason for having started this series of long articles is for hearing each others' voices and searching for our own strength in those of others.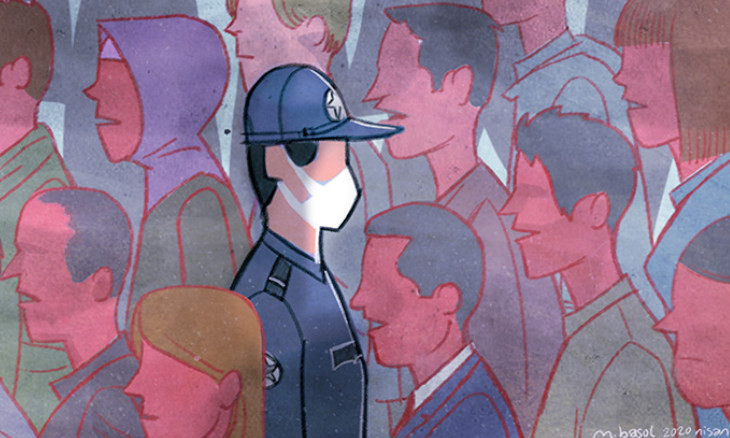 The reflections of a hospital security guard: If I am lucky to find a mask I have to use it for 12 hours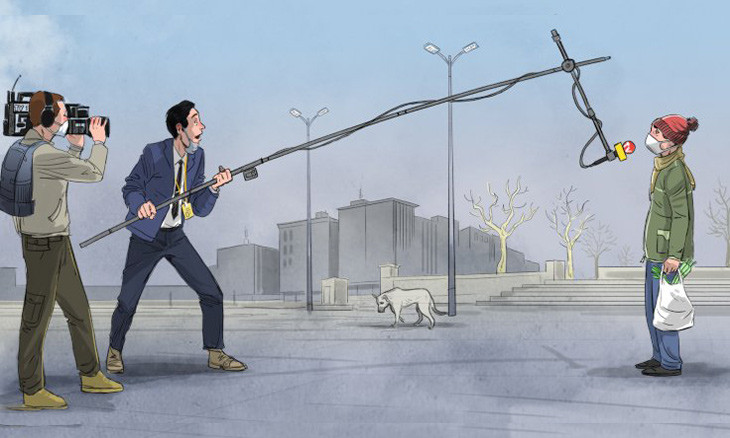 A Turkish cameraman's struggle with COVID-19: At least in a war you'll know where an attack might come from