Store owners in Western Turkey bazaar hold WhatsApp vote to re-open stores despite COVID-19 closures
The shop owners of the historical Alipaşa Bazaar in the western province of Edirne held a vote on chatting application WhatsApp, and ruled in favor of re-opening their stores ahead of Ramadan. As the bazaar had been closed late March to slow the spread of COVID-19, the Edirne Governor's Office shut down the shops within one day.
Duvar English
The Edirne Public Safety Board closed historical marketplaces that were opened when the vendors held a WhatsApp vote to re-open their stores, which had been closed March 25 to slow the spread of COVID-19.
Three marketplaces, including the historical Alipaşa Bazaar, in the Thracian province of Edirne had been closed for only 27 days when the business owners of Alipaşa voted on the chatting mobile application WhatsApp to re-open their stores.
"[Turkey] didn't reach really high numbers [of COVID-19 patients] thanks to precautions. We supported the process by keeping our bazaar closed for a month," Historical Alipaşa Bazaar Association Chair Yılmaz Sanış told Edirne Ahval daily April 21.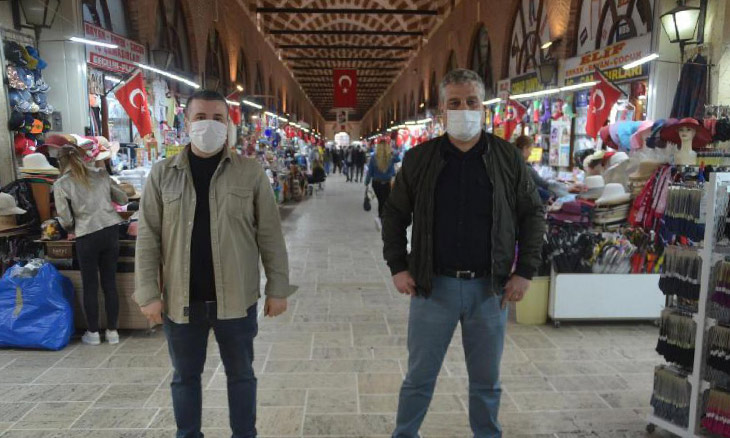 Sanış said that the association has been holding weekly votes since the March 25 closure of the bazaar, and that the weekend of April 18 and 19 was the first time where shop owners voted to open their stores.
The bazaar will be open for limited hours between 11 a.m. and 5 p.m. until the COVID-19 outbreak is over, Sanış added.
"There's a few days left until the start of Ramadan and the weather is warming up. Citizens don't leave their house unless they have to, but we will make sure that those who leave can quickly do their shopping in one place."
The store owners mandated that everyone wear masks and maintain safe distances from each other, in line with the Interior Ministry's regulations, and re-opened the Bazaar April 21.
Within a day, the Edirne Public Safety Board held a meeting at the Edirne Governor's Office, where they ruled that Alipaşa, Bedesten and Arasta bazaars remain close until further notice.
The committee subsequently ruled that the 255 businesses inside the bazaars suspend operations temporarily, considering that their rent payments are delayed.
Edirne Municipality will be responsible for maintaining hygiene in the historical bazaars, which belong to Turkey's Directorate General of Foundations.