Schools might reopen on June 1, says education minister
Turkish Education Minister Ziya Selçuk said late on April 29 that schools might reopen on June 1 if normalization from the coronavirus pandemic goes as planned. Earlier in the day, he had announced that that the country extended remote education until May 31.
Duvar English - Anadolu Agency
Schools across Turkey that have been closed since March 13 as a result of the Covid-19 lockdown might reopen on June 1 if normalization from the pandemic proceeds as planned, the country's education minister said on April 29.
"If the normalization process continues as expected, we would open schools on June 1," Ziya Selçuk said in a live interview with CNN Türk.
Earlier on April 29, Selçuk had announced that a remote education would continue in Turkey via TV and online lessons until May 31 as part of measures to stem the virus in the country.
Turkey first began distance education through broadcasting school lessons on March 23 with Selçuk teaching the first class to millions of students.
Selçuk said that in the first 15 days of distance learning, the number of lessons via Education Information Network surpassed 650,000.
"Just 150,000 of these lessons were within the first week and this number rose to 500,000 in the second week. We have established a new dimension to education by making nearly 200,000 of these lessons on the weekend," he said.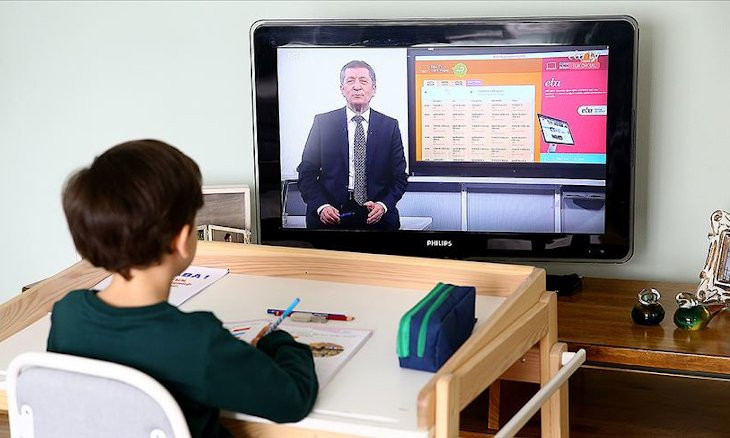 Turkey ranks 64th among 77 countries in access to a computer for schoolwork: OECD
When asked whether the schedule for make-up lessons was determined, Selçuk said that they're making evaluations based on the current situation in the country.
On March 13, Turkey announced all educational facilities from primary schools to universities would be suspended so the virus could be contained in the country.
Turkey currently has 117,589 coronavirus cases, while the death toll in the country stands at 3,081. A total of 44,022 patients have been discharged from hospitals after recovering from the virus.