Health care union to file lawsuit against gov't agency for not recognizing Covid-19 as occupational disease
The health care union SES has announced that it will take Turkey's social security agency SGK to the court over its decision not to classify Covid-19 as a work accident or occupational disease.
Duvar English
The Trade Union of Public Employees in Health and Social Services (SES) has announced that it will file a lawsuit against the government-run Social Security Instutiton (SGK) over its May 7-dated circular that said Covid-19 will not be considered as a work accident or occupational disease.
"It seems that the government and employers have been disturbed by the workers' and organizations' attempts to protect their rights. The Social Security Institution, which has not released a statement [regarding this issue] for the last two months and which should normally work to interpret the Labor Law in favor of workers, has attacked workers on many fronts with the circular it issued," a press statement of the union read on May 15.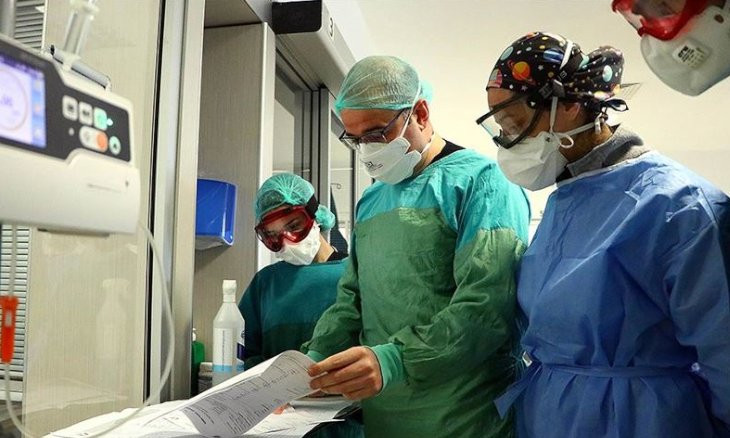 7,428 health care workers infected with coronavirus, says Turkish health minister
The health care union said that tens of thousands of health care staff have been infected with Covid-19 and they have been forced to work without sufficient precautions having been taken.
Many employees in other sectors as well have been made to work during the epidemic and forced to go to workplaces, which put their lives at risk, the statement said.
The union called on the SGK to withdraw its circular and asked all health care staff as well as other employees in other sectors to continue to fill occupational accident reports and submit it to the relevant authorities should they get infected with the virus.
"It is our call to all workers, foremost health care staff; be insistent for your [coronavirus] case to be registered and notified; if they [employers] are not doing it, you can personally file an application with the SGK through mail or in person. Do this definitely and start the process," the statement said.