Erdoğan signals travel restrictions for senior citizens amid spike in COVID-19 cases
President Erdoğan has said that Turkey shifted to a "new phase" in the struggle against the COVID-19 pandemic, signaling that the government is preparing to introduce new measures to curb the spread of the virus. He also said that travel restrictions might be reimposed on citizens aged above 65 at the provincial level.
Duvar English
President Recep Tayyip Erdoğan signaled on Sept. 21 that travel restrictions might be reimposed for citizens aged 65 and over amid a recent spike in COVID-19 cases.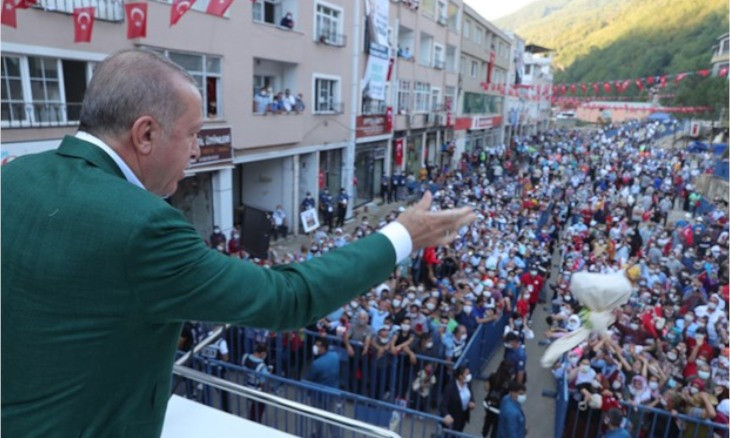 Erdoğan says new measures needed as virus makes comeback in Turkey
"Inspections on cafes and restaurants will be tightened. Authorities will conduct inspections more tightly to see if people in isolation [at home] are complying with the rules or not. A restriction on transportation hours might be imposed at the provincial level on our citizens aged 65 and over," Erdoğan said after a cabinet meeting in the capital Ankara.
Erdoğansaid that Turkey shifted to a "new phase" in the struggle againstthe COVID-19 pandemic. "We are developing new strategies in linewith the newly acquired experiences," he said.
Enterpriseswhich have been previously fined for not complying with COVID-19rules, will be required to have paid these fines prior to gettingservices at the public institutions, Erdoğan said.
The president also said that Turkey's vaccine against the virus could be available for the public in the first few months of 2021. "We are in a fast way proceeding with manufacturing our own vaccine. Trials on animals for two out of the eight studies for vaccine development have been successfully completed. Trials on humans will start in the upcoming days," he said.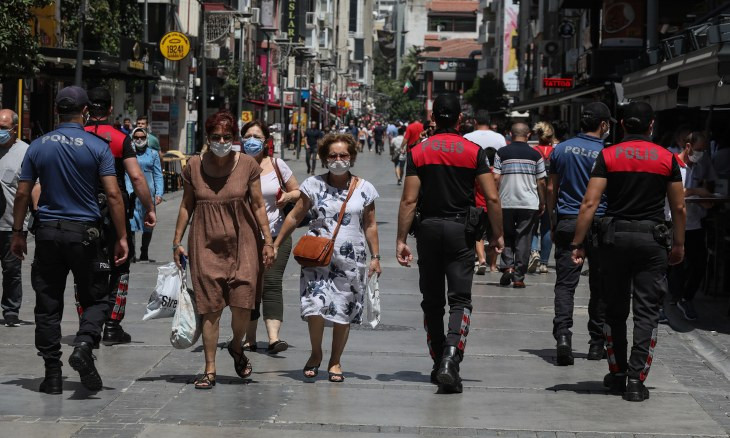 Turkey experiencing acceleration in contagion of COVID-19 in last two months: Health Minister
Erdoğanhad said last week that the government was preparing to introduce newmeasures to curb the spread of the virus, since "people have notcomplied with the rules."
"Ourpeople have not complied with the rules. So we have to tighten themeasures again. The [Coronavirus] Science Committee and HealthMinistry need to increase the measures," Erdoğan had said.
Thevirus infections and deaths began increasing after Ankara loosenedrestrictions on public activity, starting in June. The"normalization" plan has been slammed by critics, who said thatthe government was offloading the blame on citizens and the burden onhealthcare staff.
The country's daily toll for patients infected with the COVID-19 in the last few weeks has reached similar figures last recorded in May.
Turkey reported 1,743 new COVID-19 cases and 68 new fatalities from the virus on Sept. 21. The Health Ministry data showed that the number of patients in critical condition now stands at 1,491, while 6.8 percent suffer from pneumonia.
"For our health personnel to continue their selfless services, we need to decrease their burden. This can be accomplished only through complying with the measures," Health Minister Fahrettin Koca wrote on his Twitter account.
Bugün 1.743 yeni hasta tespit edildi. Can yakan 68 kaybımız var. Ağır hasta sayımız 1.500'e yaklaştı. Sağlık çalışanlarımızın özverili çalışmalarının sürdürülebilmesi için onların yükünü azaltmalıyız. Bu ancak tedbirlere uyarak gerçekleşebilir. https://t.co/RVlhe7786O

— Dr. Fahrettin Koca (@drfahrettinkoca) September 21, 2020