Turkey records over 70 daily coronavirus deaths for first time since May
Turkey on Sept. 23 recorded more than 70 daily coronavirus deaths for the first time since May. Seventy two people died over the past 24 hours due to the COVID-19 in Turkey, while 1,767 new cases were diagnosed, according to the daily figures the Health Ministry announced on a COVID-19 dedicated website on Sept. 23.
Duvar English
Turkey on Sept. 23 reported 72 daily coronavirus deaths — its highest since the beginning of May. The country had registered 78 fatalities from the virus on May 2, and since then daily virus deaths had remained below 70 – i.e. until Sept. 23.
According to the Health Ministry data, the country reported 1,767 new virus cases and 1,027 recoveries. The overall case count now stands at 308,069, with 270,723 recoveries.
The figures also showed that the number of patients in critical condition has risen to 1,561, while 6.7 percent suffer from pneumonia.
Health Minister Fahrettin Koca once again urged the public to comply with the measures. "The number of our active patients continues to rise. We have new 1,767 patients today. Let's implement the measures all together, for our health system to stay sustainable and our health personnel to be able to give service," Koca wrote on Twitter.
Ağır hasta sayımız bugün 1.561'e yükseldi. Aktif hasta sayımız artmaya devam ediyor. Bugün tespit edilen 1.767 yeni hastamız var. Sağlık sistemimizin sürdürülebilir ve sağlık çalışanlarımızın hizmet verebilir kalmaları için tedbirleri birlikte uygulayalım. https://t.co/RVlhe7786O

— Dr. Fahrettin Koca (@drfahrettinkoca) September 23, 2020
Turkey's daily infection and death toll in the last few weeks has reached similar figures last recorded in May. The infections have begun to spike on a daily basis after falling to as low as 902 on July 22.
The government loosened restrictions on public activity starting in June. Ankara's "normalization" plan has been slammed by critics, who said that authorities were offloading the blame on citizens and the burden on healthcare staff.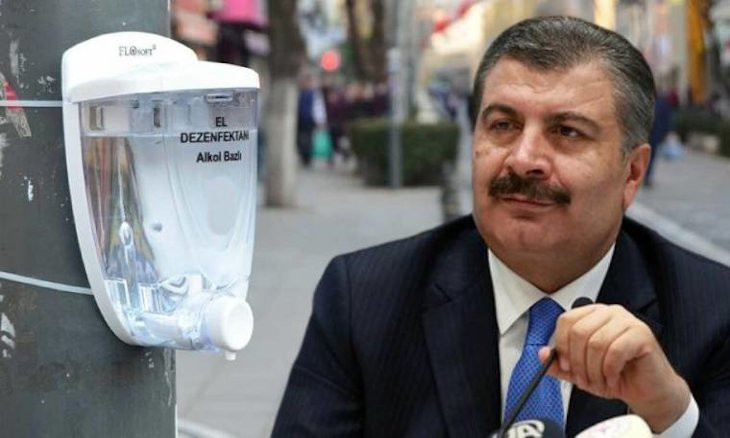 Most sanitizers used in Turkish hospitals are fake, pharmaceutical company head tells health minister