Jewish landmarks in Galata: Social life and apartments
Mois Gabay writes: Do you think the Camondo family will be included in the Beyoğlu Culture Road project conducted by the Ministry of Culture and Tourism? What about Arif Ergin's "Tekvin" novel, in which he imagined that there would be a "Camondo Museum" one day?
Mois Gabay
In this last episode of our series about the traces of Jewish life in Pera and Galata, we will present snapshots of the social life of Jews in Galata. We will also remember what we have lost. We would like to convey our apologies to our friends we have not mentioned due to limited space. We owe them a book about our journey.
Who were those Jews living in Galata whose stories we have been telling for weeks? What jobs did they hold and what kind of life did they have? When I asked these questions to the elderly, the answer I received was that those times were very different than these times now, as in anything else. In those times, I guess, love and passion and fights were much more innocent and natural. The play "Kula" in the Ladino language, in which I took part in my early youth, shows us this. It was about poor Mando, who was suffering from unrequited love and who was rivals with a doctor. Nevertheless, in real life, it was the butcher Dalva, butcher Nesim, fishmonger Avraam (famous for his salted bonito or lakerda), confectioner Belifante, kosher delicatessen Yom Tov, famous internist doctor Uzdil, pediatrician Çiprut (who was also the school doctor), radio repairman Mordo, stationary seller Eliezer and greengrocer Nesim. There was also doctor Savaryego, pickle seller Moşon, barkeep Aşer, and many more. We will not be able to find these people now. They kept up with the times and left Galata long ago. So let's play the song "Bre Sarika Bre" in the background and take a nostalgic journey to the Galata of those times…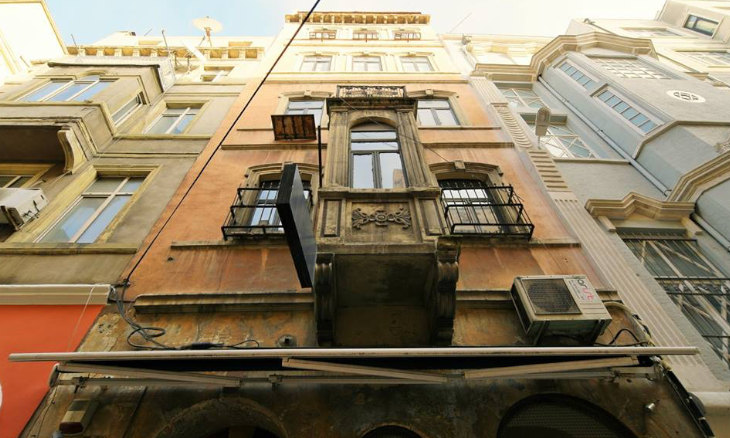 Aşer Levi Winehouse and Fisherman Çelebon Beerhouse
Although there are no resources about these two important addresses, the notes of Jak Deleon have guided our paths. Both of them were saloons of a cheaper kind, located at Kuledibi. They served the Galata shopkeepers and artisans at the end of the 1940s. Aşer Levi Winehouse (also called Çorbacı Aşer) and Fisherman Çelebon Beerhouse, perhaps because they were near the coast and just quietly served the small business owners of the neighborhood, were not included in Reşat Ekrem Koçu's Istanbul Encyclopedia.
The real notes about these two barkeepers belong to the father of Aslanzade Yakub (who was a true Istanbul gentleman), the teacher Ishak Bey from Moda, a district on the Asian side of the city. This Mr. Ishak was a fan of Abdülhak Hamit (a Turkish playwright and poet of the early 20th century) and Pera Palas (a historic Istanbul hotel). He has sat and dined at the same table with Refik Halit (a Turkish educator, writer and journalist). He was a poet himself and he told the story of his old friend Balıkçı Çelebon. Çelebon's last name is also Levi but he has no relation to Aşer, except for marrying each other's sisters. Their business rivalry is legendary. At Levi's, they would exclusively serve mulled wine. Despite its humble prices, there would be appetizers (mezes) such as radish, olives, cheese, and apples that accompanied the drinks. Those who could not afford them would just drink their alcohol straight.
Among its regulars were those who would spend the night at the Karaköy Hammam's heating center or rough sleepers with little money. As his name suggests, fisherman Çelebon would go out to sea at Haliç in the mornings, fish for blue fish and bonito between Kasımpaşa and Cibali, and then collect his fishing nets and go to the beerhouse in the afternoon. Çelebon was more expensive than Aşer Levi and had all kinds of raki. His stuffed mackerel, pilaf with tomatoes and gruyere cheese were famous. Their taverns were right next to each other. They had knocked down the wall separating them on the second floor and had moved their homes there. It was said that when it came to family, they shared all their joy, love and troubles, but when it came to business, they were implacable. Aşer would say beer was like a filling cup for water (meaning one has to drink it continuously) while Çelebon said wine was the "fuel of the contemptible." Aşer would do high volume business with lower prices while Çelebon was after "fat" customers. They were the opposite of each other in looks. Aşer Levi was short, chubby, had a red belt and thin glasses, and was very mobile. Fisherman Çelebon was the fattest barkeeper in the world, with a round face, white skin and a beard. Especially on Saturday evenings, the barrels that were used as tables and wooden stalls would be carried to the pavement, the whole place would be full of people who love to drink. When Aşer's customers would mix with Çelebon's, then the two barkeepers would fight. All the tallies and checks would become a mess. Who drank how much and paid how much would not be known. A portion of the customers on Saturday nights were staff working for Galata banks. Çelebon would call them "little bankers."
A memory from Aşer Levi: One day Barkeeper Aşer's home phone rang. When he picked up the phone, he was surprised at the anger of the caller. The person on the phone was yelling and saying, "Come on brother, when are you opening the tavern?" Mr. Aşer was calm, and said, "Why would a bar be opened at this hour? Are you confused?" The person on the phone then snapped, "Brother, I am not calling from outside. I am calling from inside the bar." The guy must have passed out and spent the night in the venue.
Barnathan Apartment and letters found under the floorboard
Two important monumental buildings in Galata are the Doğan and Barnathan apartment buildings. For a long time, their owners were Jewish families. The Barnathan family was one of the influential and rich families in Ottoman times, especially in the 19th century. When the Barnathan apartment buildings were built, family members also owned another property, a business center at Eminönü, named Barnathan Han. It is now called Nasırzadeler Han. There were several commercial offices in the building. We learn from Çiğdem Oğuz's research on the family that Menahem Barnathan was a broker. He was a representative of several production and industry companies from Europe, most of which specialized in cigarette paper. Moise Barnathan was also a representative. Nissim Barnathan was a banker and he owned Barnathan Han. It is in the records that he was a member of the executive board of the Or-Ahayim Hospital in Balat. Mr. Nissim held a very respectable position within the Ottoman Jewish community. In his obituary that was printed in "El Tiempo" daily on November 22, 1907, it was noted that he lived in Moda, Kadıköy, that he was very hardworking, he would only eat one meal a day. Even though he was a religious person, he was open to new ideas, it said. A group from the family had immigrated to France but lost their lives during the Holocaust period in the Auschwitz concentration camp. Relatives from Istanbul have settled in the U.S. and Brazil. Nowadays, from this huge family, only the granddaughter of Mr. Moise, Mrs. Stella, lives in Turkey.
Nar Yatırım, an Istanbul real estate developer, was the source of this valuable information. They traced the inheritors of Barnathan Han one by one through social media. After much effort, they were able to restore the building.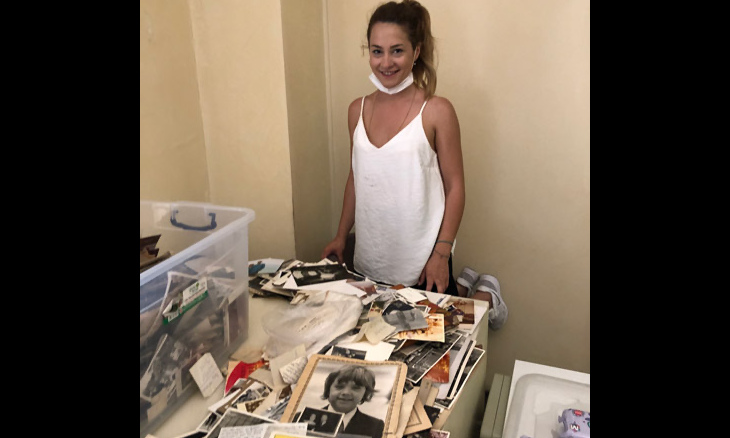 Director of Meroddi Hotels, Arzu Taşdemir, found letters and photographs one evening under the floor that shed light on history. We went through the photographs with her and we found the stories of the two families. There were graduation pictures of Saint Benoit High School from the 1950s, different shots from the city of that time and family albums, which will all be showcased when the hotel opens soon.
Camondo Inns, Doğan Apartment Building and Serdar-ı Ekrem Street
Two of the most important addresses of the Jewish community in Galata were the Şair Ziya Hill, which was called the Jewish Hill (Yahudi yokuşu) before. The other one is Serdar-ı Ekrem Street, which was called Eski Yazıcı Street. Today, from the dates engraved on some buildings and from the names of apartment buildings, you can find traces of its Jewish heritage.
One of the most famous apartment buildings in Galata is the Doğan Apartment. Between the owners Helbig and Doğan, there was a period when a Jewish family, tobacco paper producers named Mahir de Botton, owned the building. The painful marks of the pogroms on September 6 and 7, 1955 were never erased for the Jews who lived in Kuledibi, just like in other neighborhoods. Kids in this neighborhood were raised with toys bought from Papa Jorji's shop. His shop was also looted during the incidents. When Jewish people here remembered the neighbors they had lost, they moved to new districts of Istanbul one by one, to Şişli and Gayrettepe.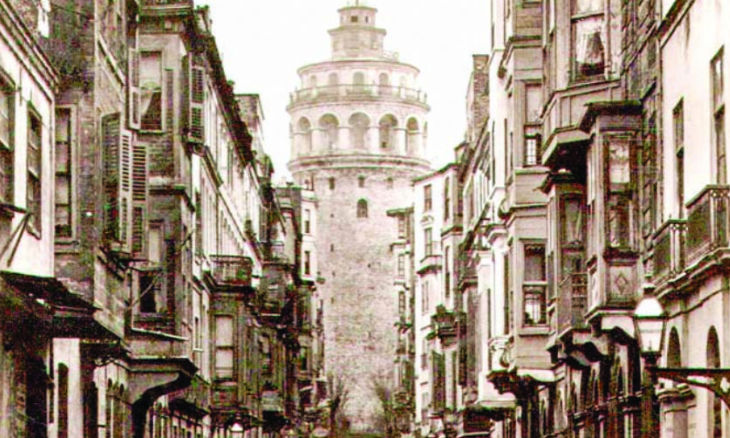 In the Serdar-ı Ekrem street, several adjacent apartment buildings exist, including Camondo Han, all of which were bought as investments to rent to staff working in the banks and insurance companies in the region. Among them, the owners of the Hadji Said, Youssouf Izzeddin, Camondo and Levi apartment buildings did not actually reside in them. The property owners and their relatives most probably lived in the Asséo (Salomon Asséo), Braunstein (Elias Braunstein) and Agostini (Louis Agostini) apartment buildings.
When we look at the lifestyles of those who lived in the Galata apartment, we have rich families such as the Camondo, Barnathan and Botton families, but at the same time, there are not so rich but happy Jews living in the same neighborhood until the 1960s such as those from Kula, Manisa, near the Aegean coast, who spoke "Judeo Espanol" and worked as janitors or building superintendents and who had small businesses.
In fact, since the 1880s, due to the influence of the Alliance schools, French was also spoken in homes, and thus the Pera area was preferred by families seeking a new and higher quality lifestyle. In the 1940s, a more "elite" segment would prefer the area around Taksim, Talimhane, and Pera, while middle-class professional Jews built a new life for themselves in Galata where there are plenty of synagogues.
The charitable Camondo family, who were important Ottoman bankers, left deep marks on 19th century Istanbul, from modern municipal work and city ferries to the Tünel and dozens of inns and buildings they built. It is a shame for all of us that they are only remembered through a small plaque at the iconic staircase they built at Galata, at the junction of Voyvoda and Banker streets.
The North Sea Field Command building in Kasımpaşa, the Galata Résidence, the Camondo Building on Serdar-ı Ekrem Street, the Camondo residence on Felek Street, the Büyükada Inn on Meşrutiyet Street, the Saatçi Han, the Latif Han, the Lacivert Han, the Yakut Han, the Kuyumcular Han, the Lüleci Han and the Gül Han in Karaköy are the buildings that we know of that remain from the family.

Do you think the Camondo family will be included in the Beyoğlu Culture Road project conducted by the Ministry of Culture and Tourism? What about Arif Ergin's "Tekvin" novel, in which he imagined that there would be a "Camondo Museum" one day? Many special people and families have lost their lives abroad. The Camondo family is referred to as the "Rothschilds of the East." Let us put this family in our cultural memory before other countries do.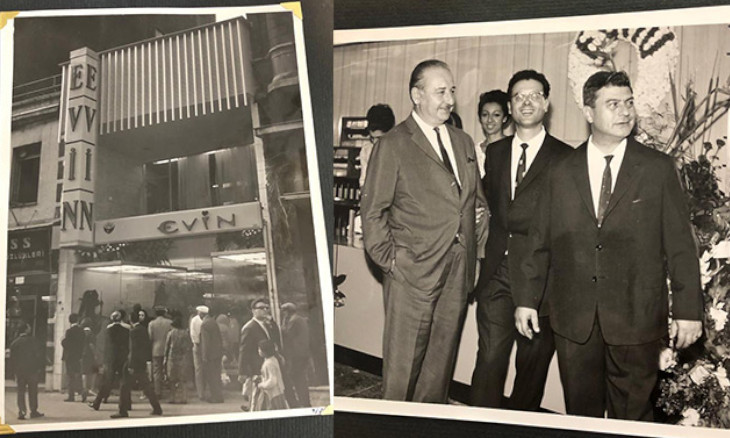 Beyoğlu's Jewish landmarks in fashion