Demolition works feared to restart at Diyarbakır building with animals inside
The demolition of Galeria Housing Site was stopped on Feb. 22 after two cats were spotted in the heavily damaged building. Ten cats, one dog and one bird trapped inside the building have been for days waiting to be rescued. Animal owners and activists are worried that demolition works might start at any moment.  Late on Feb. 22, authorities have announced that one of the cats was rescued.
Şirin Bayık / Gazete Duvar
A heavily damaged building in the quake-hit Diyarbakır wants to be demolished by the authorities despite ten cats, one dog and one bird being trapped inside the structure.
The owners of the animals and activists have been for days calling on authorities to rescue the animals, demanding that the Galeria Housing Site and Business Center be not demolished. However, on Feb. 22, the demolition works started.
Afterwards, citizens waiting outside the building spotted two cats inside the structure, leading the authorities to temporarily stop the demolition works. The Diyarbakır Govenror's Office released a statement saying, "The demolition works at Galeria Site affected by the earthquake have stopped after a cat was spotted inside." It said that rescue efforts were launched with the help of Disaster and Emergency Management Authority (AFAD) and fire crew and "the demolition works will continue after the completion of rescue efforts."
Demirören news agency reported that rescue efforts using crane were unsuccessful leading to the military to intervene. Two military helicopters were at the site, with cameras showing a soldier going down a rope to find the animals. When the soldier could not reach the cats, he was pulled up back to the helicopter.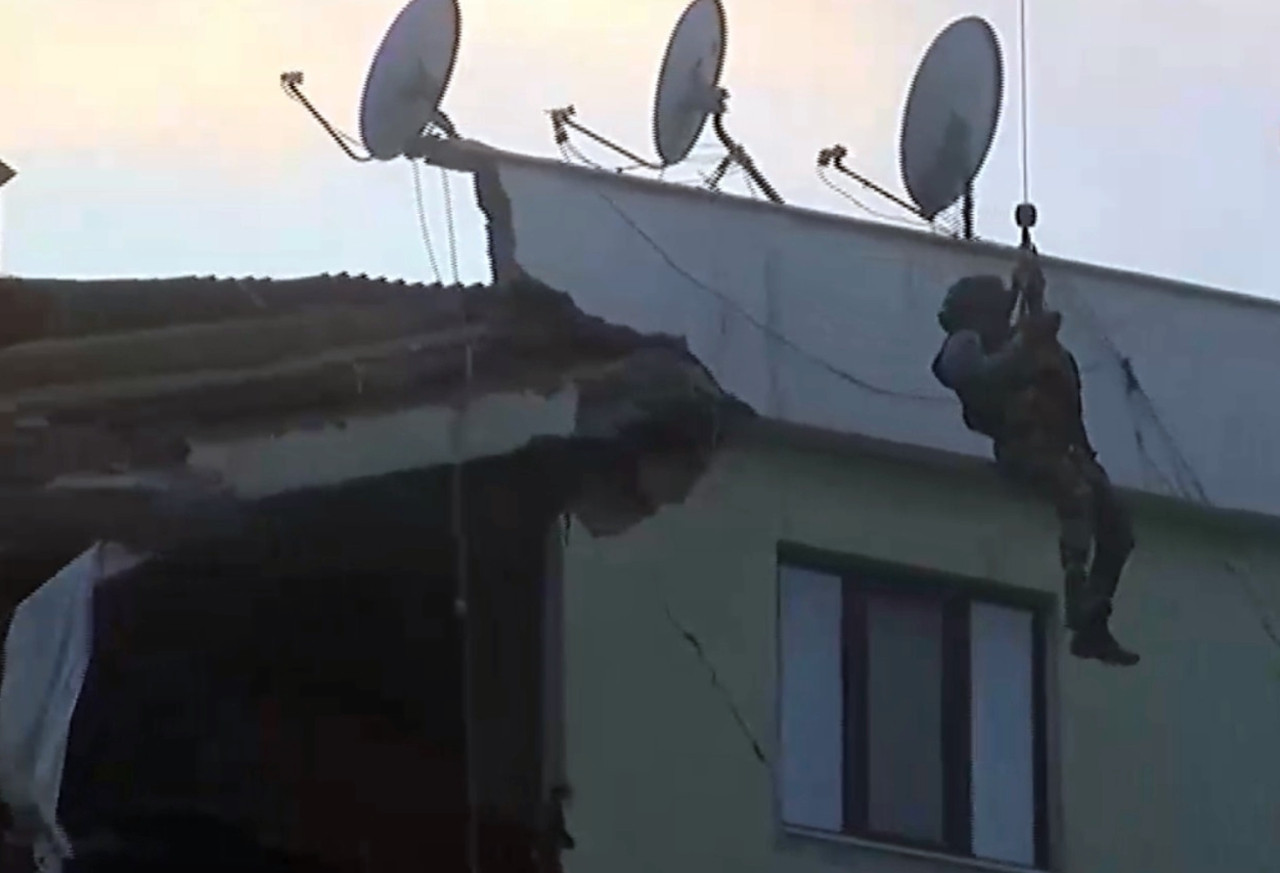 Late on Feb. 22, the Diyarbakır Metropolitan Municipality announced that one of the cats was rescued and released a video of the cat being handed to a vet for an initial check-up.
(English version by Didem Atakan)