DEVA Party's Van organization executives join AKP, announce support for Erdoğan
Opposition DEVA Party's Van provincial executives have resigned from the party and joined the ruling AKP's cadres. They also announced their support for Erdoğan in the second round of the presidential race.  
Kadir Cesur / Gazete Duvar
Opposition DEVA Party's provincial executives in eastern Van have resigned and joined the ruling Justice and Development Party (AKP). DEVA Van Provincial Chair Erdinç Peker announced that they would support President Recep Tayyip Erdoğan in the second round of the presidential elections.
During a press conference on May 24 held in the AKP Van Provincial Office, Peker said: "Our party has left us alone and handed us over to other parties during the election process. Such an attitude was never acceptable for us, in the face of our efforts. But we yet stayed patient."
Peker argued that the opposition Nation Alliance cannot run the country, which is why he said they "shifted to the AKP side for ourselves and country."
"We promise that we will undertake all works necessary for our country's survival and will make Recep Tayyip Erdoğan president in the second round, without engaging in any bargains," he said.
Prior to the May 14 elections, Peker had very frequently shared tweets in criticism of the rulership, indicating that the Nation Alliance would be successful in solving Van's problems and ensuring that the city's potential would be realized.
One of those tweets, dated April 2, was as follows: "(Van's) border with Iran is 300 km. It is the door of Turkey opening to the Central Asia, but the annual export is 60 million dollars and it is Turkey's poorest province. On the other hand, its potentials are countless. Does anyone know how the rulership, which is unable to solve these problems for 20 years, will ask for the votes of Van citizens?"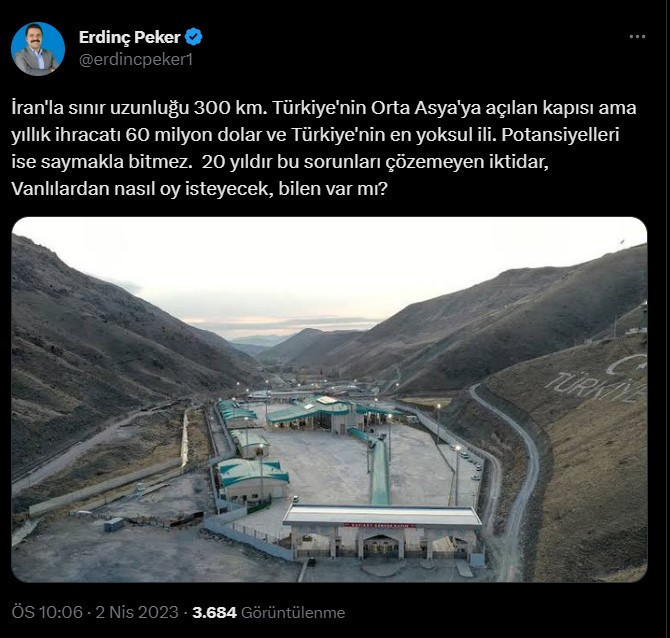 (English by Didem Atakan)