Rouhani urges Erdoğan to unite against US after Soleimani assassination
As Iran continues to mourn the death of top commander Qasem Soleimani, the Islamic Republic's President Hassan Rouhani urged the countries in the region to unite against the U.S. "If we do not take unanimous stance against America's mistakes, a great danger will threaten our region," he told President Recep Tayyip Erdoğan, who pointed to the need for restoring stability and security in the region.
Duvar English
Iranian President Hassan Rouhani has urged Turkish President Recep Tayyip Erdoğan to unite against the United States, as the fury and mourning over the assassination of a top commander continues in the Islamic Republic.
"If we do not take unanimous stance against America's mistakes, a great danger will threaten our region," Rouhani told Erdoğan over the phone on Jan. 4, as he branded the assassination of commander of the Islamic Revolution Guard Corps (IRGC) Quds Force Lieutenant General Qasem Soleimani as a "grave mistake."
"We must respond to foolish acts, and there is no doubt that silence towards aggressors will make them bolder," the Iranian President's official website quoted him as saying.
"We expect all our friends and neighbors to explicitly condemn this crime," he added.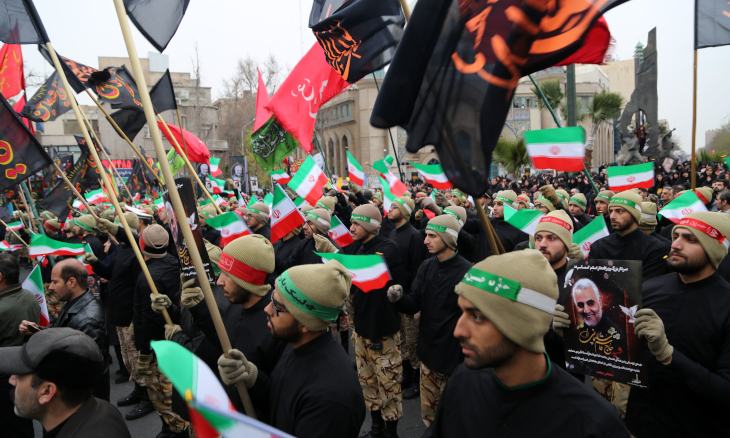 Soleimani, the architect of Tehran's overseas clandestine and military operations, was killed on Jan. 3 in a U.S. air strike on his convoy at Baghdad airport.
"Martyr Soleimani had an undeniable role in the fight against terrorists in the region and you know well that he has carried out his great regional and Islamic duty," Rouhani reportedly told his Turkish counterpart.
Saying that the Iranian people are very angry with the U.S., Rouhani noted that what the U.S. did was very wrong and unwise and that it violated Iraq's national sovereignty and "carried out terrorist acts in Iraq which contradicted that country's independence."
"The United States also carried out a state-sponsored assassination against another government and martyred our beloved military commander," Rouhani added.
Erdoğan stresses the need for stability
During the phone call, Erdoğan extended his condolences to Supreme Leader Ayatollah Ali Khamenei, the Iranian nation and government, saying the massive presence of people in the Iranian commander's funeral in Iraq indicated the deceased's popularity.
"I was deeply saddened and I am aware of the anger and hatred of Iran's leadership, you and the Iranian nation," Iranian media cited Erdoğan as saying.
"I pray to God for him to rest in peace," he added, while also reportedly calling Soleimani a "martyr."
The Turkish President pointed to the need for restoring stability and security in the region.
"Foreign intervention and regional conflicts prevent the region from achieving peace and stability, and we must not allow such actions to pose a threat to peace and stability of the region," Erdoğan said.
"I am confident that the Iranian cultural and governmental structure, which is rooted in history, will manage this period of time by relying on its wisdom," he added.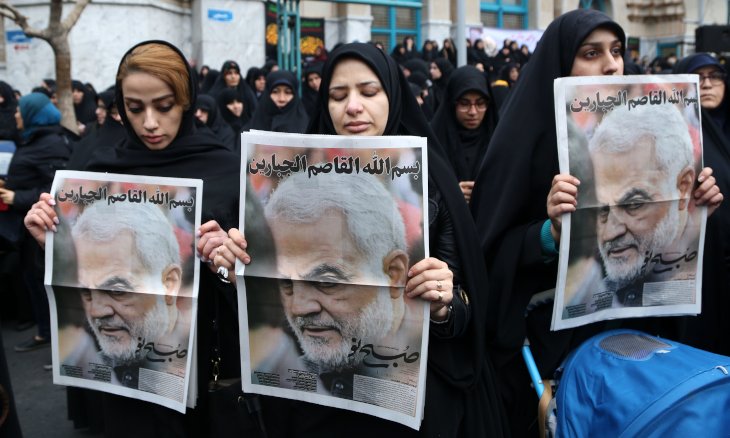 Emphasis on bilateral ties
President Erdoğan pointed to talks between Iranian and Turkish foreign ministers and said, "In my upcoming visit to Tehran in the near future, we will discuss and exchange views on bilateral ties and regional issues."
Rouhani, in return, appreciated Erdoğan for sympathizing with the Iranian government and nation.
"Iran and Turkey have always cooperated on complicated issues," he said, adding, "In order to help settle the problems in Syria, the efforts will continue at the level of heads of Iran, Turkey and Russia."
The Iranian president also pointed to Iran's interest in developing bilateral ties.
"I hope to meet each other in Tehran soon," he told Erdoğan.
Erdoğan also held a phone call with Iraqi President Barham Salih to discuss regional and bilateral issues.
US, Turkey discuss Soleimani killing
Also on Jan. 4, U.S. Secretary of State Mike Pompeo said that he talked to Turkish Foreign Minister Mevlüt Çavuşoğlu about the assassination of Soleimani.
Today, Turkish Foreign Minister Cavusoglu and I discussed the decisive defensive action @realDonaldTrump employed in Baghdad to protect American lives. I reiterated the importance of countering the Iranian regime's destabilizing activities.

— Secretary Pompeo (@SecPompeo) January 4, 2020