Rights group calls on Merkel to pressure Erdoğan over Kavala case
German Chancellor Merkel will hold a bilateral meeting with Turkish President Erdoğan in Istanbul on Jan. 24. Amnesty International wants Merkel to tell Erdoğan that jailed rights activist Osman Kavala needs to be immediately released and terrorism charges against Amnesty International's Turkey chair Taner Kılıç should be dropped.
Duvar English
Andrew Gardner, a Turkey researcher for Amnesty International, has called on German Chancellor Angele Merkel to raise the issue of jailed philanthropist and human activist Osman Kavala during her meeting with Turkish President Recep Tayyip Erdoğan on Jan. 24 in Istanbul.
"That concrete steps are taken to end oppression against human rights defenders should be the focus of the meeting between Angela Merkela and Turkish President," Gardener told the German Press Agency dpa. He also said that such concrete steps should start with the release of Kaval from jail as well as the acquittal of Amnesty International's Turkey chair Taner Kılıç from a case in which he stands trial on "terrorism charges."
Kavala is accused of being one of the "managers and organizers" of 2013 Gezi Park protests, which took place in Istanbul's Taksim following harsh government response to a group of protesters trying to prevent the cutting down of trees for a large development project planned by the government.
He was arrested in 2017 on suspicion of attempting to overthrow the government and the constitutional order through force and violence. In addition to the charges related to the Gezi Park protests, Kavala also faces those related to the July 15, 2016 failed coup attempt.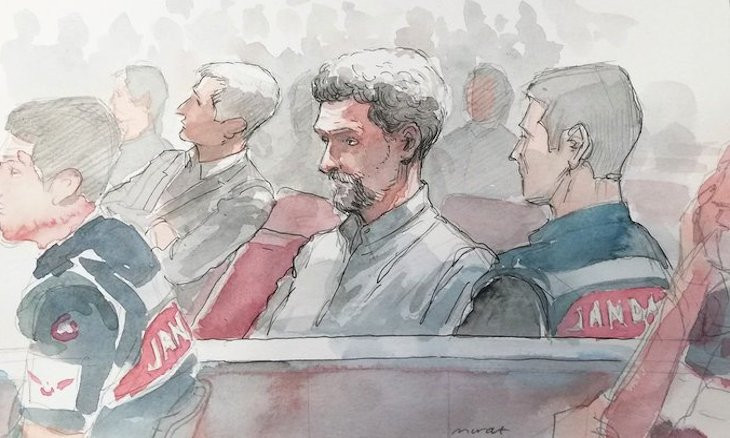 Osman Kavala to remain in jail despite European rights court release call
A Turkish court on Dec. 24, 2019 refused to release the leading civil society activist, defying a judgment from the European Court of Human Rights that his lengthy detention violated his rights and was aimed at stifling political dissent.
As for Taner Kılıç, he is on trial with 10 other human rights activists, accused of plotting a coup attempt at a hotel during a workshop on an island off Istanbul in 2017. Despite Kılıç's release after 432 days in pre-trial detention, the charges against him and 10 others in the case still persist. A Turkish prosecutor in November of last year demanded up to 15 years in jail for Kılıç on charges of "being a member of a terrorist organization."
Anastasiades asks Merkel to talk to Erdoğan about Ankara's drilling operations off Cyprus
Merkel is also expected to raise the issue of Cyprus during her meeting with Erdoğan upon a request of Cyprus President Nicos Anastasiades.
Anastasiades on Jan. 23 asked Merkel to convey Erdoğan the message that Ankara needs "to immediately stop her illegal actions in the Cypriot exclusive economic zone (EEZ)," referring to Turkey's drilling operations off the divided island.
According to an official statement, Anastasiades "reiterated his determination and readiness to resume a dialogue, free from threats, leading to the solution of the Cyprus problem." Merkel assured that she would both convey the message of Anastasiades to Erdoğan, and also underline the EU's positions, said the statement.
The agenda of the meeting between Merkel and Erdoğan includes bilateral relations, the issues of Libya, Syria and Ankara's drilling operations off Cyprus. But apart from these issues, Merkel will once again reiterate to Erdoğan the EU's demand that judiciary independence and the rule of law principle be strengthened in Turkey, according to the German press. In line with this, Merkel is also expected to discuss the issue of the imprisoned German embassy lawyer Yılmaz S., who has been behind bars since September.