US plan 'aims to legitimize occupation of Palestine'
The Middle East plan presented by US President Trump aims to "legitimize occupation, destruction and oppression of Palestine and Jerusalem," Turkey's National Security Council (MGK) said in a statement following a meeting on Jan 30. Afterwards, President Erdoğan addressed an event in Ankara, during which he slammed Trump's plan as an "occupation project" and said "Jerusalem is a red line for us."
Duvar English
Turkey's National Security Council (MGK) on Jan. 30 said that the Middle East plan presented by U.S. President Donald Trump two days earlier aims to "legitimize occupation, destruction and oppression of Palestine and Jerusalem."
"The only solution is the establishment of independent Palestine on the basis of 1967 borders with East Jerusalem as its capital," the council said in a statement, after a nearly 5-hour meeting chaired by President Recep Tayyip Erdoğan.
Afterwards, Erdoğan addressed an awards ceremony in the capital Ankara, during which he slammed Trump's plan as an "occupation project."
"Jerusalem is a red line for us. We have also undertaken this issue during the MGK meeting today. Jerusalem is not for sale," Erdoğan said.
On Jan. 28, Trump released his oft-delayed plan to end the Israel-Palestine dispute in the White House where Israeli Prime Minister Benjamin Netanyahu was present.
During the news conference, Trump referred to Jerusalem as "Israel's undivided capital" but said that a future Palestinian state would also have a "capital in east Jerusalem." Trump did not address the question of Palestinian refugees and whether they will have a right of return to their former homes.
Turkey to take extra measures against attacks in Idlib
The MGK also also touched upon the recent escalation in Syrian regime attacks in the northwestern Syrian province of Idlib. Turkey will take additional measures against attacks targeting its forces and civilians in Idlib, the council said.
"The commitment of our country to take additional measures against terror attacks that continue to target our security forces and the civilian population in various parts of Syria, namely Idlib, despite the agreements with countries active in Syria was reiterated," the council said.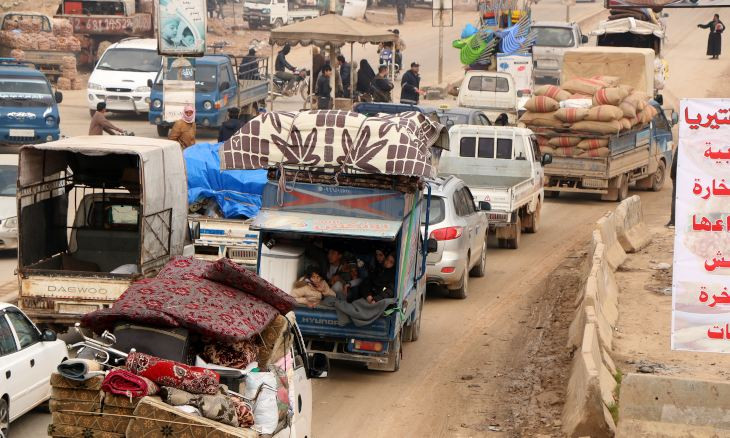 Erdoğan says Astana process collapsed, it should be revived
Bombardments by Russia-backed Syrian government forces on Idlib have raised concern of a new refugee wave to Turkey. On Jan. 29, Erdoğan said that Ankara was losing patience with the assault in Idlib and that Russia was violating agreements aimed at stemming conflict there.
Turkey and Russia, which support opposing sides in Syria, agreed to work towards de-escalating the fighting in Idlib and creating a demilitarized zone under agreements known as the Astana and Sochi accords.
But fighting has continued in the last remaining rebel bastion in country's nearly nine-year war despite several other agreements for a ceasefire, as recently as this month.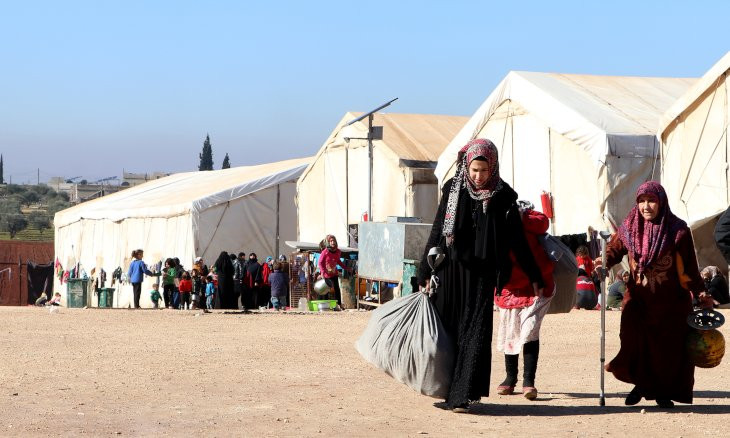 US envoy: 700,000 Syrians fleeing to Turkey
James Jeffrey, the U.S. special envoy for Syria, said on Jan. 30 that 700,000 displaced people in northwest Syria were on the move towards the Turkish border. He said that two hundred air strikes by Syrian government and Russian warplanes have hit Syria's Idlib region in the last three days.
Support for Libya's UN-recognized government to continue
The MGK also touched upon Ankara's stance regarding the conflict-ridden Libya. It said that Turkey will continue to support the U.N.-backed Government of National Accord (GNA) to achieve peace and stability in Libya.
It reiterated that all countries are invited to support efforts to establish a permanent cease-fire in Libya.
The statement came a week after the United Arab Emirates, Egypt, Russia – which all back eastern Libyan military commander Khalifa Haftar – and Turkey – which backs the GNA in Tripoli – agreed with Western powers in Berlin to push for a lasting ceasefire and uphold an arms embargo.
However, since then there has been an uptick in fighting with Haftar's Libyan National Army attempting to open a new front by moving forces towards the city of Misrata in the west of the country.
Libya has had no stable central authority since the toppling of Muammar Gaddafi in 2011. It has had two rival governments, in the east and the west, for more than five years.