Turkey accuses Russia of turning blind eye to Syrian regime's use of barrel bombs
President Erdoğan has accused Russia of ignoring the Syrian's regime use of barrel bombs against civilians in the war-torn country's northwestern province of Idlib. Speaking in Kiev, Erdoğan also said there were close to 1 million people in Idlib marching towards Turkish borders as a result of a Russian-backed Syrian government offensive.
Duvar English
President Recep Tayyip Erdoğan has accused Russia of turning a blind eye to the Syrian's regime use of internationally-banned barrel bombs against civilians in the war-torn country's northwestern province of Idlib.
"The developments regarding Idlib have become unmanageable every passing day. We have shown much patience. There are unfortunately barrel bomb attacks undertaken by the Syrian regime with Russia turning a blind eye to them," Erdoğan told a joint news conference alongside his Ukrainian counterpart Volodymyr Zelensky on Feb. 3 in Kiev.
"Idlib is a place accommodating 3-4 million people. These people have walked towards our border. Unfortunately, close to 1 million people are now marching towards our border," he said.
Five Turkish soldiers and three civilians in shelling in Idlib
Erdoğan said that Syrian forces killed five Turkish soldiers and three civilian contractors in shelling in Idlib early on Feb. 3. "It cannot continue like this and a response has been given," he said. "We will make them pay the necessary price and will continue to do so."
Erdoğan earlier emphasized that Turkey "retaliated" against the Syrian regime's attacks. "We have responded in kind to these attacks and will continue to do so, whether it is with our artillery or mortars. We are determined to continue our operations for the security of our country, people and our brothers in Idlib," Erdoğan told reporters in Istanbul before heading to Ukraine.
"Those who question our determination will soon understand they made a mistake," he said.
Erdoğan to Russians: Don't block us
He also called on Russian authorities to "not block Turkey."
"I would like to tell the Russian authorities that you are not our interlocutor is not you, but it's the regime completely. A situation of blocking Turkey should not be in question. We can't stay silent when our soldiers are martyred," Erdoğan said, adding that F-16 jets and howitzers target the spots determined by the National Intelligence Agency (MİT).
When asked whether a diplomatic initiative will follow the incident, Erdoğan noted that the relevant ministers and MİT chief Hakan Fidan are holding talks with their counterparts.
"But what's important is that if we can't obtain the results that we seek, I will meet with my own counterpart and tell him the seriousness of the issue," Erdoğan said.
"There are our and Russian generals on the ground. They've been talking frequently and we are continuing our operations based on these talks," he added.
Kremlin spokesperson Dmitry Peskov said that a meeting between Russian President Vladimir Putin and Erdoğan could be arranged.
Later in the day, Defense Minister Hulusi Akar headed to the Syrian border with the commanders of the Turkish Armed Forces (TSK).
Akar was set to accompany Erdoğan in his trip to Kiev, but left the Turkish delegation after the attacks in Idlib.
Akar was later cited as saying by the state-run Anadolu Agency that Turkish forces hit 54 targets in Idlib and "neutralized" 76 Syrian government soldiers.
Akar was also quoted as saying Turkey's armed forces had taken "all forms of measures" in Idlib, adding that Ankara had informed Moscow.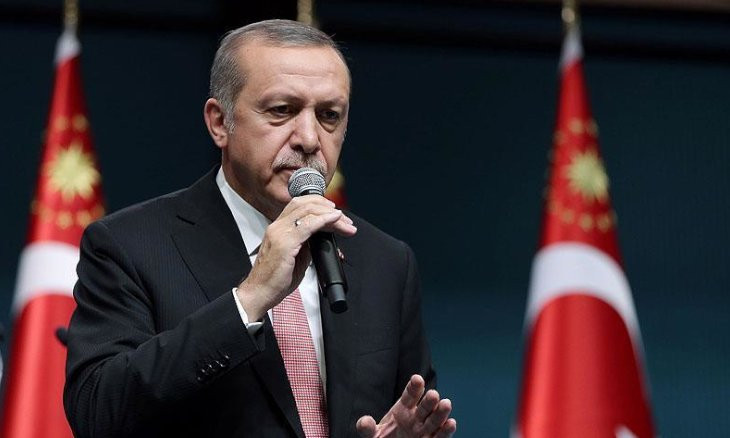 Erdoğan warns of incursion into Idlib
Ruling Justice and Development Party (AKP) spokesman Ömer Çelik, meanwhile, said that Turkey will view Syrian government forces as "targets" around Turkish observation posts in Idlib.
"The regime is from now on a target for us in the region after this attack. We expect Russia not to shield the regime or protect them because after the clear attack on our armed forces, regime forces around our posts are targets," Çelik said.
He added the Syrian government was "acting like a terrorist organization" and that talks would be held with Russian officials, who support the Syrian government, on the situation in the Idlib region.
'Treacherous attack'
Presidential spokesperson İbrahim Kalın also condemned the incident, adding that the perpetrators of the attack will pay the price.
"This attack on the Idlib agreement was immediately retaliated," Kalın wrote on Twitter.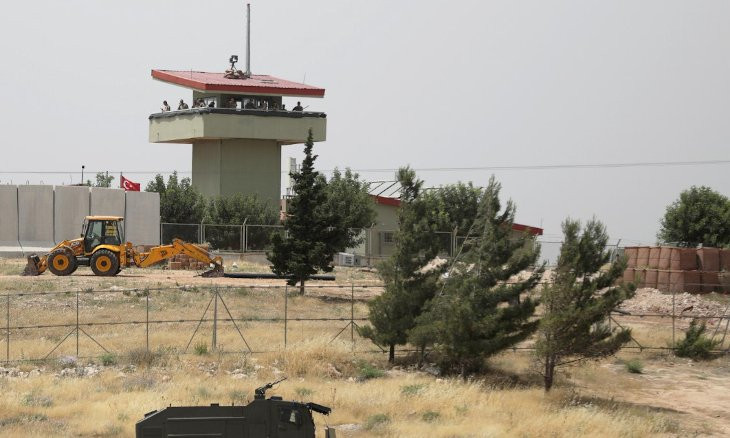 Turkey vows to retaliate 'in strongest way' if army posts in Idlib threatened
Turkey's communications director also condemned the attack and extended his condolences to the families of the soldiers killed.
Turkey will bring perpetrators to account for the "treacherous attack," Fahrettin Altun wrote on Twitter.
Meanwhile, the Russian military has stated that Turkish aircraft didn't breach the Syrian border, adding that it didn't register any strikes on Syrian government forces' positions.
The Turkish military came under fire from Syrian government forces because Russia had not been warned about Turkey's operations in Idlib, the Tass news agency cited Russia's Defense Ministry as saying.
Shortly after Russia's statements, spokesperson Çelik said that Turkey informs Russia momentarily and regularly.
"Necessary information was given also in the latest incident. It's not correct to say that information wasn't shared," he also said.
Meanwhile, Turkish Foreign Minister Mevlüt Çavuşoğu spoke by phone with his Russian counterpart Sergei Lavrov, and the two sides agreed that that a deal over Syria's Idlib region must be observed, the Interfax news agency cited the Russian foreign ministry as saying.
In late January, Erdoğan accused Syrian government forces of violating the Russia-Turkey deal on the demilitarized zone in Idlib. He also threatened to "take all necessary steps, up to using military force," unless the situation in Idlib normalizes.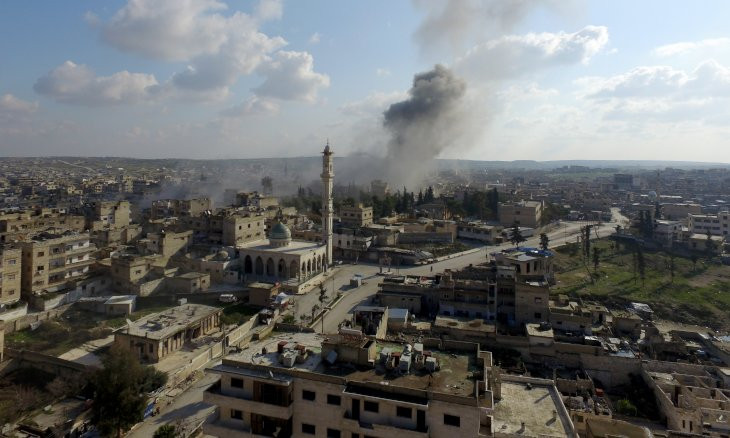 Turkey 'determined to stop Syrian gov't violations of Idlib ceasefire'
On Jan. 26, the Syrian army started an offensive in the west of Aleppo over daily shelling of the city's residential areas by militants. Three days later, the Syrian armed forces announced that they had liberated the strategically important city of Ma'arrat al-Nu'man, which had been under the control of militants since 2012.
Located at a junction of the Hama-Aleppo highway, the city used to be a jihadist stronghold and a transit point along supply routes in the south of Idlib Province.
In September 2018, Moscow and Ankara agreed to set up a demilitarized zone along the contact line between the armed opposition and government forces in Idlib. Not all militants have laid down their arms, with the province remaining a stronghold of various jihadist groups.