US Syria envoy Jeffrey to visit Turkey to discuss Idlib
U.S. special envoy for Syria, James Jeffrey, is expected to visit Ankara on Feb. 12 to discuss the current situation in the Syrian province of Idlib. The visit comes amid simmering tension between Ankara and the regime of Bashar al-Assad over the fate of the province.
U.S. special envoy for Syria, James Jeffrey, is expected to visit Turkey on Feb. 12 for talks with senior Turkish officials on the Syrian regime's offensive in Idlib and other Syria-related issues.
"Special Representative for Syria Engagement and Special Envoy for the Global Coalition to Defeat ISIS Ambassador James Jeffrey, joined by Special Envoy for Syria Joel Rayburn, departs today on travel to Turkey, Germany and locations in the Middle East," the U.S. Department of State said in a press release on Feb. 10.
"In Ankara, Ambassador Jeffrey will meet with senior Turkish officials to discuss issues of mutual concern, including the Assad regime's Russian-backed military offensive in Idlib, the current situation in northeast Syria, implementation of UNSCR 2254 on the resolution of the Syrian conflict, and the Coalition's continued efforts to ensure an enduring defeat of ISIS in Syria and Iraq," the statement said.
The UNSC Resolution 2254 was unanimously adopted on Dec. 18, 2015. It calls for a ceasefire and political settlement in Syria.
Jeffrey's visit comes amid an escalation of conflict in Idlib. The number of Turkish casualties in the province has risen to 13 by the latest attack after Syrian artillery fire hit the Turkish troops' positions at the base town of Taftanaz on Feb. 10, killing five Turkish soldiers and wounding five others.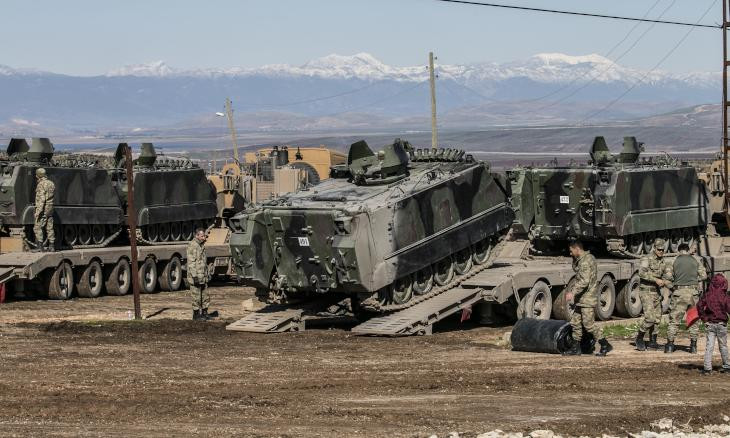 Syrian army attack kills 5 Turkish soldiers in Idlib
Turkey retaliated to the attack by striking dozens of Syrian government targets, the Turkish Defense Ministry said in a later statement.
Turkish forces fired on 115 Syrian government targets and destroyed 101 of them, including three tanks, two mortar positions and one helicopter, the ministry said.
The incidents are among the most serious confrontations between Turkish and Syrian troops in nearly nine years of conflict in Syria, and Turkey has said it will drive back Syrian forces if they do not pull back by the end of this month.
"Their attacks against our posts have made an operation necessary," Ömer Çelik, spokesman for the ruling Justice and Development Party (AKP), told reporters in Ankara.
Turkey tells Russia attacks on Turkish posts must stop immediately
As the conflict escalated in Idlib, Turkish and Russian officials met in Ankara for talks.
Turkey and Russia are on opposing sides in the fighting in Idlib although they collaborate for a political solution to the conflict in Syria, and Moscow's military intervention in 2015 helped swing the war decisively in President Bashar al-Assad's favor.
In a statement following talks between Turkish presidential adviser İbrahim Kalın and the Russian delegation, the presidency said a visiting Russian delegation was told the attacks against Turkish troops were "unacceptable," must be stopped immediately and would not remain "unanswered."