Turkey kills 55 Syrian troops in Idlib
Turkey's Defense Ministry said on Feb. 12 that its forces had killed 55 Syrian regime soldiers in Idlib, in a significant escalation in the battle to control the country's last opposition stronghold. Turkey's move comes in the wake of an attack by regime forces earlier this week that claimed the lives of five Turkish troops.
Duvar English
Turkey said on Feb. 12 it had killed 55 Syrian regime soldiers in Syria's northwestern province of Idlib.
"According to the latest information received from our sources in Idlib, 55 regime troops have been neutralized today," the Turkish Defense Ministry statement said.
Turkish authorities often use the term "neutralized" to imply the militants in question surrendered or were killed or captured.
The latest development comes in the wake of an attack by regime forces earlier this week that claimed the lives of five Turkish troops. It followed an attack last week by regime forces in Idlib that killed seven Turkish soldiers and one civilian contractor working with the Turkish military. More than a dozen people were also injured.
Turkey retaliated for both attacks, hitting scores of targets and killing 200 Assad regime troops.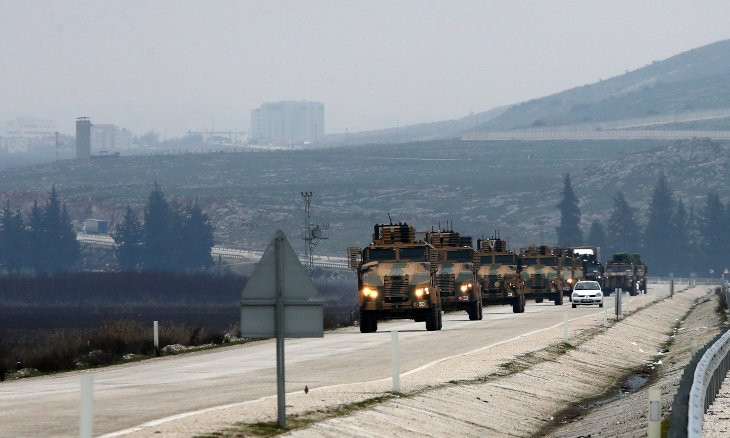 Turkey will hit Syrian gov't forces 'anywhere' if troops hurt, Erdoğan warns
Earlier on Feb. 12, President Recep Tayyip Erdoğan said Turkish military would strike Syrian forces by air or ground "anywhere" in Syria if another Turkish soldier was hurt.
"If there is the smallest injury to our soldiers on the observation posts or other places, I am declaring from here that we will hit the regime forces everywhere from today, regardless of Idlib's borders or the lines of the Sochi agreement," Erdoğan said, referring to a 2018 ceasefire accord.
"We will do this by any means necessary, by air or ground, without hesitating," he told members of his ruling Justice and Development Party (AKP) in Ankara.
Erdoğan said Turkey was determined to push the Syrian troops beyond Turkish observation posts in Idlib by the end this month and that Ankara would not allow rebels in Idlib to give them an excuse to attack.
Thousands of civilians meanwhile were heading north to the Turkish-Syrian border, many trudging by foot through snow in freezing temperatures, to escape air strikes and artillery barrages by the Russian-supported government forces.
Syrian troops and Iranian-backed militias have been advancing in Idlib in a campaign to destroy the last bastion of insurgents fighting for past nine years to topple President Bashar al-Assad.
The offensive has uprooted hundreds of thousands of people, in the biggest single wave of displacement of the conflict, leaving them desperate for shelter amid atrocious weather conditions.
Turkey has set up 12 observation posts in Idlib as part of an agreement with Russia and Iran to establish what they called a de-escalation zone.
This month Ankara – which has the second-largest army in NATO – has poured some 5,000 troops and convoys of military vehicles across the border into Idlib, including tanks, armored personnel carriers and radar equipment to bolster its positions.