Sarraj confirms Turkey sent Syrian mercenaries to Libya
The head of Libya's U.N.-recognized government has confirmed previous reports that Turkey sent allied Syrian fighters to the warn-struck country as part of its military support for the embattled government in Tripoli. "Yes, there are now Syrians here," Fayez al-Sarraj said.
Duvar English
Fayez al-Sarraj, the head of Libya's Government of National Accord (GNA), has confirmed previous reports that Turkey sent allied Syrian fighters to the warn-struck country as part of its military support for the embattled government in Tripoli.
"Yes, there are now Syrians here," he admitted, however also saying the Libyan National Army (LNA) led by Gen. Khalifa Haftar had similarly deployed foreign mercenaries.
"Yet focusing on their [Syrian fighters'] presence should not be done while ignoring the support sent to the other side; the mercenaries who came from Sudan and Chadian opposition groups, and the arms which were sent from all over the place to them throughout the last four years," Sarraj said during an interview with the British daily The Times' Anthony Loyd on Feb. 17.
Sarraj's remarks came amid media reports that a growing number of opposition fighters from Syria's north have been contracted by Ankara to fight in Libya.
At least 2,000 Syrian militiamen have been recruited by Ankara to fight in Libya for a monthly wage of $2,000 and the promise of Turkish citizenship, multiple reports said.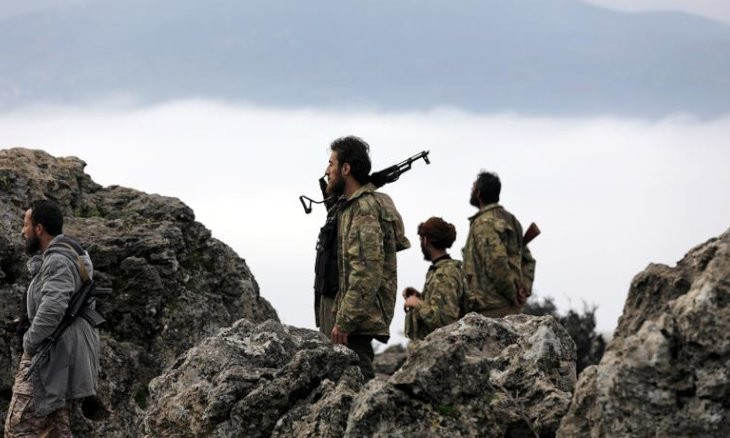 Turkey 'sending 2,000 Syrian rebels to Libya'
GNA commander: We have received many weapons from Turkey
Haji Yusuf Amin, 50, a senior GNA commander, told The Times that thanks to the support sent by Turkey, Haftar's forces, who have been trying since last April to take Tripoli, have failed in their attempts.
"The disparity in weaponry was overwhelming, the LNA outgunned us. But since the accord [struck with Turkey] we have received many more weapons and our own drones too. It is not a perfect balance yet, but Haftar has lost his chance for Tripoli," Amin said.
"Haftar's people have 1,200 kilometres to drive their logistics here from Benghazi. It takes us just two hours' drive from Misrata. They will give up fighting at some point."
Sarraj's government signed a military accord with Turkey last November. After seven months of reverses at the hands of Haftar's better armed and equipped LNA, the accord altered the face of the conflict. "Haftar hasn't managed to enter central Tripoli after all this time, and he won't manage it now," Sarraj told The Times.
Libya faces crisis due to oil blockade
Sarraj also said the situation in the country is "disastrous" amid blockade of oil terminals and oil fields by groups loyal to Haftar.
"The international community, which calls for stability in Libya, hasn't taken any clear action over the shutdown. This is the main livelihood for Libyans: oil is the main source of Libyan income. Now the central bank will have to issue our budget from its own cash reserve."
The blockade, the most damaging of its kind in Libya since 2011, began when armed groups loyal to Haftar seized shipping terminals and oilfields, halting exports. According to the state-run National Oil Corporation (NOC), crude output has dropped to 163,684 barrels a day, down from 1.2 million before the blockade began.
Sarraj said that his country faced financial crisis as a result. The blockade has already caused chronic fuel shortages across the country.
Erdoğan, Putin to determine Libya's fate, says The Times
The Times in a separate article named "The Times view on Libya's next chapter: Proxy Wars" said that Libya's fate was likely to be decided beyond its borders, in particular by the development of a "paradoxical relationship between" Turkish President Recep Tayyip Erdoğan and his Russian counterpart Vladimir Putin.
"Their two countries are allies and enemies at once: they share an ambition to erode the strategic influence of the U.S., but they are in fierce competition to fill any vacuum that western disengagement might leave behind," wrote the newspaper.
Libya has been mired in chaos since 2011 when a NATO-backed uprising toppled longtime leader Muammar Gaddafi. The country is now split into rival administrations in Tripoli and the east.
Most of Libya's oil facilities are in areas controlled by forces loyal to Haftar, who has gradually expanded his power over the past six years with the help of foreign allies, including the United Arab Emirates, Egypt and Russia.
The GNA is backed by Turkey and, to a lesser degree, Qatar and Italy.