US, Britain, Germany call on Syrian gov't to halt attacks on Turkish army posts in Idlib
The U.N. envoys of the United States, Britain and Germany on Feb. 19 called on the Syrian government to end its attacks on Turkey's observation posts in Idlib at a Security Council meeting in New York.
Duvar English
The United States, the United Kingdom and Germany have called on the Syrian government to end its attacks on Turkey's observations posts in the war-torn country's Idlib province.
Addressing the U.N. Security Council meeting in New York on Feb. 19, the U.S. ambassador to the U.N. Kelly Craft said Washington "unequivocally" rejects statements by Russian officials "falsely blaming Turkey for the escalation of the violence" in northwest Syria.
"The U.S. will continue to coordinate with Turkey on diplomatic approaches to restore a ceasefire to the Idlib de-escalation zone and achieve a pullback of [Bashar] Assad regime forces to 2018 Sochi ceasefire," Craft was quoted as saying by Turkey's state-run Anadolu Agency.
"There is no doubt that the Assad regime and Russia, not Turkey, are responsible for orchestrating and executing this military offensive."
Washington will intensify economic and political pressure on the Syrian government in the coming days, Craft also said.
"Let me close by taking a moment to address the men, women and children in the Idlib province," Craft said. "In the days ahead, the United States will not spare any effort, including working with allies, to isolate the Assad regime diplomatically and economically to deliver the relief, the resources and, ultimately, the peace that is kept from you for far too long."
The envoys for the U.K. and Germany similarly called for end to the attacks of the Syrian government in Idlib. "We demand that the Syrian regime end its attacks against Turkish forces and reduce the tension immediately," Germany's U.N. Ambassador Christoph Heusgen was quoted as saying by Anadolu Agency.
The U.K.'s ambassador to the U.N., Karen Pierce, similarly said at the meeting that the Syrian government's attacks against Turkish army posts need to end. "Turkey has put an effort for a peaceful solution in Idlib and we are worried that Turkey, which already carries the burden of 3.5 million refugees, will be affected in case tension escalates further," she said.
Turkey 'not to abandon' Idlib observation posts
Ankara's U.N.envoy, Feridun Sinirlioğlu, also took the floor during theSecurity Council meeting, saying that Turkey will continue torespond by all necessary means against the Syrian army's attacks onTurkish troops.
"Wewill not withdraw our forces and we will not abandon our observationposts. It is the regime who should withdraw from its currentpositions until the end of this month," said Sinirlioğlu.
"Ourmilitary presence and reinforcements are fully in line with the SochiMemorandum of September 2018."
"The only option out of the biggest humanitarian horror story of the twenty-first century is a lasting ceasefire," he said.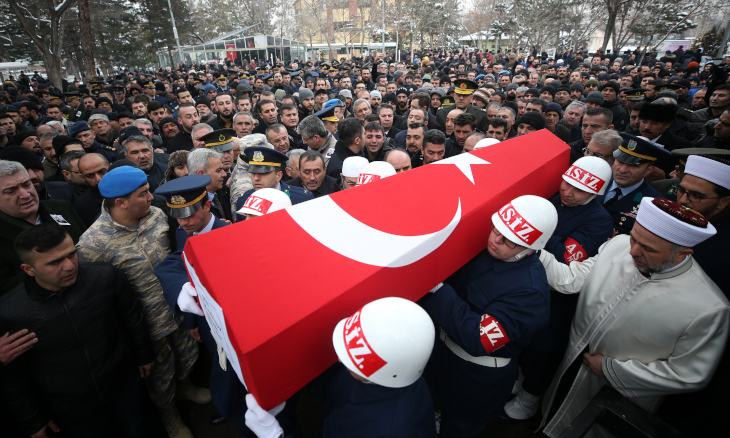 Turkey, Syria clash in Idlib as conflict escalates
Tensions in the region escalated after recent Syrian government attacks in Idlib killed 13 Turkish military personnel in two weeks.
Ankara, which backs several Syrian rebel groups, and Moscow, which supports the Syrian government, agreed in September 2018 to set up a de-escalation zone in opposition-controlled northwestern Syria.
Under the 2018 deal, Turkey has 12 observation posts in Idlib, with some of them now being in Syrian government-controlled territory following gains by Damascus.
UN envoy warns of 'imminent danger' of escalation in Syria
The U.N. envoy to Syria, Geir Pedersen, warned the Security Council of the threat of further escalation of violence in Idlib and called on Russia and Turkey to help de-escalate the situation.
"Turkey and Russia, as sponsors of the Idlib de-escalation arrangements, can and must play a key role in finding a way to de-escalate the situation now", Pedersen said. "To the contrary public statements from different quarters, Syrian and international, suggest an imminent danger of further escalation."
He also confirmed that no progress had been made in several rounds of talks between Turkish and Russian officials held in Ankara and Moscow.
"Russian and Turkish delegations have met intensively in recent days… but no understanding has yet emerged," he said.
Turkish operation in Idlib 'only a matter of time,' warns Erdoğan
Turkish President Recep Tayyip Erdoğan earlier on Feb. 19 warned that Turkey would launch an offensive into Syria unless Damascus pulled its forces back by the end of the month.
"We are counting down, we are making our final warnings," Erdoğan said, calling for Syrian forces to retreat behind Turkey's military posts in Idlib.
Speaking to lawmakers from his ruling Justice and Development Party (AKP), Erdoğan said Turkey was determined to make Idlib a secure zone even while talks with Moscow continued. Several rounds of diplomacy had failed to reach an agreement so far, he said.
"Turkey has made every preparation to carry out its own operational plans. I say that we can come at any point. In other words, the Idlib offensive is only a matter of time."
Russia quickly responded to Erdoğan's threat, warning that any operation against Syrian forces would be "the worst scenario."
"If we talk about an operation against legitimate Syrian authorities and armed forces, it is of course a worst-case scenario," Kremlin spokesman Dmitry Peskov said.
Syrian troops supported by Russian warplanes and special forces have been battling since December to eradicate the last rebel bastions in Idlib and Aleppo provinces in what could be one of the final chapters of the nine-year-old civil war.
Nearly one million civilians have fled from air strikes and artillery barrages towards the frontier, overwhelming relief agencies and alarming Turkey, which is struggling to cope with the 3.6 million Syrian refugees already camped inside its borders.