Defense Minister Akar says Russian S-400s to be operational by spring
Turkish Defense Minister Akar said the U.S. could send Patriot missile systems to Turkey to be stationed on the southern border in the face of ballistic missile threats from Syria, while at the same time Ankara plans to activate the Russian S-400 missile defense systems by spring.
Duvar English
Turkish Defense Minister Hulusi Akar said on Feb. 20 that the United States may deploy Patriot batteries on Turkey's southern border to counter missile attacks from Syria, while at the same time Ankara is determined to activate the Russian S-400 missile systems by spring.
Asked what kind of military support the U.S. provides for Turkey in the face of the conflict in northwestern Syria's Idlib region, Akar said: "They have sent in the past their air defense batteries to us. There is the threat of air strikes, missiles against our country; there could be Patriot support [from the U.S.]."
Akar made the comments during an interview with broadcaster CNN Türk aired late on Feb. 20.
If there is similar support from European allies, Turkey would consider it, the minister said.
Akar also said talks with the United States on purchasing Patriot systems were also continuing. Ankara and Washington have wrangled for years over Turkish requests to buy the American-made Patriot missiles. The administration of U.S. President Donald Trump has refused to agree to a deal unless Turkey first scraps an advance Russian missile-defense system it bought last year that Washington considers a threat to NATO's capabilities.
Citing a senior Turkish official, Bloomberg reported on Feb. 20 that Turkey had asked the U.S. to deploy two U.S.-made Patriot batteries on Syria border.
"Ankara could use F-16 warplanes to strike units loyal to Assad in Idlib if the Patriots were deployed in Hatay on Turkey's border to provide protection," Bloomberg quoted the Turkish official as saying.
Turkey is yet to receive a U.S. response to the request, which was relayed last week to James Jeffrey, the U.S. envoy for Syria engagement, the official said, asking not to be identified discussing sensitive information.
If the Patriot system was deployed in the Hatay province, Turkey could deploys its fighter jets to Syria in order to deter the Syrian and Russian air forces, the Bloomberg report said.
Despite the potential Patriot battery support from the U.S., Ankara will not step back from its deployment of the Russian S-400 air defense systems.
Akar said Turkey will activate the S-400 missile systems and there should be "no doubt" about this.
"The training and installment process is currently continuing; it will be operational, no one should have doubts about that," he said, adding that the S-400 missile systems will be operational by this spring.
Akar's comments came following the announcement of the death of two Turkish troops, and the wounding of five more, in an airstrike in Idlib.
The Turkish Defense Ministry has blamed the Syrian government for the airstrikes that killed its troops. However, there are also reports that the Russian Su-24 Fencer combat jets might be responsible as Russia said it had, at the request of the Syrian government, sent Su-24 bombers to conduct airstrikes on rebel positions.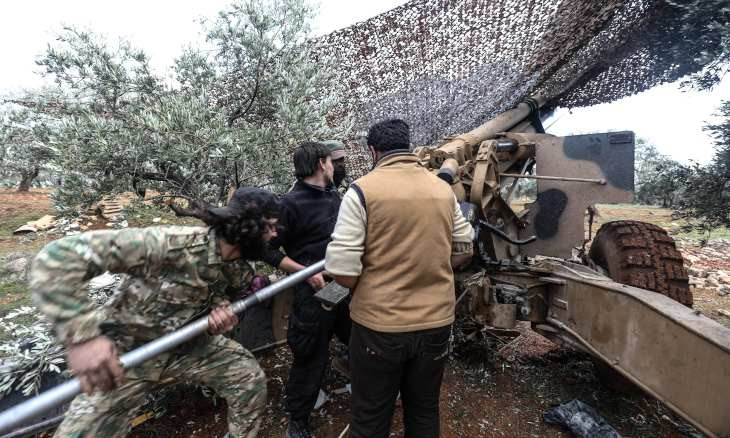 Airstrike kills Turkish soldiers, Ankara 'asks US for Patriot missiles'
Akar said Turkey has no "intention" to "come face to face" with Russia in Idlib. "Our only purpose there [in Idlib] is that the regime ends it massacre and oppression, which will prevent radicalization and migration. We have expressed this very explicitly," he said.