Erdoğan tells Putin full implementation of Sochi deal necessary for Idlib
During a phone call with his Russian counterpart, Turkish President Erdoğan said that the Idlib crisis can only be resolved by fully implementing the Sochi deal. Erdoğan also told Putin that the Syrian government forces must be "restrained" in Idlib, according to a statement released by the Turkish presidency.
Duvar English
Turkish President Tayyip Erdoğan emphasized the necessity to control Syrian government forces and halt a humanitarian crisis in Syria's Idlib region during a phone call with Russia's Vladimir Putin, the Turkish presidency said on Feb. 21.
It said Erdoğan also told Putin that full implementation of an agreement reached in Sochi, Russia in 2018 would bring an end to fighting in the rebel-controlled area.
The presidency's readout of the phone call did not cite any new deal between the two countries on developments in Syria.
A statement by the Kremlin said Putin told Erdoğan that Russia is seriously concerned "over extremists' aggressive actions" in Idlib.
"The focus was again made on the current situation in the Idlib de-escalation zone. Vladimir Putin expressed serious concern over ongoing aggressive actions of extremist groups," the Kremlin press service said following the two leaders' phone call.
"The two presidents stressed the necessity of unconditional commitment to Syria's sovereignty and territorial integrity," the Kremlin added.
Erdoğan and Putin signed the Sochi deal on Sept. 17, 2018 based on which both sides agreed to set up a demilitarized zone -- in which acts of aggression are expressly prohibited -- in Idlib.
Turkey is 'at war' with Syrian gov't, says Erdoğan
Earlier on Feb. 21, Erdoğan said that the conflict between the Syrian army and Turkish troops in Idlib has turned into a "war."
"What I can call as an intense war has been going on in Idlib right now. According to the latest figures, about 150 regime troops have been neutralized. Twelve tanks, three armored vehicles, 14 howitzers and two pickup trucks have been destroyed in Idlib [by Turkish and opposition groups]," Erdoğan told reporters.
Erdoğansaid that unless the Syrian government "stops its oppression oncivilians in Idlib," Turkey will not withdraw its forces from theregion.
Erdoğan also said Turkey was continuing its work setting up housing for Syrian refugees in a 30-35 km "safe zone" in Syria along the border with Turkey.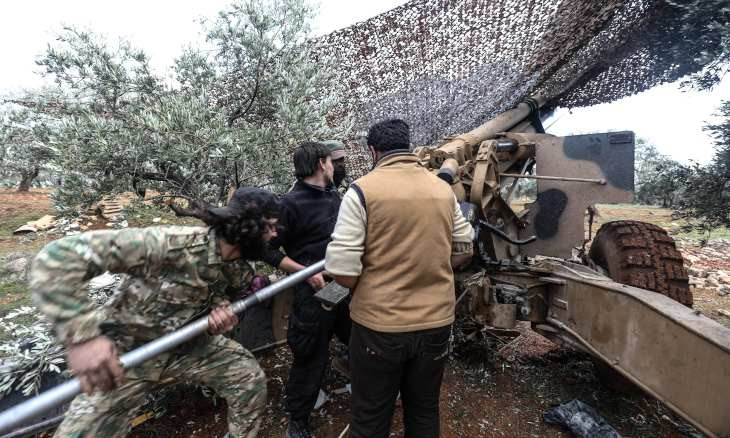 Airstrike kills Turkish soldiers, Ankara 'asks US for Patriot missiles'
The Turkish president's comments came amid escalating tension in Idlib. Two Turkish soldiers were killed and another five wounded in air raids on Feb 20. The Turkish Defense Ministry has blamed the Syrian government for the airstrikes; however, there are also reports that the Russian Su-24 Fencer combat jets might be responsible as Russia said it had, at the request of the Syrian government, sent Su-24 bombers to conduct airstrikes on rebel positions.
Erdoğan said he will speak by phone with Putin on Feb. 21 evening and, based on those talks, will determine Turkey's stance on the conflict in Idlib.
Erdoğan said the French and German leaders had proposed to hold a four-way summit with Russia but that Putin had not yet responded. He repeated Turkey was not withdrawing its forces from Idlib.
Kremlin: Syria summit under discussion
Kremlin spokesman Dmitry Peskov said Feb. 21 that Russia is discussing the possibility of holding a summit on Syria with the presidents of Turkey, France and Germany.
"The possibility of holding a summit is being discussed. There any no firm decisions about it yet. (But) if all the four leaders deem it necessary, we do not rule out the possibility of such a meeting," Peskov told reporters on a conference call.
German Chancellor Angela Merkel and French President Emmanuel Macron spoke together by phone with the Russian leader while at a European Union summit in Brussels on Feb. 20.
"Both made clear how much they are concerned by the catastrophic humanitarian situation of the people in the Syrian province Idlib," a German spokesman said. "Both demanded an instant end of the fighting and the possibility of humanitarian aid for the people."
He said they told Putin they were willing to meet him and Erdoğan to reach a political solution.
EU urges halt to Idlib 'humanitarian drama'
Meanwhile, the EU on Feb. 21 called for an end to the Syrian government military offensive in Idlib, warning that a humanitarian disaster was underway.
"The renewed military offensive in Idlib by the Syrian regime and its backers, causing enormous human suffering, is unacceptable," said the EU Council in a statement. The council represents the EU's 27 member states.
The statement went on to urge all sides to "fully respect their obligations under international humanitarian law and international human rights law and to allow unimpeded and direct humanitarian access to all those in need."
The United Nations warned on Feb. 21 that fighting in northwest Syria could "end in a bloodbath" and called again for a ceasefire, while Moscow denied reports of a mass flight of civilians from a Russian-led Syrian government offensive.
Syrian troops backed by Russian air power have been battling since December to eliminate the last rebel strongholds in the region in a war that has killed an estimated 400,000 Syrians, displaced millions more and left much of the country in ruins.
The latest offensive in the regions of Aleppo and Idlib has uprooted nearly 1 million people - most of them women and children - who have fled clashes to seek sanctuary further north, near the Turkish border.
The U.N.'s humanitarian agency OCHA said 60 percent of the 900,000 people trapped in a shrinking space after fleeing are children.
"We call for an immediate ceasefire to prevent further suffering and what we fear may end in a bloodbath," OCHA spokesman Jens Laerke told a news briefing in Geneva.
"The front lines and relentless violence continue to move closer to these areas which are packed with displaced people, with bombardments increasingly affecting displacement sites and their vicinity."