Saudi minister asks why Turkey did not warn Khashoggi if it knew of murder plan
Saudi Arabia's Minister of State for Foreign Affairs Adel al-Jubeir asked why Turkey did nothing to stop the hit team that killed journalist Jamal Khashoggi if it knew about the murder plan as it had the consulate building bugged.
Duvar English
Saudi Arabia's Minister of State for Foreign Affairs Adel al-Jubeir asked if Turkish officials suspected journalist Jamal Khashoggi would be murdered at the Saudi Consulate in Istanbul as they apparently had the building bugged, why they did not previously warn the journalist and let him enter the consulate building.
Al-Jubeir made the comments during a recent exclusive interview with Deutsche Welle's Conflict Zone host Tim Sebastian.
#ICYMI Our #dwzone interview with Adel al-Jubeir, Saudi Minister of State for Foreign Affairs
?https://t.co/V6jlfpbG6z

— DW Conflict Zone (@dw_conflictzone) February 26, 2020
Khashoggi was assassinated on Oct. 2, 2018 at the Saudi consulate in Istanbul by a 15-member team brought in from Saudi Arabia for the operation. The consulate building was bugged by the Turkish intelligence, and therefore the planning and the execution were all recorded. The tapes however have been only been heard by very few people.
Host Sebastian asked al-Jubeir about the bugged conversations, recalling that one of the assassins, immediately after murdering Khahsoggi, had told someone on the phone: "Tell yours the thing is done, it is done." Sebastian asked the minister who the person on the other end of the phone call is.
"I do not believe this is correct; I do not know, this is from the leaks. I have not seen the intercepts that Turks have. But, if Turkey had all of this information, why didn't they provide it to Jamal Khashoggi before he went to the consulate, if they believe this is the case?" al-Jubeir said, rejecting the claim that the assassination was authorized by top Saudi officials.
"The idea that this was authorized is ridiculous," he said.
Sebastian also asked why Turkish investigators were allowed to enter the Saudi consulate in Istanbul only 10 days after the crown prince made the offer for them to search it.
"I understand that there are situations where countries have to agree on the mechanics and the modalities of how you want people to enter sovereign territory," al-Jubeir said.
"No country will allow another country full access to a diplomatic facility, that just doesn't happen."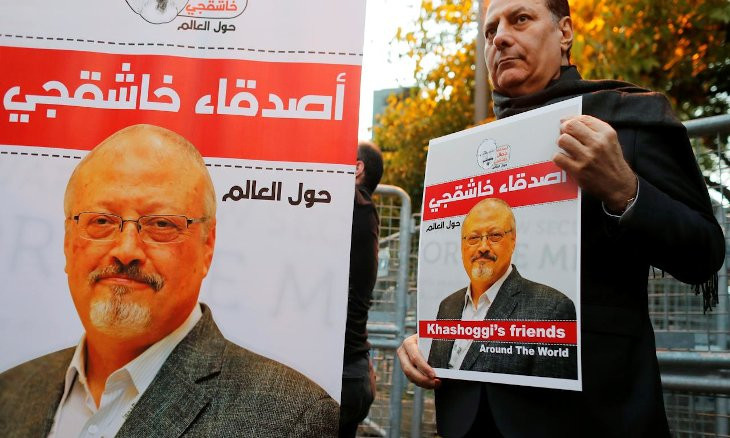 Sentences given in Khashoggi case far from shedding light on murder, Turkey says