Number of Turkish soldiers killed due to airstrike in Idlib rose to 33
At least 33 Turkish soldiers have been killed in Syria's northwestern province of Idlib, in largest death toll in a single day, the governor of Turkey's southern Hatay province said late on Feb. 27. The casualties bring the number of Turkish soldiers killed in Idlib this month to 54.
Duvar English
Thirty-three Turkish soldiers have been killed and several others injured in a Syrian government attack in Idlib, the local governor in Turkey's southeastern province of Hatay said on Feb. 28.
In his first statement late on Feb. 27, Governor Rahmi Doğan had put the death toll at nine. Then he updated the number in three new statements in the first hours of Feb. 28.
He said the wounded soldiers were brought to Turkey through the Cilvegözü Border Gate and were currently being treated at hospitals in Hatay. More than 33 soldiers were wounded, he added.
The casualties bring the number of Turkish soldiers killed in Idlib this month to 54.
34 Turkish soldier skilled in air strikes in Idlib: War monitor
A war monitor on the other hand said at least 34 Turkish soldiers were killed during air strikes in Idlib on Feb. 27.
Russian and Syrian airstrikes targeted the area between the towns of Bara and Bilion in Idlib countryside, killing at least 34 Turkish soldiers, said the Syrian Observatory for Human Rights.
Turkish President Recep Tayyip Erdoğan chaired an emergency security meeting late on Feb. 27 to evaluate the latest developments in Idlib.
The meeting which lasted about two hours was reportedly attended by Foreign Minister Mevlüt Çavuşoğlu, Defense Minister Hulusi Akar, National Intelligence Head Hakan Fidan, Chief of General Staff Yaşar Güler and other top commanders of the military.
The main opposition Republican People's Party (CHP), under the helm of chair Kemal Kılıçdaroğlu, also called for an urgent central committee meeting on the issue late on Feb. 27. The party is also expected to hold a Central Executive Board (MYK) meeting on Feb. 28.
İYİ (Good) Party leader Meral Akşener talked with Erdoğan regarding the Idlib issue. Akşener, who was in the western province of Balıkesir, cancelled her plans and was on her way back to the capital Ankara.
The Nationalist Movement Party (MHP) held an urgent meeting with the party senior officials early on Feb. 28 following the report of the attack.
Following the attack, Çavuşoğlu spoke with NATO chief Jens Stoltenberg over the phone, according to diplomatic sources, but no information on the topic of discussion was disclosed.
The attack comes as tension heightened on Feb. 27 as Russia's Defense Ministry accused Turkey of violating the Sochi agreement by illegally sending strike drones into Idlib to support rebels fighting Syrian government forces, and by providing artillery support for them.
The Russian ministry said a Turkish strike drone had illegally entered Syrian airspace on Feb. 25 and been destroyed by Syrian government air defenses while preparing a strike on government troops.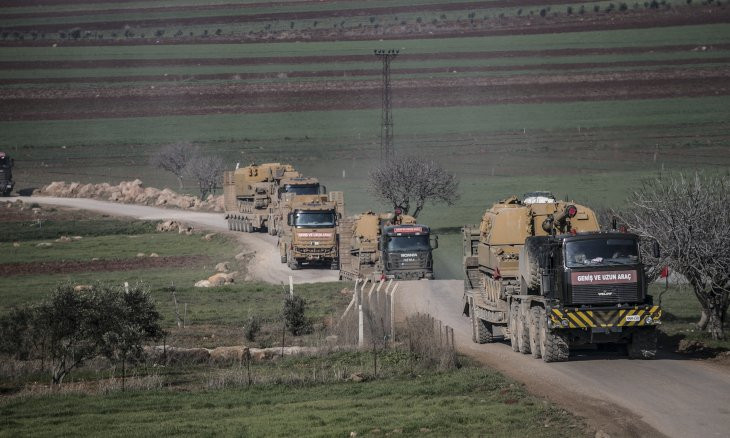 Russia accuses Turkey of violating Sochi deal