Turkey, Russia establish new ceasefire in Idlib
Turkish President Recep Tayyip Erdoğan met with Russian President Vladimir Putin in Moscow on March 5 to discuss escalating tensions in the northern Syrian province of Idlib. The two leaders agreed on a new ceasefire in Idlib which will be effective starting at 12 a.m. on March 6.
Duvar English
Turkey and Russia agreed a ceasefire deal on March 5 in Syria's Idlib region, their two leaders said after lengthy talks in Moscow.
The meeting between Turkish President Recep Tayyip Erdoğan and Russian President Vladimir came after the Feb. 27 attack on a Turkish Armed Forces convoy that killed 34 soldiers in Idlib.
Erdoğan, standing alongside Putin after six hours of talks, said a new ceasefire will be effective starting at 12 a.m. on March 6 and Turkey will work with Russia to make it lasting.
He said Turkey's military reserves the right to retaliate against any attacks by Syrian government forces in the region.
Putin said he hoped their agreement would lead to a halt of military action in Idlib. "I express hope that these agreements will serve as a good basis for a cessation of military activity in the Idlib de-escalation zone (and) stop the suffering of the peaceful population and the growing humanitarian crisis," he said.
Following the Erdoğan-Putin press meeting, Turkish and Russian foreign ministers read out a joint statement, saying the two sides agreed to establish a secure corridor along a key east-west highway in Idlib and hold joint patrols on it as of March 15.
The statement said the secure corridor would stretch 6 km to the north and 6 km to the south of the M4 highway and defense ministers would agree on the parameters of the corridor within seven days.
The joint patrols will begin along the M4 from the Trumba settlement just west of the strategic town of Saraqeb, and run to the Ain al Havr settlement, the statement further said.
Putin: Russia nor Syrian gov't knew about Turkish convoy's location
Prior to their meeting, Putin and Erdoğan made a short statement to the press. Putin said that neither Russia nor Syrian government knew about the whereabouts of the Turkish convoy that was attacked in Idlib on Feb. 27 and expressed condolences to Erdoğan over the death of Turkish soldiers.
"At the beginning of our meeting, I would like to once again express my sincere condolences over the death of your servicemen in Syria. Unfortunately, as I have already told you during our phone call, nobody, including Syrian troops, had known their whereabouts," Putin told Erdoğan at the beginning of their talks.
"That is why we need to discuss everything, the current situation so that, first, nothing like this can ever happen again and, second, so that it does not damage the Russia-Turkey relations, which we and you too, I know, take very seriously and value," he said.
Erdoğan said he hoped his meeting with Putin will ease the tension in the region. "We are going through a period during which Turkey-Russia relations reached a peak. We are in a very different period regarding our relations in both the defense industry and trade," Erdoğan said, adding that he wants to take the relations to a higher level.
The two leaders spoke for about two-and-a-half-hours on their own before being joined by their officials.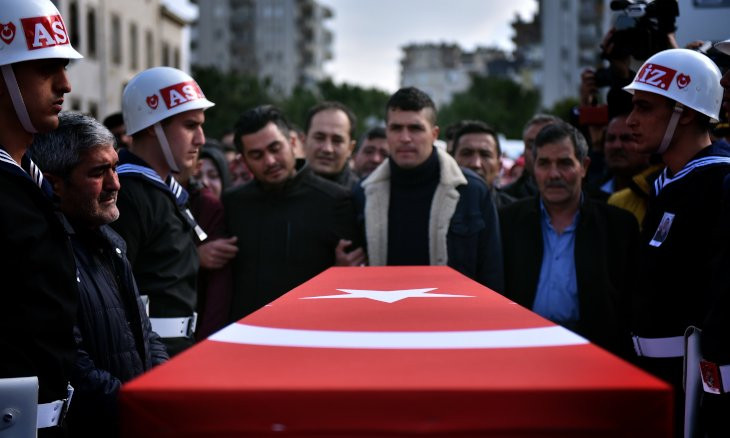 Syrian and Russian forces were flying together: Turkey's UN ambassador
Putin's statement however contradicted Turkish U.N. Ambassador Feridun Sinirlioğlu's earlier remark that "radar tracks" showed Syrian and Russian forces were flying in formation during the Feb. 27-dated attack.
Speaking at the United Nations Security Council Meeting on the "Situation in the Middle East" on Feb. 28, Ambassador Sinirlioğlu had disputed the Russian narrative and said: "Turkish forces were alone in that area. The logical conclusion of that is that they were deliberately targeted."
Following the attack, Turkey launched Operation Spring Shield in the region targeting the Syrian government forces on the field.
Signed on Oct. 22, 2019, Russia and Turkey are parties to the Sochi Treaty that aims to establish peace in northern Syria, but have found themselves on opposite sides of the conflict in the area.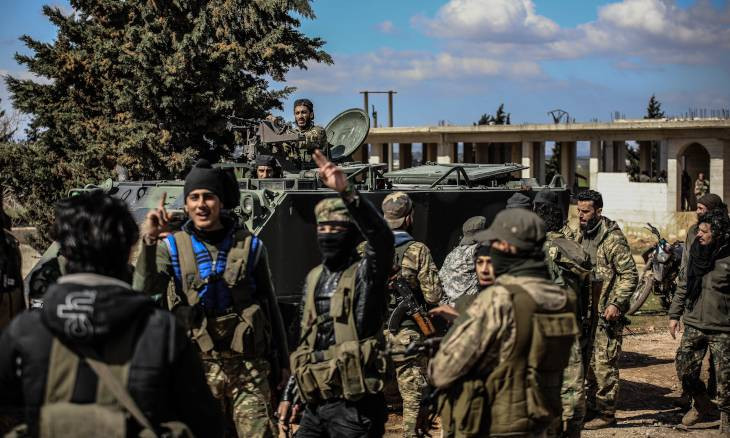 Russia accuses Turkey of violating international law in Idlib ahead of Putin-Erdoğan meeting