Turkey, EU to work on 2016 migration deal
The EU and Turkey agreed to set up two working groups to clarify the continued implementation of the 2016 migrant deal, European Council President Michel said on March 9. The parties agreed to task EU foreign policy chief Josep Borrell and Turkish Foreign Minister Mevlüt Çavuşoğlu with continuing the discussions in order to clarify the position of both sides on implementation of the 2016 deal, Michel said.
Duvar English
Turkish President Recep Tayyip Erdoğan met with presidents of the European commission and council, Ursula von der Leyen and Charles Michel, in Brussels on March 9 to discuss Turkey's decision to open the country's border to migrants travelling to Europe.
Following the meeting, Michel told reporters the two sides agreed that the EU's high representative for foreign affairs, Josep Borrell, would be working with Turkish Foreign Minister Mevlüt Çavuşoğlu in the next few days on "mapping" the differences on the migration deal.
Michel said officials will work "to be certain that we are on the same page that we have the same interpretation about what we do, in Turkey and at the level of the European Union, in order to implement the deal."
Michel made the comments during a press conference along with Von Der Leyen. Erdoğan did not speak to reporters after the meeting and headed to the airport, but sources from the Turkish Presidency called the meeting "fruitful," according to Turkey's state-run Anadolu Agency.
Von der Leyen said they would "have a very close look with experts at the [2016] Turkey-EU statement." Along with additional funds, Erdoğan is seeking progress on visa-free travel for Turks, and Von der Leyen said this would be among the issues addressed.
"Clearly we do have our disagreements, but we have spoken plainly and we have spoken openly to each other," Von der Leyen said.
Michel and Von der Leyen both stressed that the 2016 deal between the EU and Turkey -- under which Ankara agreed to block migrants and refugees from heading to Greece in exchange for billions of euros in EU aid -- remains valid.
"It remains valid, and we need to implement missing elements," Von der Leyen said, acknowledging that this was the EU's responsibility as well as Turkey's. "We have indicated to President Erdoğan that we are willing to move forward as long as it is reciprocal."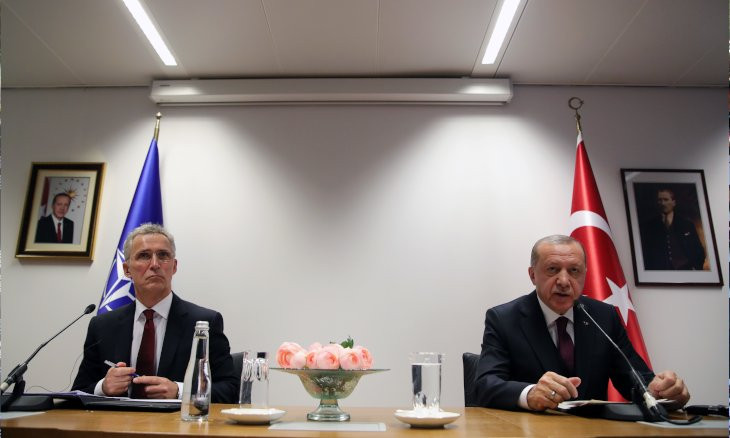 Erdoğan demands more support from NATO in 'critical' period
Beforehand, Erdoğan had made clear that his priority was to seek more support for Turkey in the conflict in Syria and to cope with millions of refugees from the fighting.
Before heading to the European Council, he met with NATO secretary general Jens Stoltenberg, and told him: "NATO is in a critical process in which it needs to clearly show its alliance solidarity."
"Turkey's Syria border is also NATO's southeastern border. A crisis stemming from Syria threatens our region and as a matter of fact the whole Europe due to security and humanitarian concerns," Erdoğan said.