Amid coronavirus, Turkey, Germany, France, UK discuss migration crisis in video call
Turkish President Erdoğan on March 17 held a teleconference with the leaders of France, Germany and Britain. The quartet summit discussed the Syria crisis and migrant issue as well as joint action against coronavirus, Turkish presidency said.
Duvar English
Turkish, German, British and French leaders discussed the Syria crisis and migrant issue as well as joint action against coronavirus in a videoconference, Turkish presidency said on March 17.
In a statement, the presidency said Turkish President Tayyip Erdoğan, French President Emmanuel Macron, German Chancellor Angela Merkel and British Prime Minister Boris Johnson also discussed methods of humanitarian aid to Syria's northwestern Idlib province.
"We found opportunity to extensively evaluate many topics ranging from fight against coronavirus and the humanitarian situation in [Syria's] Idlib, to solutions to Syria crisis, matter of asylum seekers and Turkey-EU relations at the summit," Erdoğan said on Twitter following the summit.
"In this difficult process that we pass through at the regional and global level, we will operate diplomacy and cooperation mechanisms more actively, and we will resolutely continue our efforts to resolve problems as soon as possible," he added.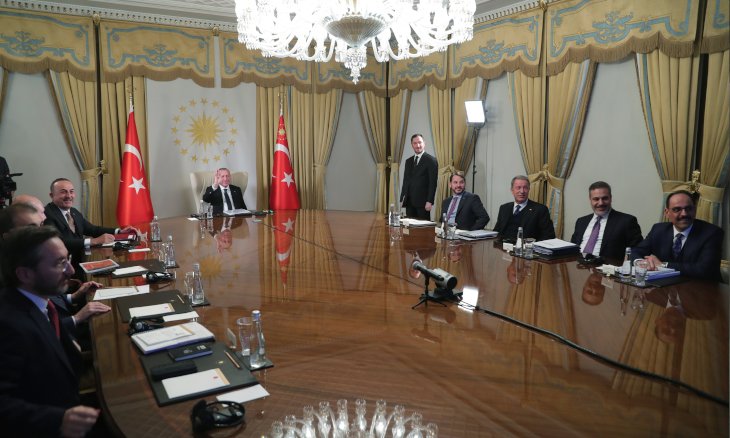 The videoconference was also attended by Turkish Foreign Minister Mevlüt Çavuşoğlu, Interior Minister Süleyman Soylu, Finance Minister Berat Albayrak, Defense Minister Hulusi Akar, National Intelligence Organisation (MİT) chief Hakan Fidan, Presidential Communications Director Fahrettin Altun, Presidential Spokesperson İbrahim Kalın and the ruling Justice and Development Party's (AKP) spokesperson Ömer Çelik.
The summit was previously planned to be held in Istanbul, but was held via a videoconference as part of measures taken to stem the spread of the novel coronavirus, also known as COVID-19.
France unlocks extra €50 mln for humanitarian aid to Syria
Following the video call, France said it had unlocked an extra 50 million euros for humanitarian aid to Syria, half of which will be destined for the Idlib region.
France will carefully monitor whether this aid "effectively reaches civilians," the presidential palace said in a statement on March 17.
Erdoğan has called for updating the 2016 migration deal between Ankara and the European Union and Turkey's customs union with the bloc, and also to revive Turkey's stalled EU accession process.
He has said that Turkey is not considering closing its border gates to Europe under the current circumstances and that Greece must open its own gates.
Turkey has stemmed migration to Europe under the 2016 deal in return for billions of euros in aid. But it has become frustrated with what it regards as too little European support over the war in Syria, where its troops faced off against Russian-backed government forces.
On Feb. 28, the Turkish government announced that it would no longer prevent migrants from leaving Turkey, unleashing scenes of chaos at the border with Greece.