Turkey 'supplies medical equipment to Israel to help with fight against coronavirus'
Turkey sent medical equipment to Israel to help the country with its fight against the coronavirus pandemic, Bloomberg cited a senior Turkish official in Ankara as saying on April 9. According to Bloomberg, the official also said that Turkey will donate medical aid for the Palestinians within the next few days. The country also sent medical aid packages to the U.K. on April 10.
Duvar English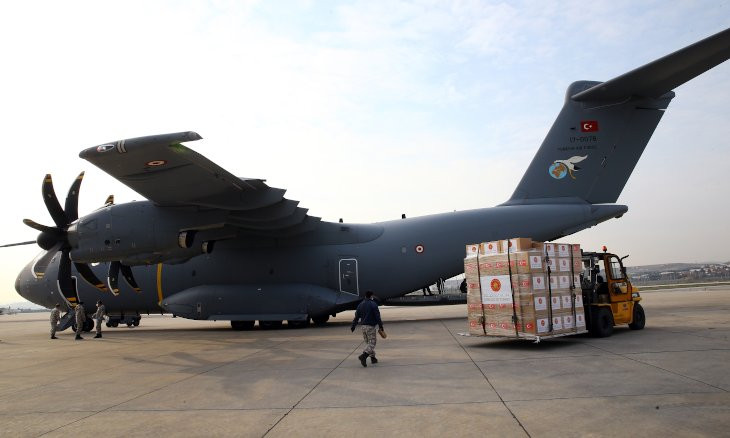 NATO Secretary General praises Turkey for aiding Spain, Italy in fight against coronavirus
Turkey is reportedly supplying medical equipment to Israel, including face masks, protective overalls and sterile gloves to help the country fight the coronavirus (COVID-19) outbreak, following years of frosty ties.
The Turkish government approved the sale of medical equipment for humanitarian reasons and Israel is expected to allow a similar shipment of Turkish aid to reach Palestinian authorities without any holdups, Bloomberg cited a senior Turkish official in Ankara as saying on April 9.
Three planes from Israel were expected to land in southern İncirlik air base to pick the cargo on April 9, said the official, who's familiar with the shipment and asked not to be named discussing the sensitive issue. Turkey will donate medical aid for the Palestinians within the next few days, the official said.
Before now-President Recep Tayyip Erdoğan took power in 2003, Turkey was Israel's closest partner in the Muslim world, and their militaries had strong ties.
Relations sharply deteriorated in 2010 when Turkish flotilla Mavi Marmara bound for the Hamas-run Gaza Strip was raided by Israeli commandos, resulting in the deaths of 10 civilians. Turkey expelled Israel's ambassador, recalled its own envoy and pulled out of joint war games. While Israeli military sales to Turkey were halted, other trade ties proved resilient.
Elsewhere, a Turkish military cargo plane carrying medical supplies for use against the coronavirus pandemic departed on April 10 for the U.K.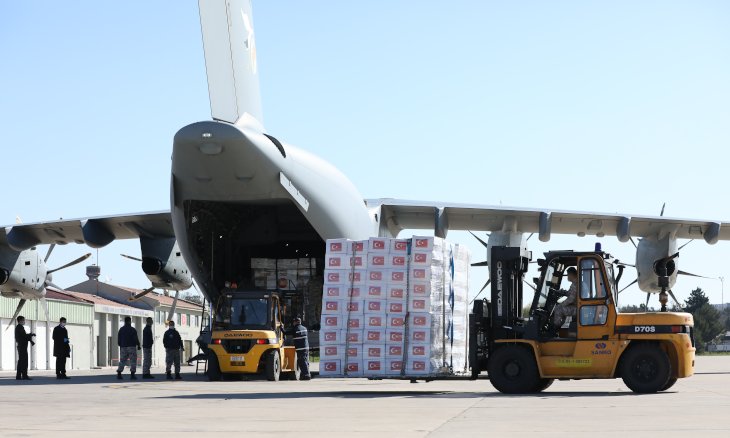 "Turkish Armed Forces aircraft that will transport to United Kingdom the medical aid supplies prepared by Turkey's Health Ministry to be used in the fight against COVID-19 has departed Ankara," the Turkish Defense Ministry said on Twitter.
The medical aid supplies also carried on a message for the people of the U.K., saying: "After hopelessness, there is so much hope and after darkness there is much brighter sun. Rumi."
The aid packages carried to the U.K. by Turkey includes protective masks and overalls.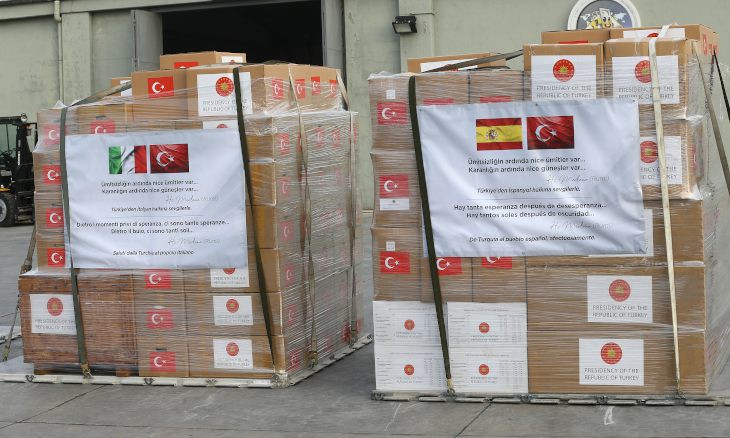 Turkey sends medical aid packages with Rumi's words on to Italy, Spain
On April 8, U.K. Foreign Secretary Dominic Raab thanked Turkey in a phone conversation with Turkish Foreign Minister Mevlüt Çavuşoğlu for sending medical supplies to help the country deal with the coronavirus pandemic.
Raab said the move is an "indication of strong friendship between the two countries."
Turkey also sent medical aid to five Balkan countries including Serbia, Bosnia and Herzegovina, Montenegro, North Macedonia, and Kosovo on April 8, as well as to Italy and Spain -- the countries in Europe worst-hit by the virus -- last week.
After originating in Wuhan, China last December, COVID-19, the disease caused by the coronavirus, has spread to at least 185 countries and regions across the world.