Turkey calls for cooperation to ease tensions in East Med after sending survey ship to disputed waters
Turkey announced on Aug. 10 that it dispatched a vessel named Oruç Reis to conduct a seismic survey in a disputed area of the eastern Mediterranean, a move that Greece said was "illegal." Turkey dismissed the Greek objections, with President Erdoğan saying that Ankara was ready to cooperate in finding "an acceptable formula that protects the rights of all."
Duvar English
Turkish President Recep Tayyip Erdoğan has called on all involving parties in the Eastern Mediterranean to cooperate in finding "an acceptable formula that protects the rights of all."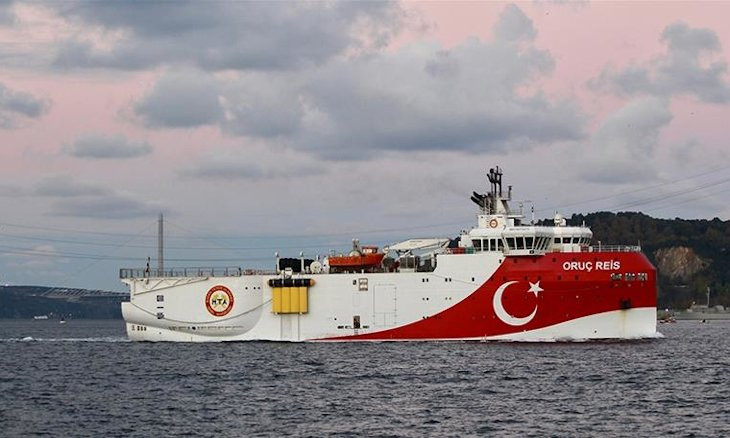 Turkey may pause energy work in eastern Mediterranean pending Greece talks
"We are always here and ready to resolve conflicts through dialogue on equitable basis," Erdoğan said on Aug. 10, following a Cabinet meeting in the capital Ankara.
"No way Turkey would consent to any initiative trying to lock the country to its shores, ignoring the vast Turkish territory," Erdoğan said.
The president's comments came after Turkey dispatched a vessel to conduct a seismic survey in a disputed area in the eastern Mediterranean.
"Our MTA Oruç Reis seismic research vessel reached the operation area after departing from Antalya for its new mission in the Mediterranean. 83 million Turkish people support you Oruç Reis," Turkey's Energy and Natural Resources Minister Fatih Dönmezwrote on Twitter on Aug. 10.
Dönmez noted that the activities in the Mediterranean and Black Sea will continue nonstop "for achieving Turkey's energy independence."
MTA Oruç Reis Sismik Araştırma Gemimiz, Akdeniz'deki yeni görevi için Antalya'dan demir alarak, çalışma yapacağı alana ulaştı.

Türkiye'nin enerji bağımsızlığı için Akdeniz'de ve Karadeniz'deki çalışmalarımız aralıksız devam edecek.

83 milyon arkanda Oruç Reis.
Rast gele.??? pic.twitter.com/VKfFGgXSxm

— Fatih Dönmez (@fatih_donmez) August 10, 2020
Turkey's move however revived tensions with NATO ally Greece. The two countries are at odds over overlapping claims for hydrocarbon resources in the region. A similar advisory last month caused a row which was calmed after the intervention of German Chancellor Angela Merkel.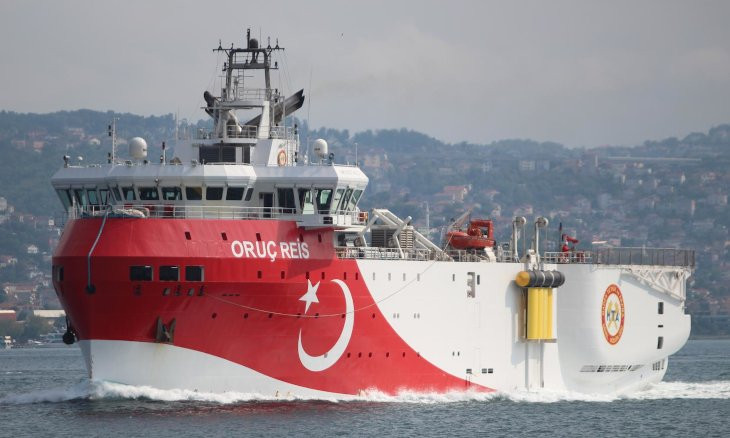 Turkey rejects Greek claim over Mediterranean seismic survey
Greek Prime Minister Kyriakos Mitsotakis chaired a meeting of the government council for defence issues on Aug. 10 which examined "ways of reaction to the Turkish provocation", the conservative premier's office said.
After the meeting, Greece's foreign affairs ministry issued a statement urging Turkey to "immediately cease its illegal activities which undermine peace and security in the region."
Earlier, Minister of State George Gerapetritis told Greek state TV Athens was in full "political and operational readiness." He reiterated that Greece stood ready to engage in a constructive dialogue with Turkey on their differences.
Turkey dismissed the Greek objections, saying they had no legal basis, and vowed to continue operations. The foreign ministry said Turkey's military presence in the area, which it gave no details about, was purely defensive.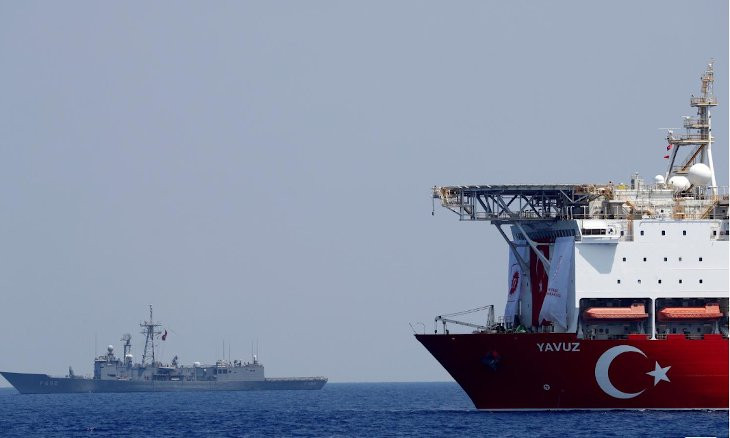 Turkey declares Greece-Egypt maritime deal 'null, void'
"It is no business of anyone to try to exclude our country from the Mediterranean, which has been under Turkish rule for centuries," the Turkish foreign ministry said in a statement.
The NAVTEX, issued by the Turkish navy's office of navigation, covered an area of sea south of Turkey's Antalya and west of Cyprus. It will be in effect between August 10-23.
Oruç Reis will continue its activities in the Eastern Mediterranean with Cengiz Han and Ataman vessels.
Erdoğan said on Aug. 7 Turkey had resumed energy exploration work in the region as Greece had not kept its promises on the issue.
Erdoğan's announcement came after Egypt and Greece signed an accord on Aug. 6 designating an exclusive economic zone between the two nations in the east Mediterranean.
Diplomats in Greece said that agreement nullified an accord reached last year between Turkey and the internationally recognized government of Libya, but Erdoğan said Turkey would maintain its agreement with Libya "decisively."
Seismic surveys are part of preparatory work for potential hydrocarbon exploration. Turkey and Greece are also at odds over issues such as overflights in the Aegean Sea and ethnically divided Cyprus.