Four Turkish citizens stranded in Donetsk waiting for help to return to Turkey
Four Turkish citizens who traveled to Donetsk on March 1 have been stranded for six months because they're unable to cross over to Russia for transportation back. The four friends have been denied help by Turkish embassies, Ukrainian officials and Russian officials alike.
Duvar English
Four Turkish citizens have been stranded in Donetsk because they're unable to enter Russia to take flights back to Turkey amid the coronavirus pandemic, daily Birgün reported on Aug. 26.
The four friends arrived in Donetsk on March 1 for an employment prospect, but wanted to return by March 20, when they were told they couldn't cross over to Russia at the Rostov border.
"A few days later, we heard that Donetsk locals were crossing over. We went again on March 24 and everyone was crossing over, but we weren't allowed," construction engineer Onur Altınay said.
Altınay said that there are "orders that third world countries' citizens will not be allowed in Russia," which is why they're unable to travel back to Turkey.
They have written to multiple authorities to seek help on leaving Donetsk, but kept running into diplomatic barriers.
"We write to the embassy in Moscow, they say Kiev takes care of this region. The embassy in Kiev will say they 'don't attend to that state because it's independent' and to write to Moscow," Altınay said.
There were only evacuation flights to Turkey out of Moscow and Kiev, where both embassies said the other one would be responsible for transporting the citizens in Donetsk.
"By July, there were [commercial] flights out of Moscow. Donetsk locals were leaving. We went to the border again, they turned us down on the grounds that the flights weren't 'official.'"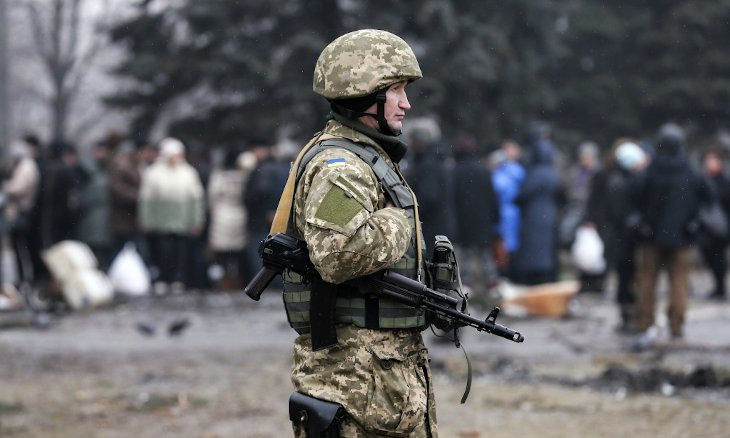 Turkey to provide financial aid to Ukrainian army
Altınay said that they were told at the border that officials had orders to stop anyone but locals from leaving Donetsk.
"We gave a petition to the Ukrainian Interior Ministry and the Russian Foreign Ministry. We bought plane tickets for Aug. 9. They didn't have our permits to leave, so we had to cancel our tickets," Altınay added.
The four Turkish citizens, unable to leave Ukraine, have been stranded for six months, and are "growing hopeless," Altınay said.