Macron: France has evidence that Syrian mercenaries travelled through Gaziantep to Nagorno-Karabakh
French President Emmanuel Macron said on Oct. 1 that he had evidence that Syrian fighter had travelled through Turkey's southeastern province of Gaziantep on their way to the region of Nagorno-Karabakh, where heavy fighting between Armenian and Azerbaijani forces this week marked the biggest escalation in years of the decades-old conflict.
Reuters
President Emmanuel Macron accused Turkey on Oct. 1 of sending Syrian jihadists to fight in the Nagorno-Karabakh conflict, a move that he said changed the situation.
Turkey, a close ally of Muslim Azerbaijan, has denied sending mercenaries to take part in the fighting.
"We now have information which indicates that Syrian fighters from jihadist groups have (transited) through Gaziantep (southeastern Turkey) to reach the Nagorno-Karabakh theatre of operations," Macron told reporters on arrival at an EU summit in Brussels. "It is a very serious new fact, which changes the situation."
"Elimize geçen kesin bilgilere göre, cihatçı gruplara bağlı Suriyeli savaşçılar, Gaziantep'ten geçerek Karabağ'da cepheye katıldı"

Fransa Cumhurbaşkanı Macron, Türkiye'den Dağlık Karabağ'a Suriyeli savaşçıların gönderildiğine dair ellerinde kanıt olduğunu söyledi

— euronews Türkçe (@euronews_tr) October 1, 2020
Neither Macron or the French presidency provided evidence to support the accusation about the mercenaries.
Fighting broke out last week in breakaway Nagorno-Karabakh - part of Azerbaijan but run by its mostly ethnic Armenian inhabitants - and has reached its most serious level since a war in the 1990s.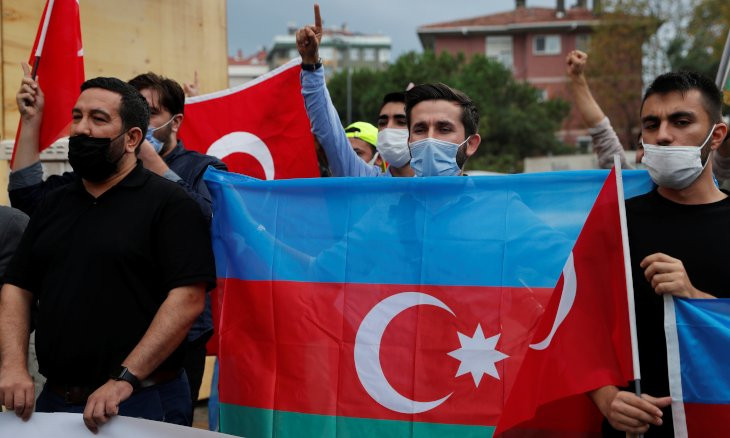 France accuses Turkey of sending Syrian mercenaries to Nagorno-Karabakh
Earlier on Oct. 1, France, Russia and the United States called for an immediate ceasefire. The three countries are co-chairs of the Organization for Security and Co-operation's (OSCE) Minsk Group, set up in 1992 to mediate a peaceful resolution over the disputed enclave.
"We call for an immediate cessation of hostilities between the relevant military forces," the joint French, Russian and U.S. statement said.
They urged the ex-Soviet republics of Armenia and Azerbaijan to "commit without delay to resuming substantive negotiations, in good faith and without preconditions" under what is called the Minsk process.
But in a speech to the Turkish parliament just before the three countries' statement, President Recep Tayyip Erdoğan said he opposed their involvement.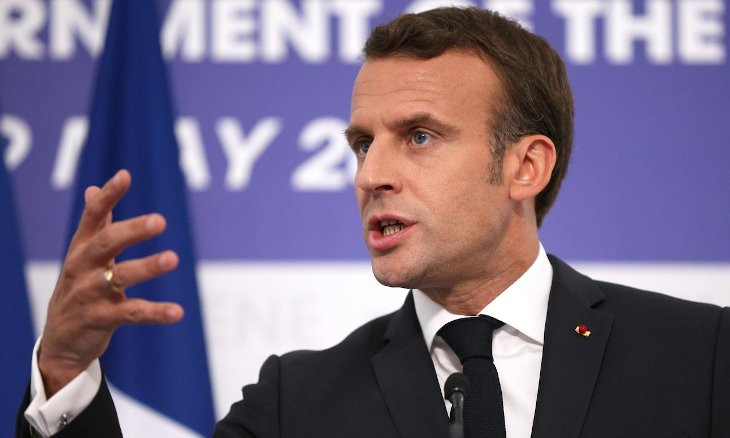 Macron slams Turkey's 'warlike' rhetoric on Nagorno-Karabakh
"Given that the USA, Russia and France have neglected this problem for nearly 30 years, it is unacceptable that they are involved in a search for a ceasefire," Erdoğan said.
He said a lasting ceasefire could be achieved only if "Armenian occupiers" withdrew from Nagorno-Karabakh.
His comments are likely to fuel tension with his NATO allies as fears mount that the conflict could draw in regional powers Russia, which has a military base in majority Christian Armenia, and Turkey, a close ally of mainly Muslim Azerbaijan.
Russian Foreign Minister Sergei Lavrov and his Turkish counterpart had spoken by phone and expressed their willingness to cooperate closely to stabilise the situation, Lavrov's ministry said.
Macron, whose country is home to about 600,000 people of Armenian origin, has accused Turkey of "warlike" rhetoric.
A German government source said EU leaders would discuss the conflict at an ongoing summit meeting.