Erdoğan has a lot to lose if Trump is defeated in elections, says columnist
If Trump loses the 2020 presidential election to Biden, he will not be the only loser, as leaders of Turkey, North Korea and Israel will be confronted with immediate challenges, said a columnist in Bloomberg. Marc Champion wrote on Oct. 20 it is thanks to the bond between Trump and Erdoğan that Ankara has so far managed to avoid sanctions over its purchase of S-400 defense missile system.
Duvar English
Turkish President Recep Tayyip Erdoğan relies on his U.S. counterpart Donald Trump for political protection and in case of an election loss of Trump in November, Erdoğan will be confronted with immediate challenges, Marc Champion said in a report published on Bloomberg on Oct. 20.
Foreign leaders ask me to talk to Erdoğan because he only listens to me, Trump says
Trump's ejection will be welcomed by many governments, but not those of Turkey, North Korea and Israel, said Champion, pointing out that Trump has stood virtually alone between Turkey and the imposition of Congressional sanctions over Ankara's decision to buy Russia's S-400 air defense missile system.
Following Turkey's purchase of S-400 air defense missile system, Washington expelled Ankara from its F-35 jet program and has threatened sanctions. The U.S. Congress passed a legislation to sanction Turkey over the purchase but the Trump administration is known to be opposing it.
Champion further said that Trump withdrew U.S. troops from some areas of northern Syria so that Turkey could send its own forces to take control of the zone.
"Trump made that decision without consulting the Pentagon or U.S. allies in the fight against Islamic State in Syria, including the U.K., France and Kurdish fighters that Turkey regards as terrorists," Champion said.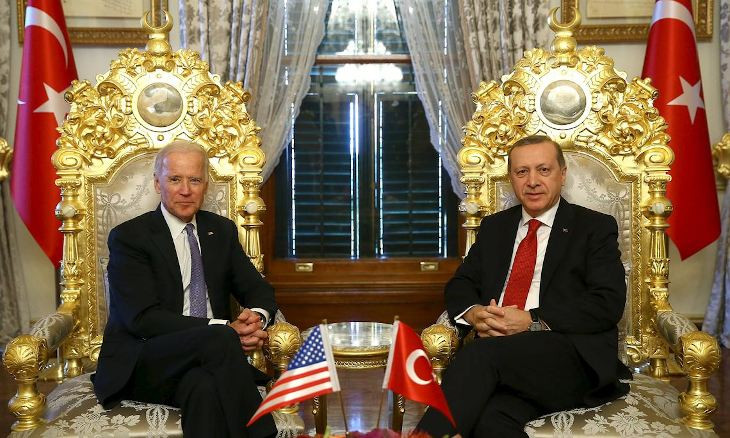 Erdoğan voices disappointment over Biden's remarks, says, 'We drank tea together in the past'
"With sanctions ready for enforcement and Biden previously calling on the U.S. to support Turkish opposition parties, Erdogan may have the most to lose from Trump's departure," the columnist wrote.
Turkey in August condemned as "interventionist" comments that U.S. Democratic presidential contender Joe Biden had made in December when he advocated a new U.S. approach to the "autocrat" Erdoğan and support for opposition parties.
Biden's comments to New York Times editors resurfaced in a video that made him one of the most popular topics in Turkey in August.
Biden, the former U.S. vice president, says in the video he is "very concerned" about Erdoğan's approach to Kurds in Turkey, his partial military cooperation with Russia, and access to U.S. airfields in the country.