Turkey to examine asylum application of French charity founder investigated for ties to radical Islam
Idriss Sihamedi, the founder of a Muslim charity that has been dissolved in France due to suspected ties to "radical Islamist movement," has announced that he was seeking asylum in Turkey. The Turkish Interior Ministry said on Oct. 29 that Ankara will assess Sihamedi's request once he files an official application.
Duvar English
The founder of a Muslim charity in France that has been shut down due to suspected ties to "radical Islamist movement" and its "reveling in justifying terrorist acts," has sought asylum in Turkey.
Idriss Sihamedi, the founder of BarakaCity, posted a series of Tweets both in French and Turkish.
Sihamedi claimed that he was no longer safe in France and requested asylum for himself and for his team in Turkey. He also tagged Turkish President Recep Tayyip Erdoğan in his post.
Bu yüzden sayın @RTErdogan'dan STK'mız adına Fransa'da güvende olmadığım için kendim ve ekibim adına siyasi sığınma talebinde bulunmak istiyorum.

— Idriss Sihamedi (@IdrissSihamedi) October 28, 2020
The Turkish Interior Ministry's department in charge of migration management has responded to Sihamedi's French post, saying Ankara will assess Sihamedi and his team's request if they file an official application.
"Hello Sihamedi. If you and your colleagues were to personally have recourse to our institution, with your surname, name, identity information and petitions for an asylum request as well as your passport number, your request will be assessed," Directorate General of the Migration Management wrote on Twitter on Oct. 29.
Bonjour Sihamedi. Au cas où vous et vos collègues avez recours personnellement à notre institution avec votre nom, prénom, informations d'identité et les pétitions pour les demandes d'asile y compris les numéros de passeport votre demande sera évaluée.

— Göç İdaresi Genel Müdürlüğü (@Gocidaresi) October 29, 2020
On Oct. 28, French Interior Minister Gerald Darmanin officially announced BarakaCity's closure on the grounds that it "incites hate, has relations with the radical Islamist movement and justifies terrorist acts."
BarakaCity released a statement following its closure, saying it was banned following years of "slander and appalling lies.""The attached decree is a web of lies, and many of these claims have already been refuted by your intelligence agencies which proceeded to dismiss them!," the organisation wrote.
The decision to dissolve BarakaCity comes following the beheading of teacher Samuel Paty for showing caricatures of Prophet Muhammad in his class.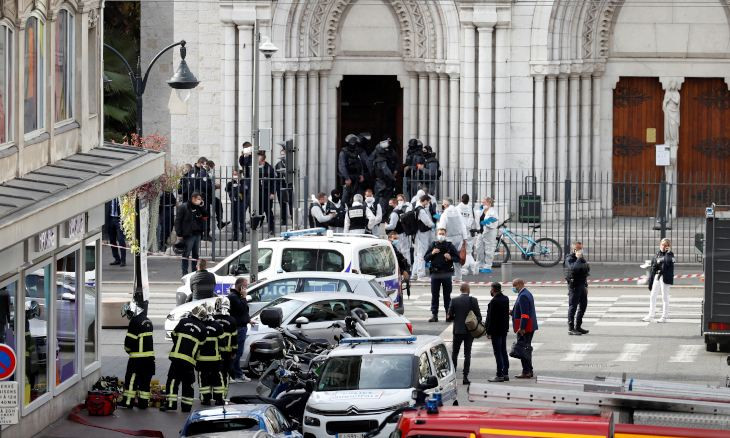 Turkey condemns deadly Nice attack