Ankara said to have intervened in leadership race to determine Turkish Cyprus' new PM
After its suspected intervention in the Turkish Cyprus presidential election, Ankara is now also said to have intervened in the National Unity Party (UBP) leadership contest. A congress scheduled for Nov. 7 to choose the new UBP leader to assume the post of prime minister was postponed without reason.
Nikolaos Stelya / Duvar
A congress of the Turkish Cyprus' National Unity Party (UBP) scheduled to choose the new leader of the party has been postponed after Ankara's intervention, Turkish Cyprus media outlets said.
Former UBP leader Ersin Tatar was elected as the president in October, leaving his party leadership and premier seat empty.
UBP MPs Faiz Sucuoğlu and Hasan Taçoy who were among the five candidates competing for the party's leadership, advanced to the second round at the UBP congress last week.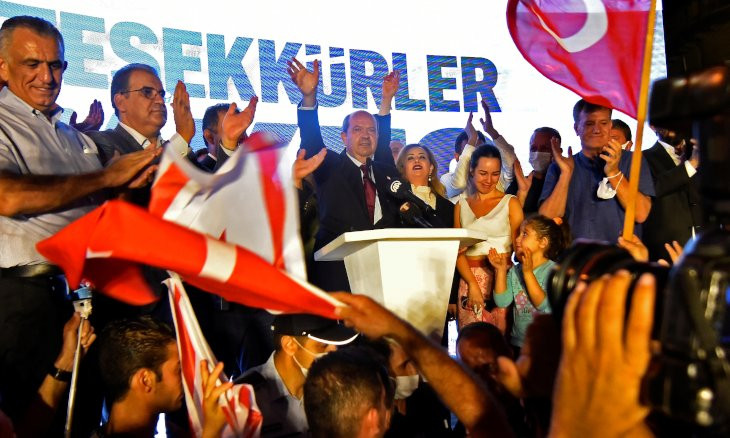 Turkey-backed Ersin Tatar wins Turkish Cyprus presidential vote
A second round was scheduled for Nov. 7, in which absolute majority of the votes would determine the new leader.
However, UBP officials as well as sources from the opposition told Turkish Cyprus media outlets that Ankara intervened in the second round of the party leadership race and the congress was postponed for 45 days.
UBP MP Zorlu Töre, who would preside over the congress, said that he was notified of the postponement on Nov. 5. "It turns out some developments, contacts occurred overnight. Two of our colleagues [Sucuoğlu and Taçoy] have expressed their wish to withdraw from the race," Töre siad.
As for the reports of Ankara's intervention in the congress, Töre said: "I have heard about those rumors. Meetings with an advisory nature, not an interventionist nature, can be conducted. I would like to express that what we are currently going through is not normal and is problematic."
Sucuoğlu, competing for the UBP leadership, said that he was left with no choice but to approve the cancellation of the congress "to maintain the party's unity and not to harm the intra-party peace."
Deputy Prime Minister and Foreign Minister Kudret Özersay, who is also the leader of the People's Party (HP), said that Turkish Cyprus is "unfortunately going through a similar process that it experienced during the presidential elections."
Özersay said that this is an "unnatural situation," with no one knowing why exactly the two candidates withdrew from the race and why the congress was cancelled. "This unnatural situation should not just disturb the UBP members but all of us," he said.
Several scenarios about who will run for the UBP leadership have surfaced, with rumors suggesting that former Turkish Cyprus Prime Minister Hüseyin Özgürgün, who is still in Turkey, might be a candidate.