Armenian group attacks Turkish restaurant in Beverly Hills
A group of Armenians have attacked a popular Turkish restaurant in Beverly Hills in what U.S. police deemed a possible hate crime. A worker, who did not want to give his name for security reasons, said they believe the attack was planned: "They were saying, 'We are here to kill Turks and we hate you guys, you guys must die,' and a lot of other death threats."
Duvar English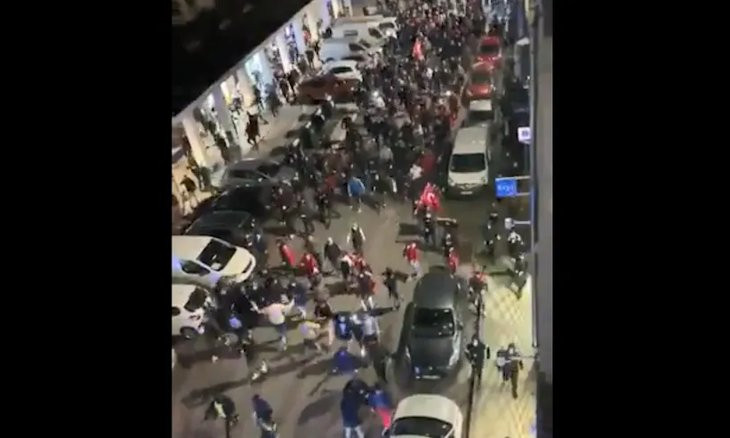 Dozens of Turks storm Armenian neighborhoods, threaten residents in Lyon
A group of Armenians have attacked a popular Turkish restaurant in Beverly Hills in what U.S. police deemed a possible hate crime.
According to U.S. media reports, the group of six to eight people vandalized Cafe Istanbul, a restaurant that has been serving customers for eight years, on Nov. 4 at around 8:30 p.m.
Police said that the suspects physically attacked the employees inside the restaurant and later in the alley outside.
"They grabbed some chairs from the interior and the owners were sitting right there. They threw chairs at the owners," an employee said.
"I thought they were going to kill me," the owner of the restaurant said.
A worker, who did not want to give his name for security reasons, said they believe the attack was planned: "They were saying, 'We are here to kill Turks and we hate you guys, you guys must die,' and a lot of other death threats."
Surveillance footage from the restaurant shows the group running into the place, as the owners flee out the back. The group was seen throwing chairs around, and trashing the small eatery that has been at that location for almost ten years.
Beverly Hills Police said that they are investigating the incident as a hate crime. The owners said they have been receiving threats over the phone ever since fighting began between Azerbaijan and Armenia. Turkey is a staunch supporter of Baku.
Media Release by BHPD on the hate crime against the restaurant owned by a Turkish American citizen.I appreciate the principled stance of BHPD and earnestly hope that they will identify and bring to justice those that blatantly trampled the letter and sprit of US constitution. pic.twitter.com/YDKnHXv4jn

— Serdar KILIÇ (@serdarkilic9) November 6, 2020
Turkey's U.S. envoy on Nov. 5 strongly condemned the attack, calling on federal and local authorities to protect Turkish Americans there.
On Twitter, Serdar Kılıç insisted that federal and local authorities must "protect the rights of Turkish Americans and punish the culprits."
@MayorOfLA members of Turkish American Community in Los Angeles who are also your constituents expect you to stand by them now and condemn unequivocally the attack on a Turkish establishment in LA in the form of a racially motivated hate crime by a group of extremist Armenians. pic.twitter.com/9ebHWXZVPl

— Serdar KILIÇ (@serdarkilic9) November 5, 2020
Beverly Hills Mayor Lester Friedman called the assault an "unacceptable act of hate and violence."
"There is no place in our city for this behavior and we ask members of the public to please come forward with any information on the suspects in this case," said Friedman.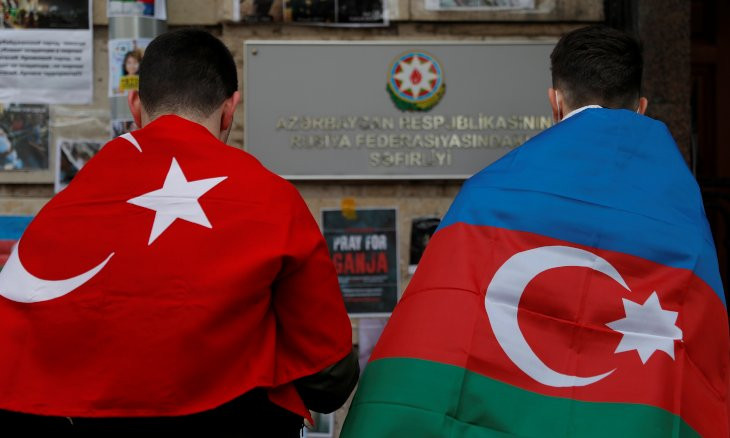 'Dozens of Armenians left Turkey in one day' due to heightened pro-Azeri sentiment