Captain of crashed Pegasus flight arrested
An Istanbul court has ordered the arrest of the captain pilot of a plane that skidded off the runway earlier this month at an Istanbul airport and killed three passengers. The pilot faces charges of "involuntary manslaughter and causing injury."
Duvar English
Turkish authorities have arrested the captain of a Pegasus Airlines plane that skidded off the runway and killed three people at Istanbul's Sabiha Gökçen airport earlier this month, state-run Anadolu Agency said on Feb. 24.
The Pegasus plane flying into Istanbul from the western coastal province of İzmir on Feb. 5 slipped off the end of the wet runway and broke into three pieces after what officials said was a drop of 30 to 40 metres.
The two pilots of the plane, a Boeing 737-86J, were each questioned following the crash.
On Feb. 24, after being discharged from the hospital where he was being treated, the captain pilot, M. A., was referred to the prosecutor's office. The prosecutors took his testimony and referred to him to the court, which ruled for his arrest pending trial on charges of "involuntary manslaughter and causing injury."
As part of the investigation, prosecutors have also taken statements from air traffic control staff, airport employees and the pilots of two other planes that aborted landings shortly before the Pegasus flight landed.
The crash happened as the 11-year-old aircraft landed in strong winds and heavy rain. U.S. aviation investigators have also inspected the wreckage to see if there were any technical factors that could have contributed to the accident.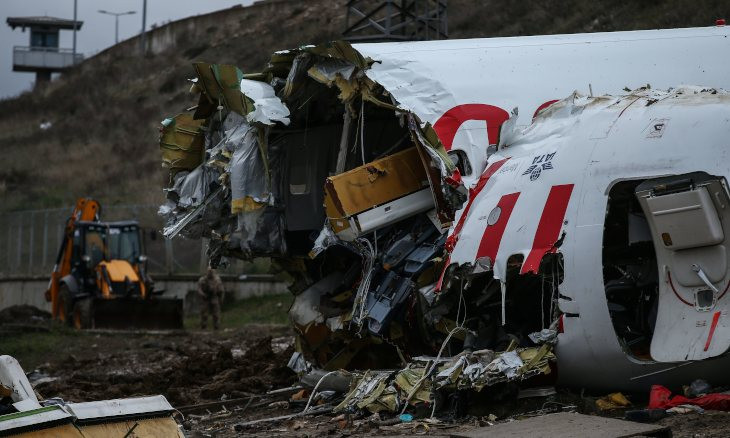 3 killed, 180 injured after plane skids off runway at Istanbul's Sabiha Gökçen airport