AKP Istanbul councillor legitimizes killing of woman by boyfriend, says couple 'was having extramarital life'
A councillor from the ruling AKP has legitimized the recent brutal killing of a woman by her boxer boyfriend, saying: "The story is the same, a freedom-lover woman and a death story that takes places in an extramarital life."
Duvar English
A member of the Istanbul Metropolitan Municipality (İBB) Council from the ruling Justice and Development Party (AKP) has legitimized the murder of a woman by her boyfriend saying this "was a death story of a freedom-lover woman who was having an extramarital life."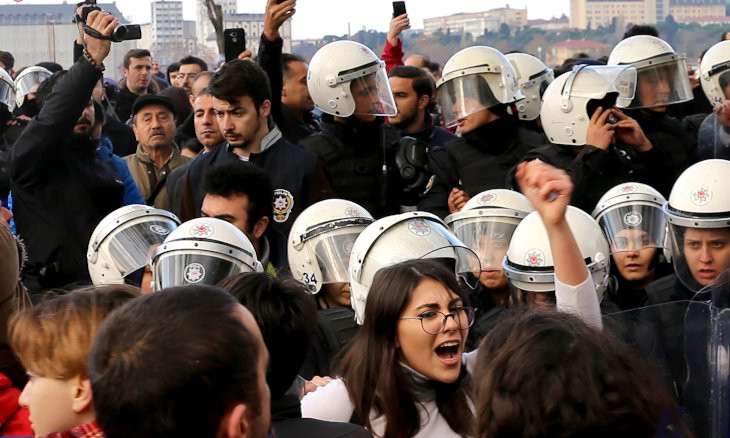 Turkish police tell victims of domestic violence to return home amid the COVID-19 outbreak: Women's shelter foundation
The incident concerns the brutal death of Zeynep Şenpınar, 25, at the hands of Turkish boxer Selim Ahmet Kemaloğlu in the Aegean province of Muğla on May 24. Kemaloğlu was arrested on the same day for stabbing his girlfriend to death in the chest with a kitchen knife during the coronavirus lockdown. The incident occurred during an argument in the flat which the couple were sharing.
Following the brutal murder, AKP Istanbul councillor Hamdullah Arvas wrote on Twitter: "Take a note that in recent years social media has been bringing to the agenda women deaths which especially resemble those of #zeynepsenpinar. The story is the same, a freedom-lover woman and a death story that takes places in an extramarital life. Is this a coincidence or a perception management that is done purpose? #Decency."
Dikkat edin son yıllarda soysal medyada özellikle #zeynepsenpinar benzeri kadın ölümleri gündeme getiriliyor.
Hikaye aynı özgürlük düşkünü bir kadın ve gayrimeşru yaşantısı içinde geçen bir olüm hikayesi.
Sizce bu tesadüfmu, yoksa maksatlı yapilan bir algı yönetimimi.#EdepYahu pic.twitter.com/tmugAwoutT

— Hamdullah Arvas?? (@hamdullaharvas) May 25, 2020
The AKP councillor's post was widely criticized on social media, with women's rights organizations saying his comments were legitimizing violence against women.
"No one can interfere with how women live. Hundreds of women like #ZeynepSenpınar are being killed in this country. Officials who rely on their posts to make these statements are partners to femicides," tweeted the Women Councils ("Kadın Meclisleri") movement.
"Those who question women's lifestyle and give men this courage are responsible from Zeynep's death," tweeted We Will Stop Femicide Platform ("Kadın Cinayetlerini Durduracağız Platformu).
◾️22 yaşındaki #zeynepsenpınar kendi hayatı hakkında karar vermek istediği için öldürüldü
◾️Katil Ahmet Kemaloğlu cinayeti işledikten sonra tweet attı

Kadınların yaşam tarzını sorgulayıp erkeklere bu cesareti verenler Zeynep'in öldürülmesinden sorumludur. pic.twitter.com/roqXLYBUef

— Kadın Cinayetlerini Durduracağız Platformu (@KadinCinayeti) May 25, 2020
Meanwhile on May 24, Ali Babacan, the chairman of the newly founded Democracy and Progress Party (DEVA), expressed his sadness about Şenpınar's death.
"Tens of women have been again massacred in the last month. It is the state's constitutional responsibility to take concrete and clear precautions against this violence," Babacan wrote on Twitter.
Babacan is the second of two former AKP veterans to quit the party in recent months to launch his own party.
Çok üzgünüm.

Bayram sevincimiz Zeynep Şenpınar'ın katliyle yarım kaldı.

Son bir ayda yine onlarca kadın katledildi.

Bu şiddete karşı somut ve net önlem almak devletin anayasal sorumluluğudur.#zeynepsenpınar

— Ali Babacan (@alibabacan) May 24, 2020
According to an annual reported by We Will Stop Femicide Platform, at least 474 women were killed in Turkey in 2019. The country has one of the worst records in the world in terms of violence against women, with experts saying that Turkish authorities fail to offer women proper protection.
Experts also criticize the Turkish judiciary, saying it gives the judges significant powers and provisions allowing them to reduce sentences of men imposing violence on women.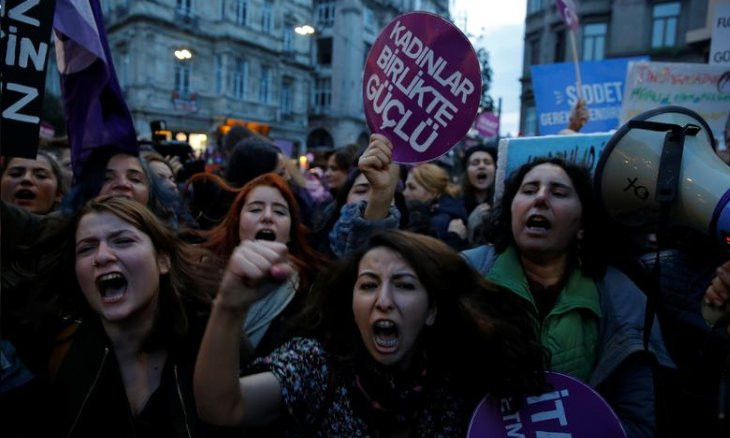 Domestic abuse reports rise in Turkey during coronavirus self-isolation