Four migrants missing after boat sinks off Turkey's Aegean coast, 35 rescued
Four migrants are missing after a boat sank off of Turkey's Aegean coast in the early morning of June 28. While coast guard rescued 35 migrants off of the sinking boat, the search for the missing four is ongoing.
Duvar English
A boat carrying migrants sank off the Aegean coast of Turkey around 2.45 a.m. on June 28, with coast guard teams rescuing 35 people and launching a search for four others who are thought to be missing.
Turkish Coast Guard Command received reports of a boat carrying migrants about a mile south of a local islet named Çıplak Ada, right across from Greek Lesbos Island.
While 35 of the migrants were rescued, the search party for the missing migrants involve three boats, a helicopter and a plane, as well as divers and law enforcement.
The migrants told authorities that Greek coast guard slashed their inflated boat and confiscated their gasoline, Turkish state-run Anadolu Agency reported.
Greece has been the main gateway into the European Union for people fleeing conflict in the Middle East and beyond, largely via its islands near the Turkish coast. More than a million people reached its shores from Turkey in 2015-16.
Earlier this year, tens of thousands of migrants tried to cross into Greece via land and sea borders after Ankara said it would no longer stop them, as it had agreed in a 2016 deal with Brussels in return for European aid for Syrian refugees.
Turkey, which hosts about 3.6 million Syrians, the world's largest refugee population, said it lifted restrictions on the migrants because it was alarmed by the prospect of another wave of refugees fleeing war in northwest Syria.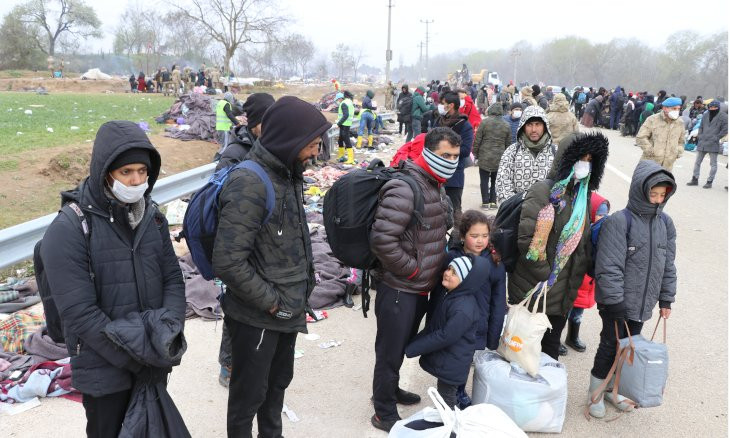 Turkey, EU continue discussions on March 2016 migrant deal