Ankara building with murky past displays Presidential Communications Directorate's seal
A building with a murky past in downtown Ankara is now displaying the Presidency's Communications Directorate's name and seal, daily Cumhuriyet reported. The building used to be owned by businessman Akın İpek who is now a fugitive defendant in the case against U.S.-based Islamic cleric Fethullah Gülen.
Duvar English
A building that belonged to a fugitive charged with terrorism charges now displays the Presidential Communications Directorate's name with the presidential seal, daily Cumhuriyet reported on July 10.
Located in the Çukurambar neighborhood of the capital, the 25-story building used to belong to Atlantik Corporation, which belonged to Akın İpek, a fugitive defendant in the case against U.S.-based Islamic cleric Fethullah Gülen.
Gülen's network was dubbed a "terrorist organization" by Ankara and Fetullah Gülen himself has been labelled as "the mastermind" behind the failed coup attempt of July 15, 2016.
The building was built by Atlantik Corp. while former Ankara Mayor Melih Gökçek from ruling Justice and Development Party (AKP) was in office, and reportedly were designed as dormitories.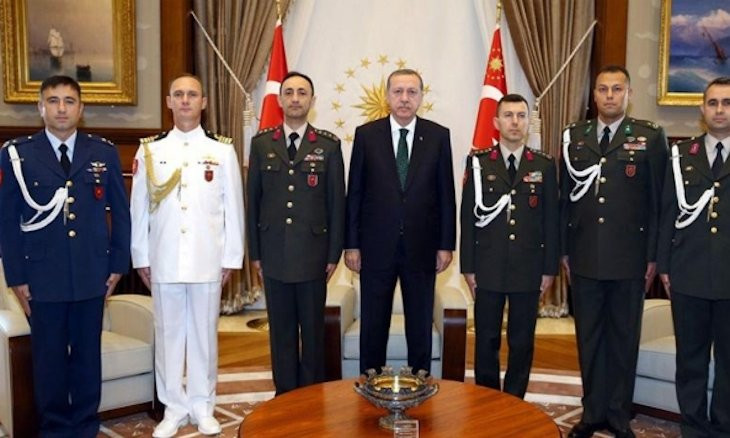 Court releases two former Erdoğan aides accused of 2016 coup involvement
Gökçek's government changed the lot's official designation to "residential and commercial service area" from "residential service area" in 2006, and the current Ankara Mayor from main opposition Republican People's Party (CHP) requested an investigation be launched into the assignment in 2016.
The building, along with the corporation, were impounded following the July 15, 2016 coup attempt.
The sign that's currently hanging on the building that belonged to the Prime Minister's Office's Directorate General of Press and Information, before the prime minister's office was closed within the presidential system.
The building's ownership reportedly transferred onto the government's Treasury following its impound, allowing the Presidential Communication's Directorate to use it.