Ankara police blocks lawyers' march to parliament against the AKP bill
Lawyers who were waiting outside Ankara's Kuğulu Park to support bar association heads protesting in a sit-in got blocked by police as they marched to parliament. The legal professionals are all in the capital to protest a draft bill on the parliament floor that would dilute bar associations' authorities.
Müzeyyen Yüce- DUVAR / Duvar English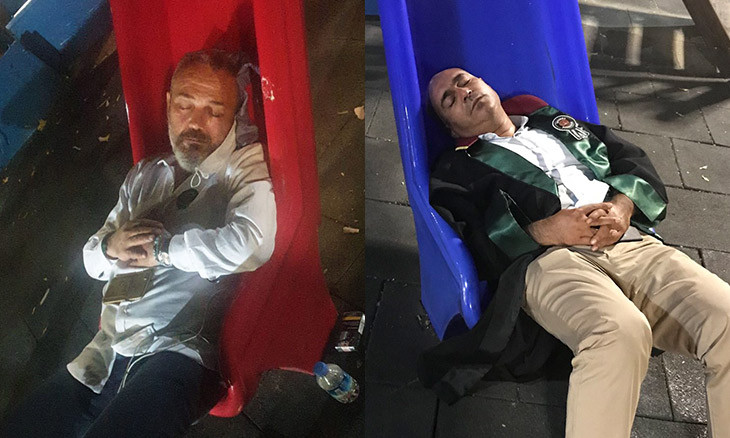 Lawyers, bar association heads spend night in Ankara in deadlock with police
The group of lawyers who had been waiting outside of a police barricade around downtown Ankara's Kuğulu Park to support bar association heads doing a sit-in got blocked by police when they tried to march to parliament on July 10.
A draft bill being discussed in parliament aims to legalize the foundation of multiple bar associations in each province, which legal professionals say will weaken their powers.
The bill was proposed by the ruling Justice and Development Party (AKP) and is being discussed in parliament despite the objection of 80 bar associations and Turkey's Union of Bar Associations.
After more than 24 hours of waiting outside Kuğulu Park to support the bar association heads protesting in a sit-in at the park, the lawyers attempted to march to parliament at 3 p.m.
After warning the lawyers that they weren't adhering to social distancing measures, the police formed a barricade to block their path on nearby Tunus Street on the grounds that they were overflowing onto the road.
During a confrontation between the crowd and police, officers told the lawyers that they couldn't allow such a large group to march to parliament and that the bar associations should go as a symbolic move.
Lawyers protested the roadblock on their way to turn in signed complaints against the draft bill and chanted slogans like "the defense is still defending."
Another group of lawyers were also cut off by police near another entrance to parliament in the Çankaya district.
The lawyers carried signs that read "multiple bars means no bars," "no defense, no justice," and "we don't want multiple bars."
The crowd also chanted to the police to open up the road.
As lawyers waited near parliament, some bar association heads came to visit their colleagues, and were told by police to quickly sign lawyers' official complaints against the bill and leave.
Co-chairs of pro-Kurdish Peoples' Democratic Party (HDP), Meral Danış Bektaş and Saruhan Oluç also came to visit the lawyers and the bar association heads to show their support.
The crowd chanted slogans like "either all, or none of us" and "this is only the beginning, keep resisting."
A group of students from the Middle East Technical University (ODTÜ) also showed support for the lawyers in a press statement, noting that "none of us are equal, until all of us are free."