Worshipers crowd Hagia Sophia, leaving nearby Blue Mosque empty
Thousands of Muslim worshipers gathered at Hagia Sophia on July 31 morning to attend Eid al-Adha prayers for the first time since the iconic building's conversion into a mosque. Blue Mosque, which sits just across the Hagia Sophia, however got no attention at all, despite being packed during the Eid al-Adha prayers in previous years.
Ferhat Yaşar / DUVAR
Istanbul's Hagia Sophia, which was recently converted into a mosque, received widespread attention on the first day of Eid al-Adha. Thousands of people who came to Istanbul for the holiday preferred to perform their prayers at the iconic building, whereas Blue Mosque, which sits directly across the plaza from Hagia Sophia, remained quite empty.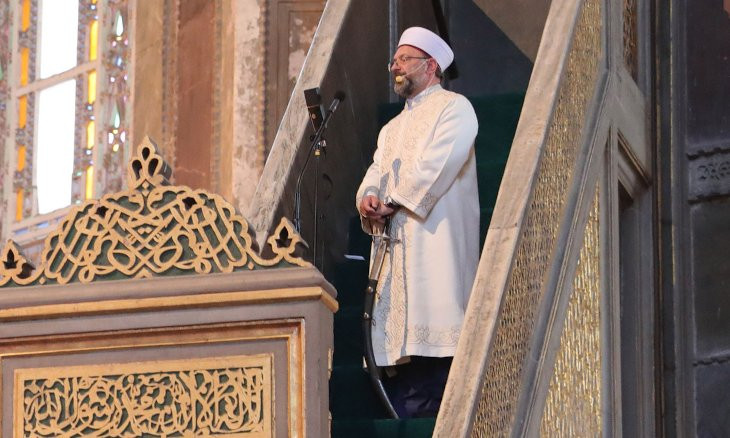 Turkey's top religious authority head delivers Friday sermon at Hagia Sophia with a sword in hand
Hagia Sophia is expected to be a main source of attraction on the other days of the Eid al-Adha as well. Prayer times are when the iconic structure is most packed. Due a high number of visits, officials sometimes temporarily close the structure at certain hours during the day to disinfect it amid the novel coronavirus outbreak.
Since the opening of Hagia Sophia to prayers, nearby historical mosques are no longer getting the attention they received in the past. One of these mosques in Blue Mosque, also known as Sultan Ahmet Camii, which was commissioned by Sultan Ahmet I to rival the Hagia Sophia.
"Normally on Fridays, at these hours [12.15 p.m.], not only inside the mosque, but also mosque courtyard and outside the mosque would be covered with prayer rugs. But as you see, the mosque is empty," an official from Blue Mosque told Gazete Duvar.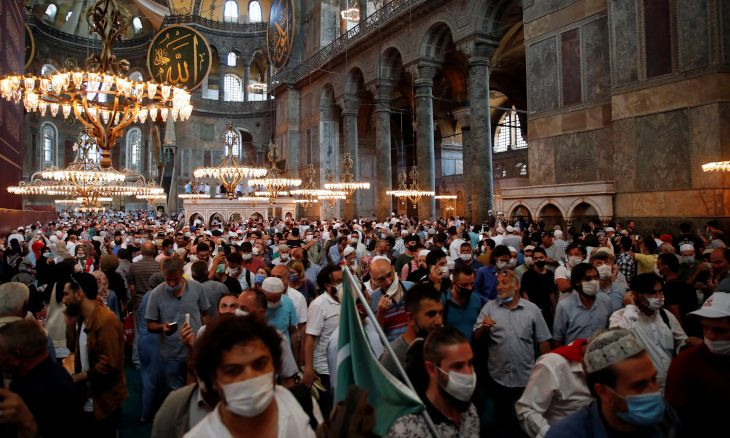 Erdoğan says 350,000 attended Friday prayers at Hagia Sophia amid concerns over COVID-19 spread
A similar picture is seen in the nearby Nuruosmaniye and Firuz Ağa mosques, where only the imam and a small community have been performing prayers in recent days. It is usually the elderly who now come to these mosques as they want to avoid the crowding at Hagia Sophia.
Hagia Sophia reopened for Friday prayers for the first time on July 24, with the attendance of about 100,000 people. The Religious Affairs Directorate (Diyanet) head Ali Erbaş delivered the sermon with a sword in hand, presenting an Ottoman tradition of conquest. Following Erbaş's action, experts said that Ottoman sultans were delivering sermons with swords after each conquest.
Last year, President Recep Tayyip Erdoğan had urged people to pray in Blue Mosque instead of seeking opening of Hagia Sophia for prayers.
"You're not going to fill nearby Blue Mosque and then say let's fill the Hagia Sophia now," he had said.