İzmir Mayor tours city on bike when barred from riding parade bus by governor
Main opposition İzmir Mayor Tunç Soyer on Aug. 30 led on his bike an open-top bus prepared for a Victory Day Parade. Soyer's move came after the governor's office barred him from touring the city on the bus and only allowed band members to ride it.
Duvar English
İzmir Mayor Tunç Soyer on Aug. 30 toured the Aegean city on bike to greet locals after the governor's office prevented the municipality from holding a Victory Day parade on a bus, Anka News Agency reported.
İzmir Valiliği'nin üstü açık otobüsün üzerinde 30 Ağustos Zafer Bayramı için halkı selamlamasına izin vermediği İzmir Büyükşehir Belediye Başkanı Tunç Soyer, bisikletle kentte Zafer Turu attı. https://t.co/ELUiTOgqzp pic.twitter.com/Y4JetTlMAM

— ANKA Haber Ajansı (@ankahabera) August 30, 2020
An open-top bus was already prepared for the parade, but the governor's office didn't allow Soyer to tour the city on it, therefore forcing the main opposition mayor to lead the bus on a bicycle.
"August 30 is the day of freedom and independence," Soyer told reporters. "I wasn't allowed to be on the bus for the Victory Parade. I'll lead the parade on my bike."
The mayor greeted locals as he rode around town on his bike and in front of the parade bus on which only band members were allowed to travel.
Celebrated in Turkey and Turkish Cyprus, August 30 Victory Day is the day when Turkish forces evicted all Greek presence from what is considered the land of the republic today in the 1922 Dumlupınar Battle.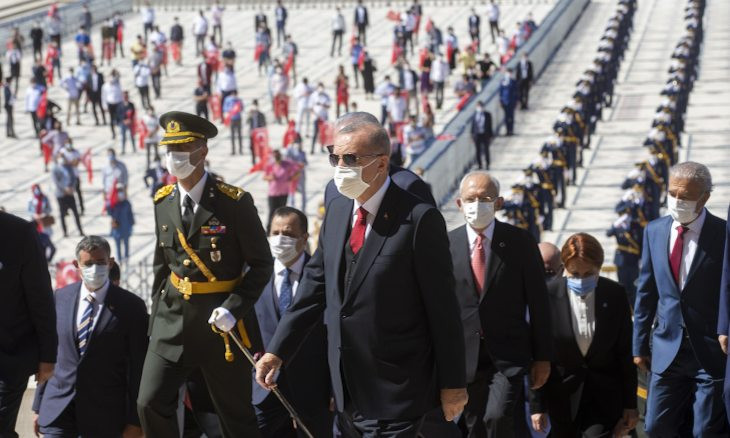 Turkey marks 98th anniversary of Victory Day amid coronavirus pandemic