AKP officials violate COVID-19 precautions at wedding ceremony of lawmaker's son
A number of officials from the ruling Justice and Development Party (AKP) have violated the COVID-19 precautions at the wedding ceremony of a lawmaker's son on Sept. 5. Food and beverages were served to customers, in violation of a recent Interior Ministry decree. The wedding also violated a July 24 decree that had banned guests from approaching the couple to pin their gifts on their outfits, often gold or money.
Duvar English
Outrage erupted on social media following the release of images from the wedding ceremony of a ruling Justice and Development Party (AKP) lawmaker's son, where guests were seen violating COVID-19 guidelines extensively.
The Sept. 5 wedding was three days after an Interior Ministry decree was circulated, banning large celebrations and limiting wedding ceremonies to one hour in all provinces. The decree also said no food could be served during wedding ceremonies, with the exception of pre-packaged water.
Food and beverages in front of guests sitting at tables and some even taking pictures without masks were documented at AKP Kocaeli Deputy Cemil Yaman's son's wedding ceremony.
The wedding also violated a July 24 decree that had banned guests from approaching the couple to attach their gifts on their outfits, often jewelry or gold, and taking photos.
Not only were guests seen violating the jewelry ban, but they were filmed taking tightly-framed group photos, even taking their masks off at times.
Hamza Şayir, the AKP mayor of Kocaeli's Dilova district, shared photos from the wedding on his Twitter account, displaying the guideline violations and wishing the couple "happiness in both worlds."
Milletvekilimiz Sn. Cemil Yaman'ın oğlu H. Hüseyin & Sn. Mehmet Telli'nin kızı Rümeysa kızımızın Nikahını @tahirbuyukakin Bşk. kıydığı Düğün törenine Kocaeli M.Vekil.,İl Bşk, İlçe Bld. Başk. ve Devlet erkanı ile birlikte şahitlik ettik.

Genç çifte iki cihanda saadetler dilerim. pic.twitter.com/pZNZK4MaZf

— Hamza Şayir (@hamzasayir041) September 5, 2020
The AKP's local youth branch was also present at the ceremony, and shared some shots from the celebrations.
Milletvekilimiz Sn.Cemil YAMAN'ın kıymetli oğlu Hasan Hüseyin ve Rümeysa kardeşlerimizin düğün cemiyetine katılarak bu mutlu günlerine şahitlik ettik.Genç kardeşlerimize ömür boyu mutluluklar diliyoruz.@bakiiozdemirr @ellibes_mehmet @tahirbuyukakin @abuyukgumus @cemil_yaman pic.twitter.com/VtWLnJdXHf

— AK Genç Kocaeli??? (@akgenckocaeli) September 5, 2020
While Kocaeli Mayor Tahir Büyükakın performed the wedding ceremony, AKP Kocaeli Deputy Radiye Sezer Katırcıoğlu, AKP Batman Deputy Ziver Özdemir, Kocaeli Governor Seddar Yavuz were present as guests, along with a multitude of officials from the AKP.
The daily number of COVID-19 diagnoses have been on a steady incline in Turkey, a trend that Health Minister Fahrettin Koca dubbed "the second peak of infections."
The groom's father, AKP Deputy Yaman said that he didn't regret holding the ceremony and that he couldn't have told guests to not attend, citing his hometown's traditions as the reason.
"I'm from Ağrı. If I hadn't [held the ceremony,] they would have said I sent them away 'without so much as a meal,'" Yaman said.
Street weddings, large gatherings banned in all Turkish provinces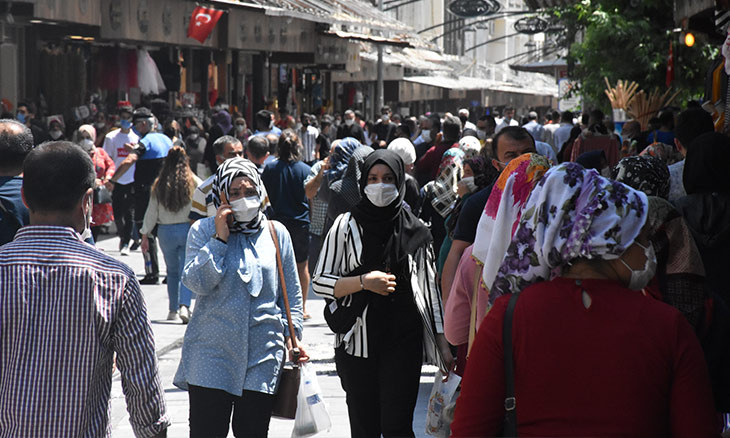 Turkey at second peak of coronavirus outbreak, health minister says