Istanbul district defends beloved vendor after police confiscates cart
Mehmet Ayışığı is a well-known and well-liked figure in Istanbul's Kurtuluş neighborhood, wandering the streets and calling out to customers with his signature voice. After Ayışığı's cart was confiscated by the Şişli Municipality due to noise complaints, area residents marched together with the vendor in a gesture of solidarity against police.
Meral Candan / DUVAR
"The simits are hot! The simits are burrrrning!" Istanbul's Kurtuluş neighborhood residents rush to their windows and doors every day when they hear the voice of roving simit vendor Mehmet Ayışığı.
Ayışığı, who sold Turkey's sesame-studded, ring shaped baked good simit on the same route in Kurtuluş for several years, had his cart taken by Şişli Municipal police on Oct. 21 upon noise complaints from locals.
"They took my cart and put in the back of a truck, and I just stared in astonishment," Ayışığı said of the unexpected confiscation.
Fifty-six-year-old Ayışığı leaves in nearby Pangaltı with wife and son, who just started university this year. Throughout his life he has held a number of jobs ranging from working at small grocery stores to selling clothes at bazaars. He started selling simit eight years ago and has been doing so on the streets of Kurtuluş for six years.
"If they had warned me instead of calling the police, I would have been careful while passing through the area anyway," Ayışıgı said, hurt by the noise complaints.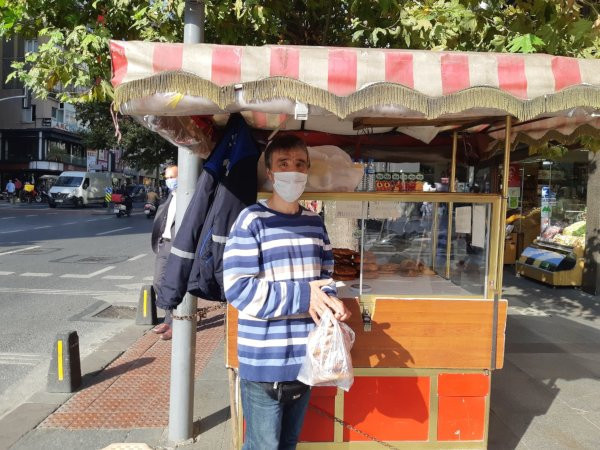 The same thing happened to another roving street vendor in the neighborhood recently, increasing tensions for people who earn their livings doing this work.
"We are people who get buy on what we earn day by day. We have no safety net. Even just not being able to sell for a couple days was difficult for me financially and spiritually. This year my son, who started university, left school and started to look for a job. As a family we were very sad," Ayışığı said.
He got his cart back after paying a fine of 180 TL, but Ayışığı is afraid of returning to the streets. He is currently selling in a fixed stand provided by the Şişli Municipality.
"They told me that if my cart is seized one more time that it will be illegal for me to sell. I can't take that sort of chance. But it is difficult working in a fixed area. While I normally sell all of my simits within a few hours by wandering around, on a fixed stand it would take until the evening," said Ayışığı, who isn't simply worried about his working hours. He's wondering about how he will spend the winter in a stationary setting. "When you keep moving you don't get that cold," he said.
After hearing the news that Ayışığı's cart was confiscated, Kurtuluş residents met to march with Ayışığı on the streets of the neighborhood and chanted "The simits are hot! The simits are burrrrning!" all together. Nearly 50 people joined the demonstration and many neighbors came out to their windows and showed their support. Ayışığı was surprised at all the interest. "I didn't anticipate that this many people would come," he said.
Şişli'de simitçi tezgahına el konulması üzerine mahalleli 'sıcak sıcak, simitler yanıyor' diyerek eylem yaptı | İstanbul Şişli Kurtuluş'ta yıllardır simit satararak geçimini sağlamaya çalışan Mehmet Ayışığı'nın simit tezgahına el konulması üzerine mahalleli eylem yaptı. pic.twitter.com/3xyjFk1Vi5

— Yaşar Usta (@yasarustaportal) October 25, 2020
For Kurtuluş resident Sebat Aksoy, Ayışığı is one of the symbols of the neighborhood.
"Mr. Mehmet, especially during the pandemic, was a voice for people like me who live alone. When I hear his unique voice it makes me happy. I have breakfast based on when he comes by," Aksoy said, her eyes filling with tears.
Resident Tania Taşçıoğlu Baykal emphasized that roving vendors are a part of neighborhood culture. "Kurtuluş is a very loud neighborhood. The sound of cars, motorbikes and construction never stops. Yes, these are noisy, but considering a street selling shouting with his naked voice to be noisy is ridiculous," Baykal said, adding that the Şişli Municipality needs to worry about other issues.
Gülay Soylu said that they are demanding that the municipality take a step back from the practice of targeting street vendors, and wants Ayışığı and other vendors who earn their living this way to be left alone. The resisdents are expecting the Şişlı Municipality to come up with a permanent solution on this topic.