Turkish State Railways found at fault in new expert report for train crash that killed 25
Turkish State Railways was found at fault in a recent expert report for the deadly 2018 train crash in the northwestern district of Çorlu that killed 25 people and injured hundreds. The report said that the crash was caused by a flash flood that damaged the infrastructure, indicating that there was nothing wrong with the train's locomotive or wagons and that the railway company failed to take sufficient precautions.
Serkan Alan / DUVAR
The most recent expert report about the 2018 Çorlu train wreck that killed 25 people determined that the Turkish State Railways (TCDD) is at fault for the catastrophe.
Seven children were among those killed in the crash, which occurred when the train derailed in northwestern Tekirdağ province's Çorlu district.
More than 318 people were injured, several dozen of whom sustained severe injuries.
"The accident occurred due to the collapse of the embankment and ballast layer above a railway culvert, caused by heavy rainfall that resulted in a flood," the report said, indicating that there was nothing wrong with the train's locomotive or wagons.
The expert report found multiple units of the TCDD at fault for not taking the necessary precautions regarding railway infrastructure and engineering structures in the context of extraordinary weather conditions.
The report noted that the TCDD bore responsibility for maintaining coordination with the Directorate of Meteorology to be able to ensure safety in response to weather conditions, but that such communication did not take place between the two institutions.
The expert report will be added to the case file in the trial over the tragic accident, the next hearing of which is scheduled for Nov. 6.
Four TCDD officials have been charged with involuntary manslaughter for their role in the crash, and prosecutors are seeking prison sentences of between two and 15 years.
Prosecutors have not sought charges against high-level officials including former TCDD General Director İsa Apaydın or former Transportation Minister Ahmet Arslan, both of whom were at their posts at the time of the accident.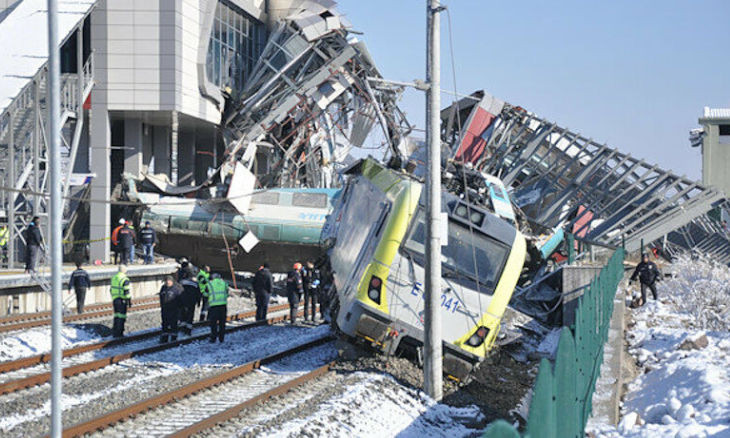 Train that crashed in deadly accident killing nine found to be uninsured