Education ministry pamphlets 'antagonize women with no headscarves'
Drawings distributed by the Education Ministry to school counselors have sparked a debate over their negative depiction of women with no headscarves. Aimed at helping counselors support children post-trauma, the pamphlets used a doctor with a headscarf as the protagonist in a story about sexual harassment, while a woman without a headscarf was the unwelcome neighbor approaching a child.
Duvar English
Drawings in pamphlets distributed by Turkey's Education Ministry distributed to school counselors have stirred controversy due to the fact that they demonize women without headscarves.
The Ministry distributed the pamphlets to counselors who completed the "Applied Psychosocial Support Program" designed to train them in helping students after a trauma like natural disasters, terror attacks, migration, suicide and abuse.
Aimed at explaining preventive measures, the pamphlets present the drawing of a mother wearing a headscarf hugging her child and caressing her hair, while a woman with no headscarf ia depicted as bothering a child she was trying to embrace, the daily Birgün newspaper reported on Jan. 23.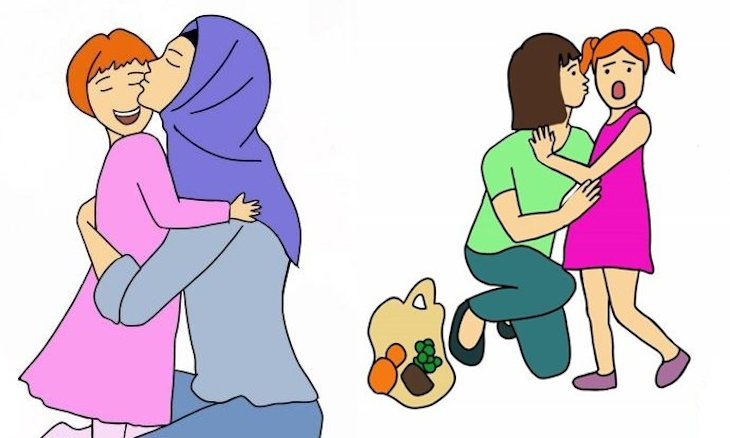 When asked whether this biased representation would lead children to antagonize women with no headscarves, social services expert Dr. Bülent İlik said that the drawings were part of a methodical effort on the part of the Education Ministry.
"After repeated exposure, these images might leave an impression on the child's mind. This is not a well-intended practice, the ministry has been insistent in running this policy," İlik said.
İlik added that the child's family and social circle is crucial in determining the effect such images will have on a child.
Education Ministry response
Turkey's Education Ministry made a public statement about the images Jan. 23, saying that they will start an investigation into the pamphlet.
"Pre-evaluation and inspection work has begun to reveal whether a perception has appeared like the news coverage suggests," said the statement.
The statement also said that news coverage of the pamphlet was a misrepresentation.
"Four images were picked out of 150 to create a perception that doesn't represent the whole," said the statement.